General FAQ
Q: HOW DO I GET A QUOTE?
A: It's super easy. Just give us a call at (800) 984-5846, or fill out our estimate form, here. Then a representative will meet with you at your home at your convenience. This includes nights and weekends. At this point, we'll discover your need, show you some samples, and provide you with an estimate.

Q: I HEARD ABOUT YOUR REFERRAL PROGRAM. HOW DO I GET REWARDED FOR SENDING MY FRIENDS AND FAMILY TO YOU?
A: You can complete our referral form here to receive credit for referring your friends and family.

Q: IS THERE A CONTACT PHONE NUMBER I CAN CALL IF I HAVE QUESTIONS?
A: Absolutely!
Charlotte: (704) 594-1900
Cleveland: (440) 786-1400
Columbus: (614) 221-0700
Indianapolis: (317) 547-2600
St Louis: (314) 878-0300
Toll Free: (800) 984-5846

Q: WHAT TYPES OF PAYMENT METHODS AND FINANCING DO YOU OFFER?
A: We accept a variety of payment methods including cash, check, and major credit cards. In addition, we also offer competitive financing options with approved credit. To learn about financing, please visit our financing page.

Q: MY HOME IMPROVEMENT PRODUCTS HAVE BEEN INSTALLED. HOW DO I ACTIVATE MY WARRANTY?
A: You don't need to do anything but enjoy your new products! Your warranty is valid from the moment your products are installed. For warranty forms and other project resources, please visit this page.
Replacement Window FAQ
Q: WILL THE REPLACEMENT WINDOWS BE INSTALLED FROM THE INSIDE OR OUTSIDE?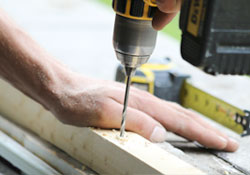 A: Our replacement windows are installed from both the inside and the outside. Every situation is different and our expert installers will make a decision based on the most favorable outcome.

Q: DO YOU INSTALL REPLACEMENT WINDOWS YEAR-ROUND? IF SO, WILL I LOSE A LOT OF HEAT/COOLING AT THE TIME OF INSTALLATION?
A: Universal Windows Direct installs replacement windows year-round. Our installers are the best in the business, partly because of their ability to minimize heating and cooling loss during installation. Some energy may escape, however, your new windows will more than make up for any loss for years to come.

Q: HOW CAN I PREPARE MY HOUSE FOR REPLACEMENT WINDOWS?
A: Please, clear the area where the window is to be installed. This includes curtains, blinds, security sensors, and any wall decorations. Also, please make sure the area is easily accessible by moving any furniture.

Q: HOW LONG WILL IT TAKE TO GET MY REPLACEMENT WINDOWS? HOW MUCH TIME SHOULD I ALLOW FOR THE INSTALLATION?
A: After the final measurements are taken, your replacement windows will usually arrive with 4-6 weeks. The average job will generally take a day, including cleanup and trimwork.

Q: WHAT TYPE OF WARRANTY IS AVAILABLE FOR MY WINDOWS?
A: Universal Windows Direct warrants its products for as long as the original purchaser owns the property on all pieces, parts, materials, glass systems, frames, locks, hardware, installation, and labor. Our warranties are 100% non-pro-rated and 100% transferable to a subsequent homeowner for a period of 30 years. Contact us for more details.

Q: WHAT DO I DO IF THERE'S A PROBLEM WITH THE WINDOWS?
A: Just contact us or call your local service department. We'd be happy to help.

Q: THE INDUSTRY LINGO CONFUSES ME. WHO CAN EXPLAIN IT TO ME?
A: Our Universal Windows Direct representatives are the most knowledgeable in the business. They are patient, and would be happy to explain any concepts in more relatable terms.

Q: WHERE CAN I PURCHASE YOUR WINDOWS?
A: Since we offer the exclusive UniShield® brand, your windows must be purchased through Universal Windows Direct or any one of our authorized dealership locations. Find a location in your area.

Q: HOW DO YOUR WINDOWS COMPARE IN PRICE TO NATIONAL BRANDS?
A: The windows we offer are reasonably priced and market competitive. Our windows are of the highest quality and a great investment. Along with our lifetime warranty, there's no comparison.

Q: HOW DOES PRICING COMPARE TO OTHER NAME BRAND COMPETITORS?
A: No one can beat us in terms of warranty, durability, and longevity. We are the best value for price and quality.

Q: HOW EASY ARE YOUR WINDOWS TO CLEAN?
A: Our windows are incredibly easy to clean. Not only do the panes tilt in for convenient access, but our vinyl window frames can be cleaned with soap and water.

Q: WHAT IS BETTER, WOOD OR VINYL WINDOWS?
A: Sure, wood and vinyl windows may perform similarly when it comes to energy efficiency, but when you consider ease of installation, wood's high maintenance requirements and the availability of rich, textured, realistic woodgrain laminates for vinyl windows, vinyl becomes the outstanding choice for several reasons.
Vinyl windows are low maintenance, provide excellent insulating value, beauty, and appearance of wood without the hassle of maintaining it. Furthermore, vinyl offers strength and durability, high-level resistance to rotting, corrosion, salt air, termites and air pollutants.

Q: WHICH WINDOWS BLOCK OUT THE MOST EXTERIOR NOISE?
A: Our superior triple pane windows are the best in the business. Triple pane windows will typically have U-factors that are about 20-30% better than a similar double pane window. That's a pretty substantial improvement.
They will also have better SHGC ratings as they tend to have two surfaces coated with a low-e coating. These coatings will leave you with a lower visible transmission rating, meaning it will typically be darker in a home with triple pane windows.

Q: I NOTICED CONDENSATION ON THE EXTERIOR OF MY NEW WINDOWS. IS THIS NORMAL?
A: Yes. Our windows don't let the warm air out. Thus, the outside pane will stay colder. It will dissipate when the weather changes. It's entirely normal and there is nothing wrong with your window.
If anything, it shows how well your window is working to keep the good in and the bad out.
For more information, check out our blog post here.

Q: WILL YOUR WINDOWS SWEAT OR CONDENSATE?
A: Sure, all windows can sweat. However, it's not the window that causes this. Surface temperature and humidity levels can and will cause condensation. The more the glass is insulated, the better.
For example, our SuperSpacer technology allows for flexibility within the window. This flexibility traps the gases between the panes for a more insulated product.

Q: IS THE WARRANTY OFFERED ON YOUR WINDOWS TRANSFERABLE TO A NEW OWNER?
A: Yes, it is.

Q: HOW DO I KNOW WHEN IT'S TIME TO REPLACE MY WINDOWS?
A: One of the first signs to look for is energy loss. If your utility bills are consistently becoming more expensive despite the weather and regular maintenance of your HVAC system, your windows likely need to be replaced.
Furthermore, drafts may signal that it's time for replacement. If you notice a chill in the air during the winter months or air generally making its way between the frames, new window replacement is recommended.
You'll also need to consider the age of the window and the condition of the frames.

Q: CAN I INSTALL MY OWN REPLACEMENT WINDOWS?
A: Universal Windows Direct has a crew of experienced, certified installers that install windows 365 days per year. Our installation team knows exactly how to install our windows to create an airtight seal to maximize energy efficiency. Attempting installation on your own can downgrade the performance of the window and potentially void your warranty.

Q: WHAT IS THE RIGHT WINDOW STYLE FOR MY HOME?
A: Universal Windows Direct offers plenty of window style options to suit nearly any architecture. The style of your new windows will largely be determined by the architecture of your home, as well as your personal taste. The knowledgeable consultants at Universal Windows Direct can help you determine the most suitable window for your home.

Q: WHAT IS THE MOST POPULAR STYLE OF REPLACEMENT WINDOWS?
A: Double hung windows are generally the most popular option. These windows blend seamlessly with many home styles as well as décor and personal taste. Adding grids to double hung windows can make them appear more classic, and leaving them out can provide a more modern look and feel.

Q: HOW MUCH MONEY WILL I SAVE WITH NEW ENERGY EFFICIENT REPLACEMENT WINDOWS?
A: Upgrading your home with energy efficient windows can certainly help lower utility bills. However, it's difficult to give an exact dollar amount. The amount of your savings depends on many variables, such as the age and performance of your old windows. If you upgrade from single pane windows to triple pane windows, you'll find the largest amount of savings.

Q: HOW DO I KNOW IF MY NEW WINDOWS ARE ENERGY EFFICIENT?
A: The best way to tell if your new windows are energy efficient is checking for an Energy Star certification. This shows that the windows have up-to-date technology in terms of energy savings, including argon gas, krypton gas, low-e glazing, and dual or triple pane glass
Vinyl Siding FAQ
Q: DOES VINYL SIDING REQUIRE ANY MAINTENANCE?
A: Vinyl siding requires little if any maintenance, never needs to be painted, and if damaged can be easily replaced. To maintain a fresh appearance, vinyl siding should be washed at least once a year.

Q: CAN I PRESSURE WASH VINYL SIDING?
A: While many homeowners choose to pressure wash their vinyl siding, it's smart to contact the manufacturer before moving forward. Pressure washing can damage vinyl siding if done incorrectly, which may result in dents or even holes in the siding.
A safe and easy way to wash your vinyl siding is with a garden hose, a soft-bristle brush like you'd use to wash a car, and a diluted cleaning solution.

Q: IS VINYL SIDING DURABLE/WEATHER RESISTANT?
A: Vinyl siding is manufactured to last a very long time. Warranties for vinyl siding can range from 20-40 years depending on the thickness, with many manufacturers now offering lifetime warranties that can be transferred to the next owner. Vinyl siding is resistant to heat, cold, and moisture, and it's certified to withstand winds up to 110 miles per hour.

Q: HOW MUCH DOES VINYL SIDING COST?
A: Vinyl siding is the most affordable siding option on the market. The advantages of vinyl include its low total installed cost. It's lower than all other materials because vinyl siding is installed faster and doesn't require painting, sanding, or staining. Also, on average, homeowners who remodel with vinyl will recoup nearly 80% on the cost of the installation—thus increasing the value of the home.
Vinyl siding quotes may vary due to the amount of current exterior that needs removed, underlying damage to current exterior, the quality of the siding panels, and more.

Q: HOW DOES SIDING COMPARE WITH OTHER HOME EXTERIOR MATERIALS?
A: When compared to wood, brick, stone and stucco, siding can provide several advantages in terms of maintenance costs, appearance, durability and value.
First, vinyl siding does not rot. This is perhaps the biggest benefit when compared to wood siding, which must be treated to withstand elements and block out moisture. Vinyl does not require the same treatment as wood, since it's engineered to be water resistant from the day that it leaves the manufacturing site.
Vinyl is also highly customizable in terms of aesthetics. It can be manufactured to look like real wood, with the best vinyl siding featuring lifelike woodgrain patterns on the panels. Homeowners may also choose upgrades such as vinyl cedar shakes or soffit to top off their siding upgrade.
With little-to-no maintenance requirements and paint colors warrantied to last for decades, vinyl siding is one of the top choices for exterior materials in America.

Q: HOW DOES THE COST OF NEW SIDING COMPARE TO THE ADDED RESALE VALUE IT PROVIDES?
A: In terms of adding resale value to your home, new siding can be one of the smartest investments you can make. In a previous annual survey of project cost versus added value, Remodeling magazine said that "…the highest payback comes from projects that give an older home the same features that have become standard in new homes."

Q: WHY IS VINYL SIDING SUCH A POPULAR CHOICE?
A: Vinyl siding's outstanding features and benefits have made it the most popular siding material in America today. Since vinyl is the preferred siding for more and more homeowners, it retains most of its installed cost (see information above). It's the material of choice on new luxury homes, and the first choice for remodeling projects large and small.

Q: WHAT ACCESSORIES AND TRIM ARE AVAILABLE?
A: When you design the exterior of your home, you'll want to consider more than just siding. You'll need trim for windows and doors, and at inside and outside corners. You also may want new soffit and fascia to lend a pristine finish to rooflines, overhangs, and other hard-to-reach areas of your home.

Q: HOW DO I KNOW IF I NEED TO REPLACE MY SIDING?
A: If you need to replace your siding, you'll find signs such as mold and mildew, separation of seams, caulking failure, swelling, cracking, warped panels, extreme color fading, and even moisture damage on the inside of your home.

Q: CAN VINYL SIDING BE INSTALLED DURING THE WINTER?
A: If the weather is reasonable, vinyl siding can be installed during the winter. The only drawback is when extreme weather occurs which can cause delays in the project. Problems can also occur in very low temperatures during installation. If you want your vinyl siding installed during the colder months, contact us for a consultation.

Q: CAN I INSTALL MY OWN VINYL SIDING?
A: Vinyl siding installation can greatly impact its performance. Using a DIY approach for vinyl siding installation is typically not a good idea. It's easy to incorrectly measure or overlook important details of the installation process, which can lead to energy loss, moisture problems, and voiding the warranty.
Entry Door FAQ
Front & Patio Doors

Q: WHAT HARDWARE FINISH OPTIONS ARE AVAILABLE?
A: Polished Brass, Satin Nickel, Aged Bronze, and Antique Brass.

Q: DO I HAVE OPTIONS FOR THE LEVER HANDLE?
A: Yes, we have a few styles to choose from. We also offer various finishes for each. Contact us for more information.

Q: WHAT ARE THE STEPS TO ADJUST AN ADJUSTABLE THRESHOLD?
A: If installed, remove the plastic screw caps on the threshold riser that are located directly under the sweep when the door is closed. There are screws located underneath. Turn screws clockwise to lower the threshold riser (when the sweep is dragging too much when the door opens). Turn screws counterclockwise to raise the threshold riser (when the sweep is not making good contact/seal with the threshold). Adjusting the threshold riser too high can cause damage to the sweep.
Please contact us for further assistance.

Q: DO UWD ENTRY DOORS MEET ENERGY STAR® QUALIFICATIONS?
A: Yes, when our fiberglass and steel entry doors are assembled into entry units by an approved Energy Star partner, the assembled unit is considered Energy Star compliant.

Q: WHAT MAKES YOUR ENTRY DOORS ENERGY EFFICIENT?
A: The entry doors from Universal Windows Direct are engineered with a polyurethane foam core for maximum energy efficiency.
Furthermore, the doors include weathertight features such as high-performance weatherstripping and an airtight threshold.

Q: WHERE CAN I SEE THE AVAILABLE GLASS OPTIONS FOR MY ENTRY DOOR?
A: To see our glass options, go to our website, here. Just remember, all glass styles may not be available for all doors.

Q: WHAT IS TEMPERED GLASS?
A: Tempered glass is a heat-treated safety glass so when it breaks, it shatters into very small pieces as opposed to large shards.

Q: WHAT TYPES OF ENTRY DOOR MATERIALS DO YOU OFFER?
A: Our entry door line includes steel and fiberglass entry doors. These two door materials are the most popular options on the market due to durability and aesthetics. Fiberglass doors are the best choice if you want the look of wood without maintenance, and steel is the best for return on investment at roughly 90%.

Q: ARE YOUR ENTRY DOORS SECURE?
A: There are several components of our entry doors that help enhance security. Our reinforcing steel strike plate attaches behind the wood strike jamb for additional security, and our 4" x 10" composite lock block provides extra screw-holding power than wood. This allows the door to remain strong under the hardware.
Furthermore, the steel-edge perimeter means there is no wood edges to crack under force. While a wood edge steel door cracks under just one hit of a 100-pound test weight, our doors do not force option after 7 hits of a 100-pound test weight. This gives the door a Grade 40 security rating—one of the highest and safest in the industry.

Sliding Glass Doors

Q: HOW SAFE ARE YOUR SLIDING GLASS DOORS?
A: Extremely safe. Our glass is either 5 mm tempered or 7 mm laminated safety glass. Most of our competitors use only 3 mm or 4 mm glass. We also use proprietary roller and locking systems to assure that our doors won't leave their tracks.

Q: HOW EASILY DO THEY SLIDE?
A: Easy enough for everyone — even a young child — to open and close them with one finger. Thanks to our exclusive roller system, you will enjoy easy and nearly-silent operation for many, many years.

Q: CAN THEY ACCIDENTALLY COME OUT OF THEIR TRACKS?
A: No. Our exclusive locking system assures that our doors will not leave their tracks, which gives peace of mind for a durable and high-performing product.

Q: CAN YOUR DOORS BE LOCKED OPEN OR CLOSED?
A: Yes. We offer exclusive "Wheel Locks" so that our glass panels can become sliding or stationary at the touch of a lever.

Q: HOW THICK IS THE GLASS?
A: Our glass is either 5 mm tempered or 7 mm laminated safety glass. Most of our competitors only use 3 or 4 mm glass. Some even use plastic. We believe safety shouldn't be an option.

Q: IS THE FRAMEWORK VINYL, ALUMINUM, OR WOOD?
A: Our frames are made from our own proprietary formula vinyl and reinforced with aluminum, which is light yet super strong and durable. Our vinyl is also more environmentally friendly than wood.

Q: HOW SOUNDPROOF ARE THE PANELS?
A: Our door products are intended to offer privacy and not aimed to provide soundproofing, although they do conceal the sound quite a bit. All of our glass panels reduce sound, although none are completely soundproof. If sound reduction is a primary concern, choose our a triple pane unit with 7mm laminated glass.
Roofing FAQ
Q: HOW DO I KNOW IF MY ROOF NEEDS REPLACED?
A: There are several ways to tell if your roof is ready for replacement.
The first consideration is the age of the roof. Many high quality asphalt roofs will last around 25 years. If you are unsure about the age of your roof or if your home is older and the roof is original, it's time to think about replacement.
The next step is looking for leaks in the roof. If you find moisture on the rafts of your attic or even moisture damage on your interior walls, these are signs that there are problems with your roof. You may also find water damage on the ceiling.
The last consideration is the appearance of your roof. Look for signs such as bucked and curling shingles, which may be a result of excessive sun exposure. Fading is another sign that asphalt shingles are weathered. Keep an eye out for algae or moss buildup as well.

Q: DOES A LEAKY ROOF WARRANT AN ENTIRE REPLACEMENT?
A: This depends on the overall condition of the roof and the source of the leak. If the leak is caused by faulty flashing, you might be able to get away with a repair. However, if the roof was poorly installed or you're dealing with excessive leaking in many areas, roof replacement might be the best option.

Q: HOW LONG WILL MY ROOF LAST?
A: A roof is a big investment, but high quality asphalt roofs with durability materials can last roughly 25 years.
In addition to quality, there are other conditions that will impact the lifespan of your roof. You'll need to think about weather conditions, whether the roof was professionally installed, and whether or not the roof received proper maintenance or repairs.

Q: CAN YOU INSTALL THE NEW ROOF OVER MY OLD ROOF?
A: While there are some cases where reroofing is a possibility, sometimes it can cause more headaches than what is worth.
If your roof features the following problems, you'll likely need to have the old roof removed and install a new one in its place:
The shingles are bucked, missing, or split
There is excessive moss on the shingles
The roof deck is rotting, deteriorating, or sagging
The new shingles are lighter than your old shingles, which will cause bumps to show through the new roof
Your old system has more than a single layer of shingles

Q: WHAT IS THE BEST MATERIAL FOR RESIDENTIAL ROOFS?
A: If you are looking for a durable, quality, and long-lasting roof material, asphalt is the best choice for a residential roof.
Asphalt is ideal for several reasons. It's an affordable, waterproof, and comes in an array of striking colors to compliment your curb appeal.
Furthermore, installation is fast—you'll have a brand new roof in a few short days.

Q: WHAT BRAND OF ROOFING DO YOU OFFER?
A: Universal Windows Direct is a proud partner of Owens Corning. Owens Corning is an industry-leading roofing manufacturer with top-of-the-line roofing systems. These systems are designed to create an weathertight seal, locking out moisture and increasing ventilation. This keeps your home free of mold and mildew and enhances the energy efficiency of your home.
The shingles are secured to the roof with SureNail technology, with a warranty that protects against winds of up to 130 MPH. It also includes a self-sealing and ice water barrier and the VentSure 4-foot strip heat and moisture ridge vent, which is available with the optional Weather PROtector Moisture Barrier.

Q: ARE YOUR ROOFING PRODUCTS COVERED UNDER WARRANTY?
A: Universal Windows Direct and Owens Corning are committed to offering the highest quality roofing available on the market. For peace of mind, there are several warranty options available.
Under the Preferred Protection Systems available from UWD, there is a 10-year workmanship limited warranty that covers workmanship. Furthermore, additional product coverage is available through the TruPROtection period, which ranges between 15 to 50 years of coverage.

Q: WHAT HAPPENS AFTER I ORDER MY NEW ROOF?
A: Once your order is placed, there is some preparing to do in advance. A few days to a week before the install, a dumpster will be delivered to your home. In some situations, the dumpster arrives with the installation crew.
When installation day arrives, you may want to lock up your pets so they don't escape during the install. While the crew is very careful while pets are around, accidents happen and it's better to be overly cautious than risk a pet running away.
You'll also want to take preventive action to protect any value items and décor. Remove décor from your walls such as pictures and mirrors. They can become damaged or fall from vibrations during the install.
If weather conditions are poor, the project may not be completed in the same day, but the crew will work as efficiently as possible to get it done.
Once the roof is complete, a final walkthrough is done where you can discuss any thoughts or questions with the project manager.