Sometimes it's tough to tell if your windows can be repaired or if you need a full replacement. To help you navigate, we have assembled a quick guide of tell-tale signs it is time to shop for replacement windows.
Sign #1: Your Windows Are Old or Lack Curb Appeal
We understand some homeowners are reluctant to replace their windows because they spent a fortune on them decades ago and think they are fine as they are or have never thought about replacing the windows they bought the house with. However, once your windows hit the 20-year mark, they begin to lose efficiency. It's beneficial to replace old windows because they increase comfort indoors, boost home value, and lower utility bills.
Replacement windows can save not only energy, but also add curb appeal. Universal Windows Direct provides endless window style options. Some homeowners may be concerned that vinyl window replacement will take away from the character of their home and make it look too modern. Fortunately, we offer highly customizable replacement windows in an array of shapes, styles, and colors in addition to charming decorative glass and grid options. Whether you're looking to swap double-hung windows for a bay window or upgrade your picture windows, there is an option to please everyone.
Sign #2: You're Finding Signs of Moisture Damage
Condensation is droplets of water that form when humid air contacts a cold surface. It typically appears on the inside of a window in the winter and outside in the summer. However, if condensation develops between the glass panes of your window, this is a red flag. These two panes of glass are supposed to act as an airtight seal. But, if there is a broken seal, you will notice condensation on the inside of the glass's outer pane. Seal failure is a predominant sign; it is time to replace your windows.
Condensation on the interior of the window can cause moisture damage, but so can leaks. Here are some signs to look out for:
Yellowing or discoloration on the interior walls and frames
Peeling paint on window frames/windows
Worn out caulking around the window
Damaged weatherstripping
If you discover any of these signs, assess your home's damage and how badly the window is leaking. Windows that suffer frequent leaking and condensation between panes will highly benefit from replacement.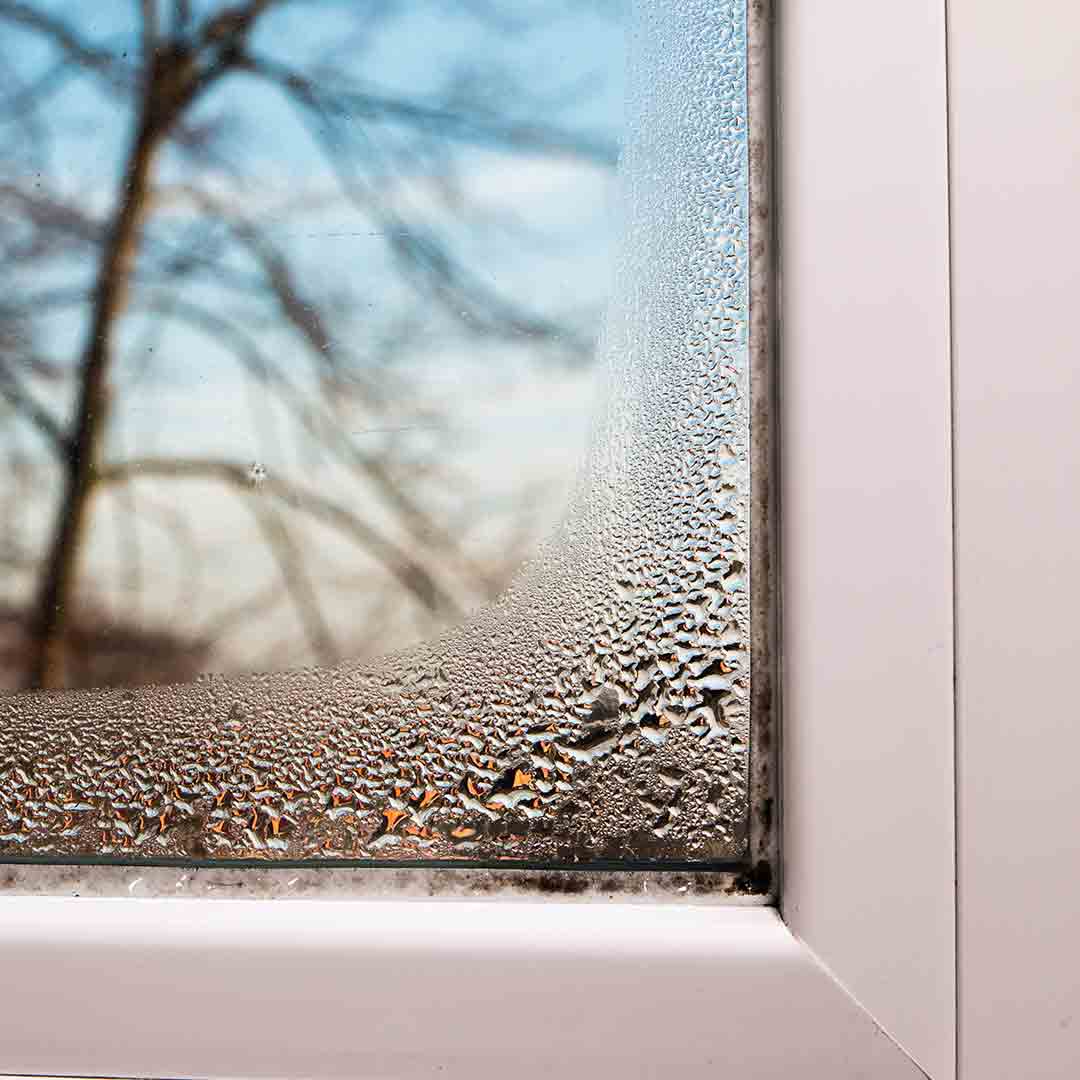 Sign #3: Looking to Reduce Noise
Are the obnoxious sounds of car horns, barking dogs, and traffic disrupting your home? Then it may be time to replace those windows. New windows absorb the everyday sound waves, decreasing noise from the outdoors–while older windows don't provide much sound insulation. Unwanted sound vibrations from the street will transfer into your house. A busy street or neighborhood should not be a consistent disturbance to your home life. Your home deserves to be a relaxing escape from the outside world, and new windows can provide that comfort.
Sign #4: Looking to Lower Your Energy Bill
Stand by your closed window. Is there a noticeable temperature change from the rest of the room? Do you feel air coming from the window? If the answer is yes, then you could be experiencing drafty windows. Not only is it bad for your home, but also for your energy bill! In the summer, drafty windows can counteract your AC, and in the winter, it brings cold air into a heated home. As a result, air conditioners and furnaces must work overtime to keep your house at a comfortable temperature.
Drafty windows lead to a higher energy bill, which no one enjoys. The Energy Information Administration (EIA) estimates that as much as one-third of the average home's heat loss occurs through windows and doors. According to energy.gov, heat gain and heat loss through windows are responsible for 25%–30% of residential heating and cooling energy use. If you're dealing with drafty windows, it's smart to replace sooner than later. New windows will ensure you're conserving energy long before the coldest days of the year are upon us.
Sign #5: Tough to Operate
Is opening your windows a chore? Whether it's opening, closing, or locking, your windows should not need a lot of applied force or pressure. A proper lock provides additional security and is a seal preventing air from escaping your home. If you are experiencing jamming and sticking when using your windows, it is a sign that you should replace. Factors contributing to this include: moisture accumulation, rust, rotting, or extended lack of use. Proper windows operate with ease, no matter the duty. The smooth operation also makes windows easier to clean. Nooks and crannies can be reached with no sweat, reducing dirt build-up. After all a clean home is a happy home, and opening your windows should not be a form of exercise.
Windows work together with other aspects of your home to function as an efficient system. For this system to operate at its peak, each element must be working together.
Replacing your windows is a smart investment that will add value to your home, reduce energy bills, ease your cleaning routine, and reduce sound. If any of these signs stuck out to you, contact Universal Windows Direct for a quote today!