AttiCat™ Insulation Services
Available in Cleveland, OH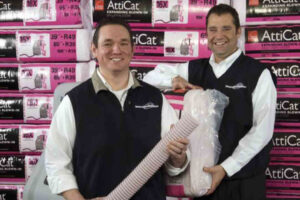 Nearly 40% of a home's energy loss is through the attic. If your home is 10-15 years old, there's a good chance it's not as well insulated as it should be. Not having enough insulation results in major energy loss and whether you realize it or not, your home is constantly leaking energy – especially out of the attic.
Since energy costs are only going to continue to rise, it's a smart idea to protect your home against these rising expenses. A well-insulated home can significantly reduce the cost of utility bills throughout the year. Universal Windows Direct wants to help save you money, not throw it away. That's why we install insulation using the Owens Corning AttiCat™ Expanding Blown-In Insulation system. It's one of the fastest, easiest and most affordable ways to save energy.
Safe & Reliable
Our AttiCat™ insulation services we provide ensure a safe installation in your home and will provide years of reliable service. AttiCat™ Blown-in Attic Insulation is noncombustible, mold resistant, noncorrosive and will not absorb moisture.
Quick & Easy
AttiCat™ Blown-in Attic Insulation can cover an entire attic in less than 1.5 hours. By design, the blown-in insulation fills hard to reach nooks and crannies which will provide complete coverage around pipes, wires and outlets.
AttiCat Insulation Install