Best Replacement Windows, Vinyl Siding, and Entry Doors in Muncie, Indiana
Serviced Locally By: Universal Windows Direct of Indianapolis
Homeowners in Muncie find top quality materials and value with UWD's replacement windows, vinyl siding, and entry doors. Universal Windows Direct offers professional installation for our exterior remodeling products that are backed by the industry-leading True Lifetime warranty. Find peace of mind with the area's best exterior remodeling products, unparalleled craftsmanship, and performance that are engineered to last for decades.
Window Replacement Enhances Energy Savings
UniShield® window installation is Muncie's top solution to lowering energy bills and making the home more comfortable. UniShield® is exclusive to UWD and offers four tier glass packages to fit a wide range of budgets. New window installation from UWD can help homeowners save hundreds of dollars per year on energy bills.
UniShield® Plus creates a comfortable home at the best price. This is a dual pane window with argon gas in the airspace, resulting in a thermally efficient window that keeps the home warm in the winter and cool in the summer. A coating of low-e reduces heat transfer for ultimate foam comfort.
SuperSpacer technology takes energy savings to the next level by reducing drafts. Innergy rigid thermal reinforcements prevent condensation that may result in moisture damage on interior window frames and walls.
All UniShield® products are engineered with durable vinyl window frames. Available in an array of frame colors, vinyl windows won't warp, chip, peel, or rot from moisture damage. It's the ultimate maintenance-free window that will last for years to come.
Additional aesthetic options include decorative glass and grids. Decorative glass adds intricate detail to the home in styles including prairie glass, double prairie, and floral. Privacy glass is available to provide an extra layer of concealment while enhancing natural light.
UWD's professional window installation creates an airtight seal and correct fit within the frame. UWD guarantees the performance of UniShield® products under our True Lifetime warranty, which covers the window's glass package, pieces, parts, labor, and other materials.
---
Entry Doors that Offer Eye-Catching Curb Appeal
Entry door replacement can add a subtle or dramatic impact to the exterior. Fiberglass doors feature lifelike wood grain patterns that create a warm and inviting entrance. It's one of Muncie's most popular materials for entry doors due to its durability and unforgettable aesthetics.
Available in a variety of wood stain and exterior paint color options, homeowners can design the ideal entry door to perfectly complement any curb appeal. Order the entry door primed to apply a custom color to set the home apart from the rest.
Discover a world of decorative glass options for every new entry door. UWD proudly offers nearly limitless decorative glass styles, shapes, and designs. Decorative glass designs include a range of styles including floral and geometric. Homeowners can choose from a variety of glass shapes, including diamond, square, or choose a door with a face that's almost entirely glass.
Hardware options add another level of aesthetics while increasing the product's security. Choose from today's best hardware styles including locksets, leversets, and handlesets with varying finishes. Door security is further enhanced with a steel kick plate and composite lock block that provides extra power beneath the hardware.
Fiberglass doors feature reinforced skin that is highly resistant to the elements. Both fiberglass and steel door replacement will not rot from excess moisture damage. These materials are the ideal choice for low-maintenance door installation.
Homeowners can experience greater indoor comfort and energy savings with entry door installation. Designed with a polyurethane foam core, doors are a thermally efficient upgrade that can lower energy bills.
Durable weatherstripping and an adjustable threshold provide protection from drafts and moisture. This layer of defense keeps the home comfortable and dry all throughout the year. UWD offers professional front door installation for a correct fit within the frame, which also reduces drafts and increases performance.
Our doors are designed to perform for decades and are backed by our True Lifetime warranty. This warranty covers many working components of the door as well as craftsmanship, installation, and labor.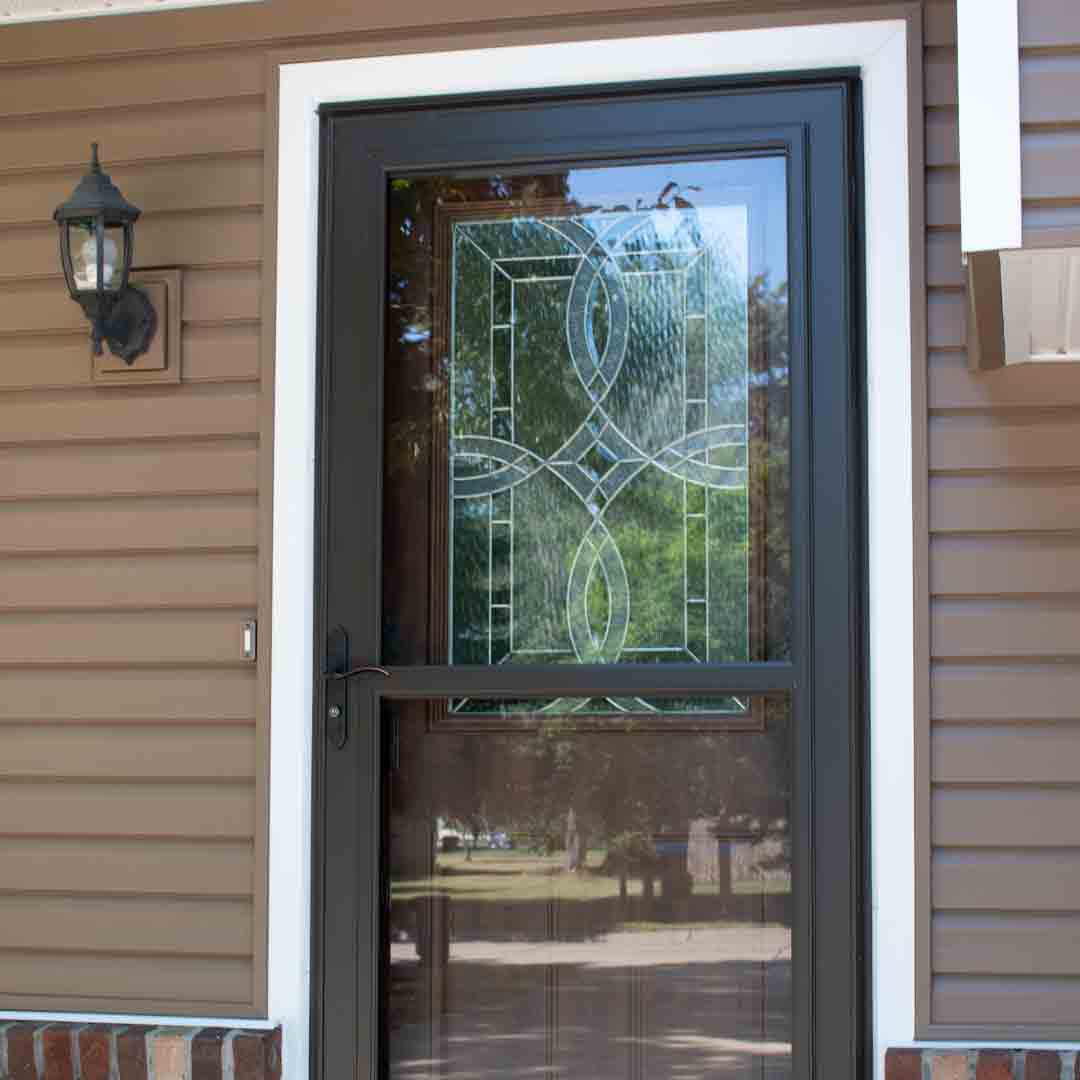 Vinyl Siding Replacement for Stylish Homes
Muncie homes are rapidly transformed with UniShield® vinyl siding installation. As professional siding contractors, homeowners receive top-quality products with excellent siding installation and aesthetic options. This durable exterior is highly effective at resisting the elements while remaining beautiful.
Homes with UniShield® siding boast the most beautiful curb appeal in Muncie. Select from a range of modern or traditional exterior colors that instantly add oomph. For extra flair to the exterior, vinyl scallops, vinyl cedar shakes, and soffit quickly add character.
Exterior panels range from standard length up to 25'. XL and XXL lengths provide a nearly seamless appearance with virtually no overlap. Panel widths are available in up to .46".
UniShield® exterior is ideal for homeowners wanting exceptional craftsmanship at the best value. The siding panels and aesthetic upgrades feature lifelike and deep wood grain patterns for the look of real wood. The exterior is essentially maintenance free and will never require sanding, staining, or painting.
As a siding that's also built for performance, UniShield® uses Universal Fan-fold Housewrap to seal the home's thermal envelope. By providing insulation down to the wood studs, homeowners will experience a home that's more energy efficient. This product also prevents siding panels from bucking or waving while lying flush with the exterior.
Fullback Insulated Underlayment provides another layer of protection against the elements. It provides a barrier by blocking airflow that gets behind the siding panels. Fullback Underlayment also adds sound-blocking technology for a quieter home.
UWD's siding installation enhances product performance while making the home look more beautiful. This product is covered by our True Lifetime warranty. An additional 20-year color warranty is included to guarantee color vibrancy and resistance to fading.