Bringing the Best Value Exterior Products to Belmont NC: Replacement Windows, Entry Doors, Vinyl Siding
Exterior remodeling improves home value while making it more attractive and energy efficient. Replacement windows, entry doors, and vinyl siding from Universal Windows Direct are energy efficient and can shave hundreds of dollars per year off of energy bills. These low-maintenance products are ideal for homeowners looking for the best value and keeping more money in their wallets.
UniShield® Window Replacement Saves More Energy
UniShield® is one of the most energy efficient windows in Belmont, NC. Four tiers of glass options are available to make an incredible difference in the comfort of the home. The quality vinyl frames battle against the elements and requires virtually no maintenance other than occasional cleaning. Vinyl window frames are highly resistant to moisture and will not fade, peel, chip, or rot.
UniShield® Classic adds exceptional comfort to the home with professional installation and quality materials. UWD provides window installation to create an airtight seal and eliminate drafts instantly.
UniShield® Plus is one of the most popular windows in Belmont. It's the top value for homeowners wanting a dual pane window with argon gas in the airspace and low-e glazing to reduce heat transfer.
UniShield® Premium is a triple pane window equipped with argon gas in the airspace for exceptional thermal efficiency.
UniShield® Supreme is the ultimate replacement window for energy savings. As a triple pane window with krypton in the airspace and a double coating of low-e, homeowners can potentially save over $400 per year on energy bills.
All UniShield® window replacement options can instantly enhance curb appeal. UWD offers the top window styles including double hung, bay and bow, casement, slider, specialty shaped, and geometric. Decorative glass options such as prairie, double prairie, and floral add intricate detail to the exterior.
UWD offers guaranteed performance with our True Lifetime warranty. This warranty covers many components of the window including installation, labor, pieces, parts, and more.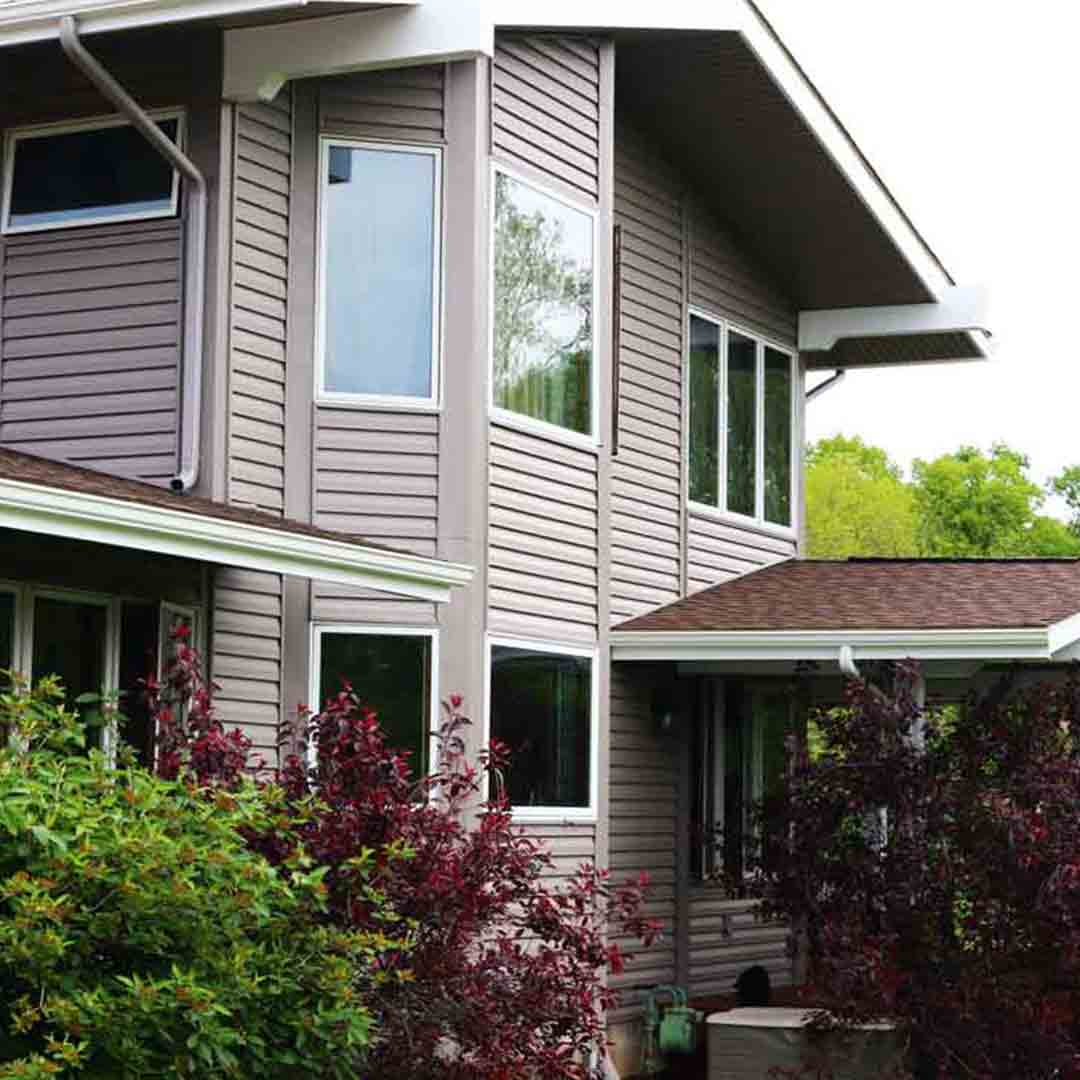 Vinyl Siding Replacement for Belmont, NC Homes
Vinyl siding installation provides dramatic and instant transformation to the exterior. The high-quality exterior panels are coated with high-gloss paint for exceptional and everlasting beauty. These panels showcase exceptional craftsmanship with lifelike wood grain patterns. With lengths varying from standard to XL and XXL, homeowners can create a nearly seamless appearance with no overlap.
UniShield® exterior siding is available in a variety of colors ranging from contemporary to traditional. During an in-home consultation, homeowners can view an entire array of colors along with additional upgrades including vinyl scallops, cedar shakes, and soffit.
Vinyl soffit is best for blocking out wind-driven rain that can result in moisture to rafter beams. Vinyl scallops add ornate detail to window boxes and gables, while cedar shakes create the look of real cedar wood shingles without the maintenance. Cedar shakes add exceptional texture to curb appeal with style that's unique for any home.
UWD vinyl siding installation maximizes home performance with products such as Fullback Insulated Underlayment. This product improves vapor flow 500% more over traditional siding with no underlayment. Fullback underlayment is also essential for blocking out airflow that gets between the siding and exterior sheathing. Hot and cold airflow during the summer and winter can impact home performance and cause energy bills to rise.
Universal Insulated Fan-fold Housewrap enhances the home's thermal envelope by insulating down to the wood studs. With an R-Value that's 1600% higher than traditional housewraps, this product is an important piece of the puzzle for an energy efficient home. Universal Insulated Fan-fold housewrap is also responsible for helping the siding lie flush with the exterior, eliminating unsightly waves and bucking of the panels.
UWD's siding installation further enhances UniShield®'s performance and style. Every panel is locked precisely in place for ultimate craftsmanship. As a guarantee of UniShield®'s quality, UWD offers coverage under our True Lifetime warranty. Homeowners have peace of mind with UniShield® siding replacement for years to come.
Effortless Elegance with UWD Entry Doors
Fiberglass front doors create everlasting beauty for curb appeal. Get the look of warm wood without the hassle and maintenance, as fiberglass doors are a striking alternative to wood. UWD offers a wide range of wood stains and exterior paint colors that add wow-factor to both wood and steel door installation.
Quality hardware adds functional and aesthetic value to the door. Door hardware options include leversets, handlesets, locksets, and deadbolts such as traditional, keypad, and touchscreen. Choose hardware finish options such as brass and nickel.
UWD provides a variety of decorative glass options to add a special touch to front doors. Find nearly limitless styles including geometric and floral patterns. Numerous window sizes and styles are also available to increase natural light in the home, such as diamond-shaped and oval. Sidelites and transom windows are also available for truly effortless elegance. Privacy glass gives the best of both worlds by blocking out prying eyes and increasing natural light.
Both steel and fiberglass door products can improve the home's performance. A polyurethane foam core is included to increase the thermal efficiency of the door. Durable weatherstripping and an adjustable threshold seal off drafts for an instant increase in comfort levels. To prevent moisture from entering the home, the door is engineered with an adjustable threshold.
UWD offers coverage of door installation through our True Lifetime warranty. This warranty protects aspects of the door including hardware, pieces, parts, labor, installation, and craftsmanship. Enjoy peace of mind and impeccable performance with entry door replacement.