Let's face it: cosmetic home upgrades make homeowners happy.
Who wouldn't love to walk into a new gourmet kitchen with granite countertops or take in the beauty of new vinyl siding?
However, the reality is that not every home upgrade can offer homeowners a significant return on investment (ROI),
no matter how beautiful or practical the investment may be.
Before you dive into your interior or exterior upgrade, here are some of the best and worst home improvement upgrades for your ROI:
The Worst Home Improvement Upgrades for ROI
Let's begin with the worst home improvement upgrades for ROI.
If you're considering any of the following upgrades for your home, you might want to think twice about moving forward:
1. Bathroom Addition
While a second, third, or even fourth bathroom might sound like a bright idea, the truth is that this remodel yields a very low ROI.
According to realtor.com, a bathroom addition costs around $42,000—and homeowners can expect to recoup roughly $23,000 of the cost.
This gives a bathroom addition remodel a ROI of 56.2%.
2. Master Suite Upgrades
Another area where homeowners will experience low ROI is in the master bedroom.
A master suite upgrade to turn your bedroom into a relaxing retreat sounds wonderful, but you won't see much cost returned on this project.
If you want to make a smart upgrade in the bedroom, consider adding a walk-in closet.
Some experts believe that you can receive up to 100% ROI on this upgrade.
3. Home Office Remodel
Everyone wants to work in an area where they feel motivated and energized, and a home office remodel can help keep creative juices flowing.
However, a home office remodel actually has a very low ROI at 48.7%.
The reason behind this may be that only 2.8% of the population works from home part time, which diminishes the need of a remodeled home office.
The Best Home Improvement Upgrades for ROI
Even though there are some bad decisions for ROI, there are some great choices to make to recoup nearly all of your money.
These are some of the highest ROIs you can receive for home improvement upgrades:
1. Steel Entry Door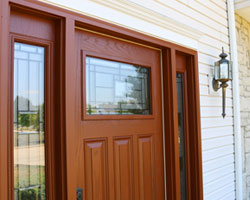 2015's Cost vs. Value report indicated that a steel entry door offers the best ROI for home improvement.
The average cost of a steel entry door is roughly $1,200, and homeowners can receive up to 101.8% ROI on this project.
2. Vinyl Siding
Vinyl siding was also ranked highly on the Cost vs. Value report, coming in at 80.7% ROI.
3. Attic Bedroom
Interestingly enough, an attic bedroom offers 77.2% ROI, which is right above vinyl window replacement at 72.9%.
Universal Windows Direct can help increase the value of your home. Contact us today for your free quote.