Spring is the season of new beginnings! The nice weather is a great opportunity to add some crucial curb appeal to your home. The thing is, it's so easy to get overwhelmed by your options. You may be wondering if vinyl replacement windows offer a good ROI… if you should pressure wash your siding or finally replace it… what about upgrading to a fiberglass entry door? And this is just the tip of the iceberg! Don't stress. Today, you'll learn 6 simple—and highly impactful—ways to increase your home's curb appeal this spring.
1. Give Your Mailbox a Makeover
You may be tempted to start with landscaping your yard, but your mailbox is actually a fantastic place to start your spring curb appeal project.
While many folks think of their mailbox as a minor detail, it can have a huge impact on the look and feel of your front lawn. After all, it's one of the first things people notice as they come to your front door!
Mailboxes are often old and outdated. Replacing yours with a new, modern design complementary to your home's exterior will add instant oomph. A coat of black spray paint is an even more affordable option, plus you can add tasteful stencils or decals.
Finally, consider adding landscaping around your mailbox like flowers and bushes. This is a great way to add polish and curb appeal!
2. Analyze Your Walkway
Your walkway guides people to your front porch. Many people put love into their porch but forget how big of an impression their walkway makes.
If you have cracks, stains, or plants growing through your walkway, you can upgrade without fully replacing it. Simply use some weed killer and fill in the cracks. Then add stone or flowers around the walkway's border to add instant elegance.
Doing a full overhaul? Upgrading to cobblestone adds an inviting, almost old-world look and feel. If cobblestone would clash with your exterior, bricks or even wood planks with colorful stones can breathe new life into your walkway.
3. Perk Up Your Porch
You'd be surprised by how effective spring cleaning can be for your porch.
First, spend some time removing old leaves and debris that accumulated throughout fall and winter. Next, buy or borrow a power washer to clean off any grime or mold that accumulated during the winter months. This is a quick, easy, and effective way to get your porch looking squeaky-clean and brand-new.
If you've noticed the color of your porch fading, consider repainting or re-staining once the weather gets warmer. Finally, add a flag, wreath, or outdoor furniture to create a more inviting space.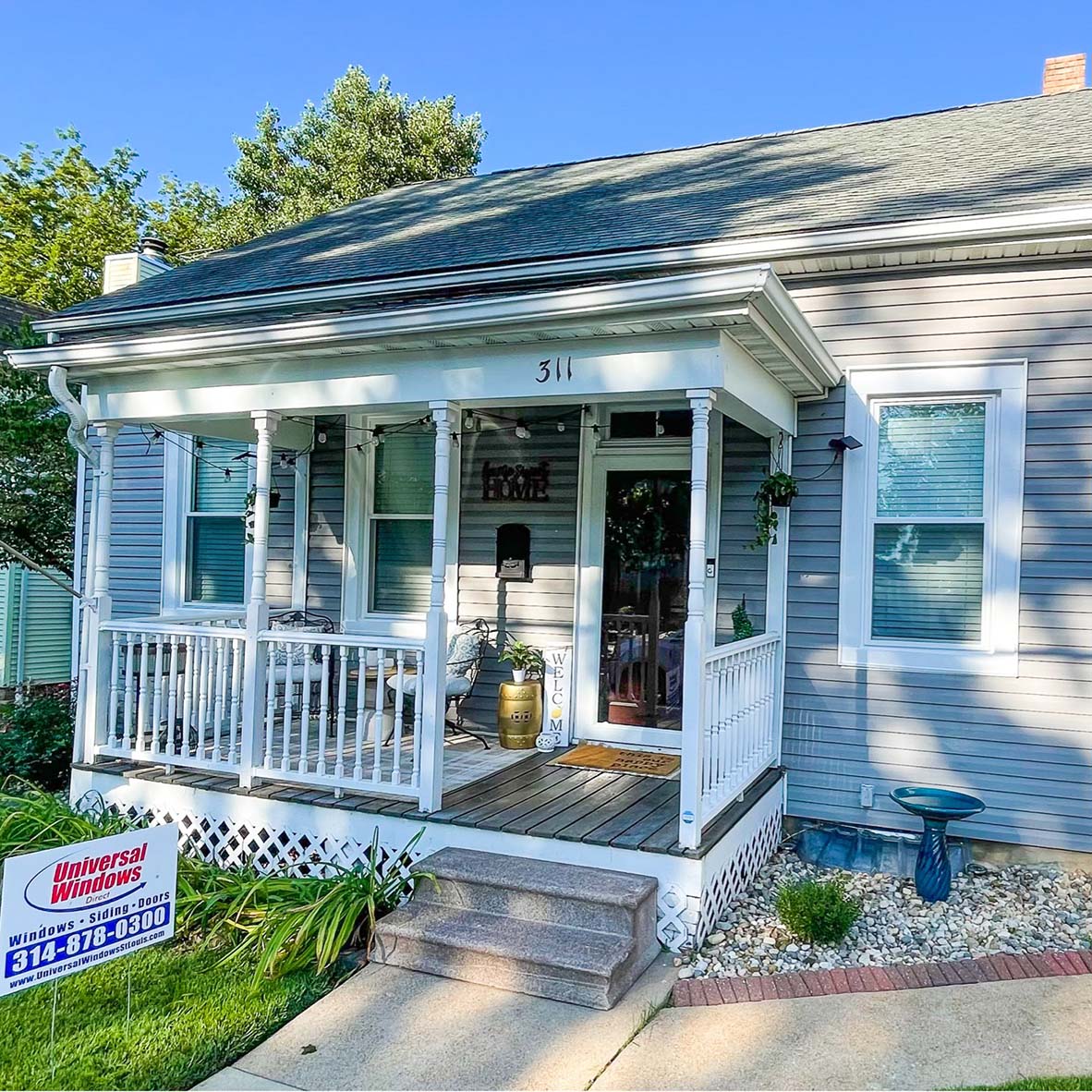 4. Refresh Your Siding
Though often overlooked by homeowners, your home's siding is one of the most prominent facets of your home's curb appeal. Is your siding loose… sagging… covered in dirt stains… or experiencing color fade in general?
If so, it's time to infuse new life and style into your siding. For some styles, an afternoon of power washing and painting is enough to get the job done. But at a certain point, siding simply needs to be replaced—ideally with vinyl replacement siding, which is extremely durable and rugged.
The vinyl siding offered by us here at Universal Windows Direct is perfect for homeowners in search of outstanding performance, exceptional quality and value, and a gorgeous home exterior.
5. Win with New Windows
If your windows look old and the frames are chipping, you're hurting your curb appeal and your wallet. Installing vinyl replacement windows isn't purely cosmetic—it also saves you money on your heating and cooling bills!
You may also consider upgrading to our Unishield® vinyl replacement windows. This top-quality product cuts your energy bills while instantly boosting your curb appeal and pride of ownership.
Plus no need to stress over picking windows that mesh with your exterior. Universal Windows Direct offers a plethora of colors, styles, and decorative glass options to help you find your perfect match.
If you recently installed new windows and just need to do some spring cleaning, thoroughly clean the inside and outside of your windows. You can also add flower boxes or shutters to create a unique and beautiful scene.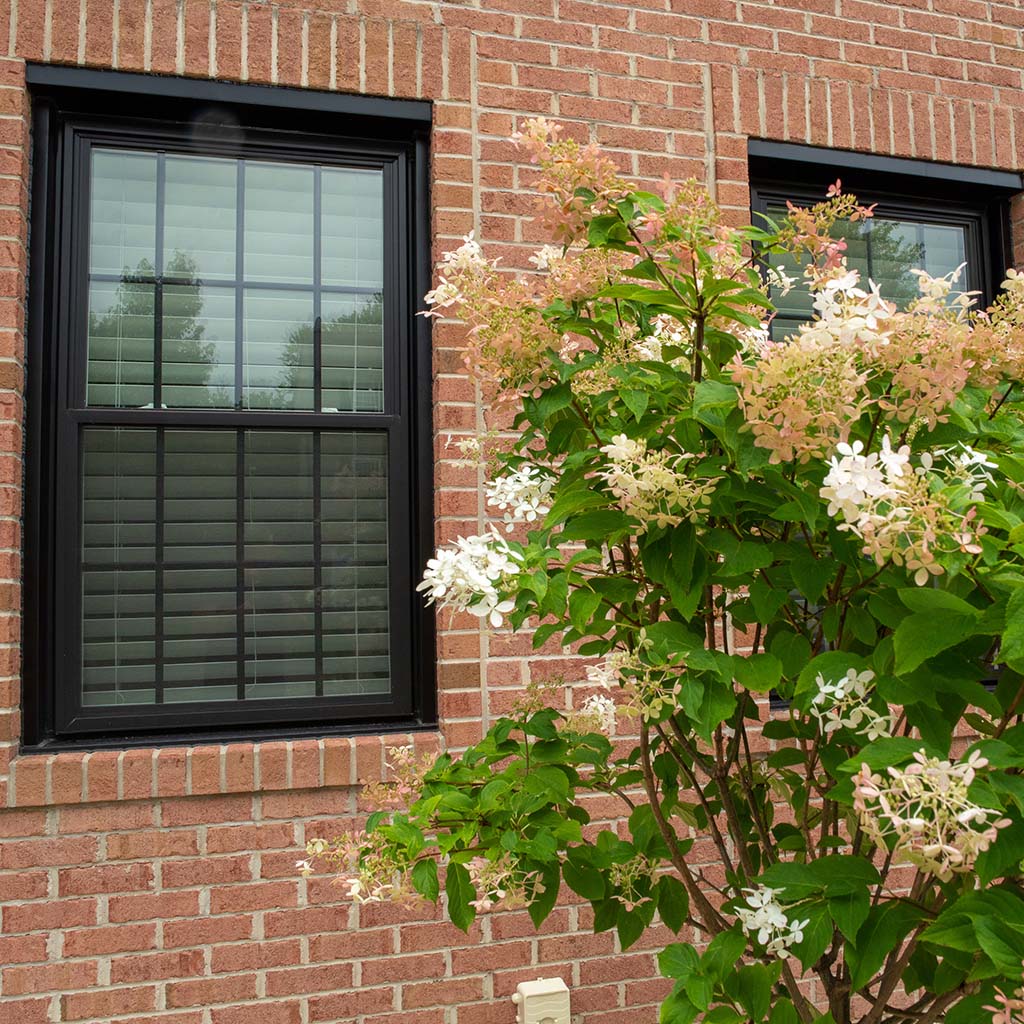 6. Don't Forget Your Door
Your front entry door is your exterior's focal point. An old and worn door actively detracts from your home's curb appeal, but you can remedy this with a bit of elbow grease.
If you have a wood front door, spend a weekend sanding and applying fresh paint. You can choose from a full spectrum of colors to complement your home's exterior.
But if your door is drafty or showing signs of rot, it's time to buy a new fiberglass entry door. Replacing your door instantly boosts your home's beauty, safety, and security—the ROI is so much more than just curb appeal.
The easiest way to upgrade to a fiberglass entry door is by contacting us at Universal Windows Direct.
When you work with us, you can customize your front door to perfectly match your home's exterior. We offer a huge selection of glass styles, side lites, transom configurations, paints, and stains—the combinations are virtually limitless!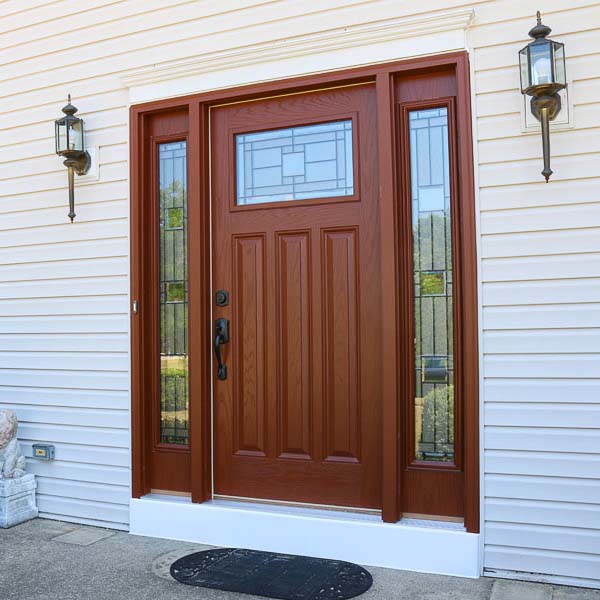 Our Pros Are Here to Help!
When it comes to boosting your home's curb appeal, it's hard to know what you don't know. Basically, many of these projects seem easy-as-pie to DIY… until you're halfway through and hit a roadblock you can't solve.
Whether it's realizing that you mis-measured for your vinyl replacement windows… discovering you ordered hinges on the wrong side of your new fiberglass entry door… or something far more expensive to fix… these mistakes cost you time, energy, and money!
Save yourself the headache of handling it all alone. Universal Windows Direct provides FREE project estimates—no risk, no obligation. Our team of certified experts is trained by us to uphold our high standards of service.
Just contact us today to find out more about getting a professional boost to your home's curb appeal.