Cons of Painting Old Siding
Painting Con: Time Consuming
They say time is money, and this is no exception! If you're bravely taking the DIY approach, you can expect to spend a large amount of time getting the exterior to look up to par.
Let's say that you're planning to paint a 2,000 sq. foot home. You can't simply pick up the paint brush and get down to business. There is cleaning and prep work involved before you make the first stroke with your paint brush.
First, you'll need to thoroughly wash the exterior. Any dirt and grime left behind on the old siding will make a mess of your new paint job, not to mention making paint rollers and paint brushes dirty! How do you wash old siding? Your first thought might be to power wash the siding to remove any mold or grime, but that won't get all of the dirt off and a ton of water is used on the existing siding. To prepare properly, you'll need to hand wash every square inch of your siding, then thoroughly rinse it. Time spent: 1-2 days.
Next, you'll need to prime the siding. Priming is necessary if your old siding is porous or pitted. Time spent: 1 day.
Then you'll need to paint the siding using a hand paint brush and paint roller. The paint must go on smooth and even or you'll risk making the exterior look even worse than when you started. Time spent: 1-2 days.
Remember that if the siding is not properly prepared and clean, the paint will peel away and undo all of your hard work.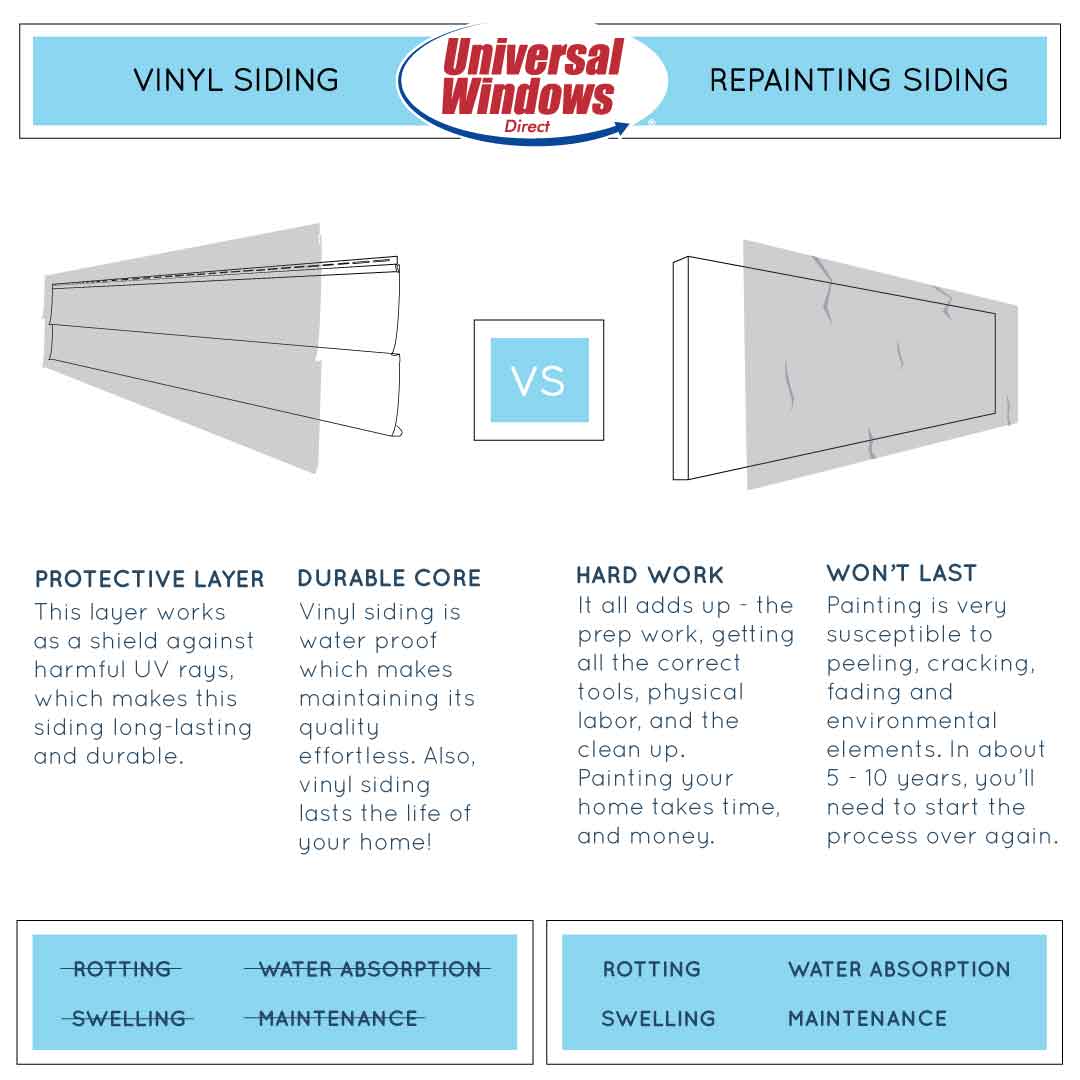 Painting Con: Specific Paint Type and Paint Application
Before you skip to the hardware store and buy a few cans of paint, know that you can't apply just any paint to the old wood or aluminum siding.
Why? First, you need to consider the fact that exterior siding is exposed to the elements 24 hours a day, 365 days per year. The need for exterior paint is obvious, but there are other factors that can impact your new paint job.
The next consideration is the fact that old siding expands and contracts due to heat and cold. The wrong type of paint can lead to cracks in the siding, which will completely ruin the look of your new paint job.
You'll also need to think about the weather when painting. According to Bob Vila, you should avoid hot, humid, or windy weather while you paint.
Some paint manufacturers recommend not painting in specific temperatures. For example, Benjamin Moore's exterior siding paint recommends avoiding temperatures cooler than 40 degrees F.
If you are dead set on painting your exterior siding, these are some helpful tips that can give you the best exterior paint job possible:
Paint in the shade if possible so the paint doesn't dry too quickly.
Buy high-quality painting tools that won't leave unsightly streaks, including at least two synthetic bristle brushes for applying latex paint.
Don't paint over dirty siding. Check for mold or mildew growth as you go.
Don't paint over siding that's deteriorating.
Being prepared is key to ensuring that you paint your exterior like a pro!
Painting Con: Painting Can Void Your Warranty
There may be a clause that voids your warranty if you decide to paint over your existing siding. In fact, some warranties are even voided if you power wash your siding.
This small detail can lead to a lot of headaches down the road, so go through your current warranty with a fine tooth comb or call the manufacturer if you're not sure.
Painting Con: Short-term Solution
Lastly, painting is only a short-term solution for increasing curb appeal. In about 5 - 10 years, you'll need to start the process over again and apply more paint. But by then, your siding may have reached the end of its life and require total replacement.