When homeowners think of energy efficient windows, they typically think that means no air will pass in or out of the window and are shocked to find out preventing that from happening is impossible. All windows have some level of air infiltration to them—it is all about how much and understanding what that means for your home.
Air infiltration is simply the passage of air in or out of a building. There are many spots within your home where this can occur, such as cracks in walls, ducts, plumbing penetration, and windows. Even the most energy efficient windows will have some level of air infiltration to them, which happens in the middle where the two sashes meet and lock together and where the sash meets the frame. Not all windows are created equally when it comes to their levels of air leakage. Keep in mind, the lower the air infiltration rate, the more airtight your home will be.
According to a report from Energy Star, air leakage accounts for between 25% and 40% of the energy used for heating and cooling in a typical home. When homes are built, contractors use a variety of materials to help insulate your home, like foams and wraps. These materials help protect your home against air leakage but aren't fool proof—your home will always experience some level of air infiltration.
While air infiltration isn't something you want to happen excessively, it is something that should happen in your home. According to the EPA, it is a good to introduce new, fresh air into your home to prevent stuffiness, humidity, and odors, especially during the months where windows can't be fully open.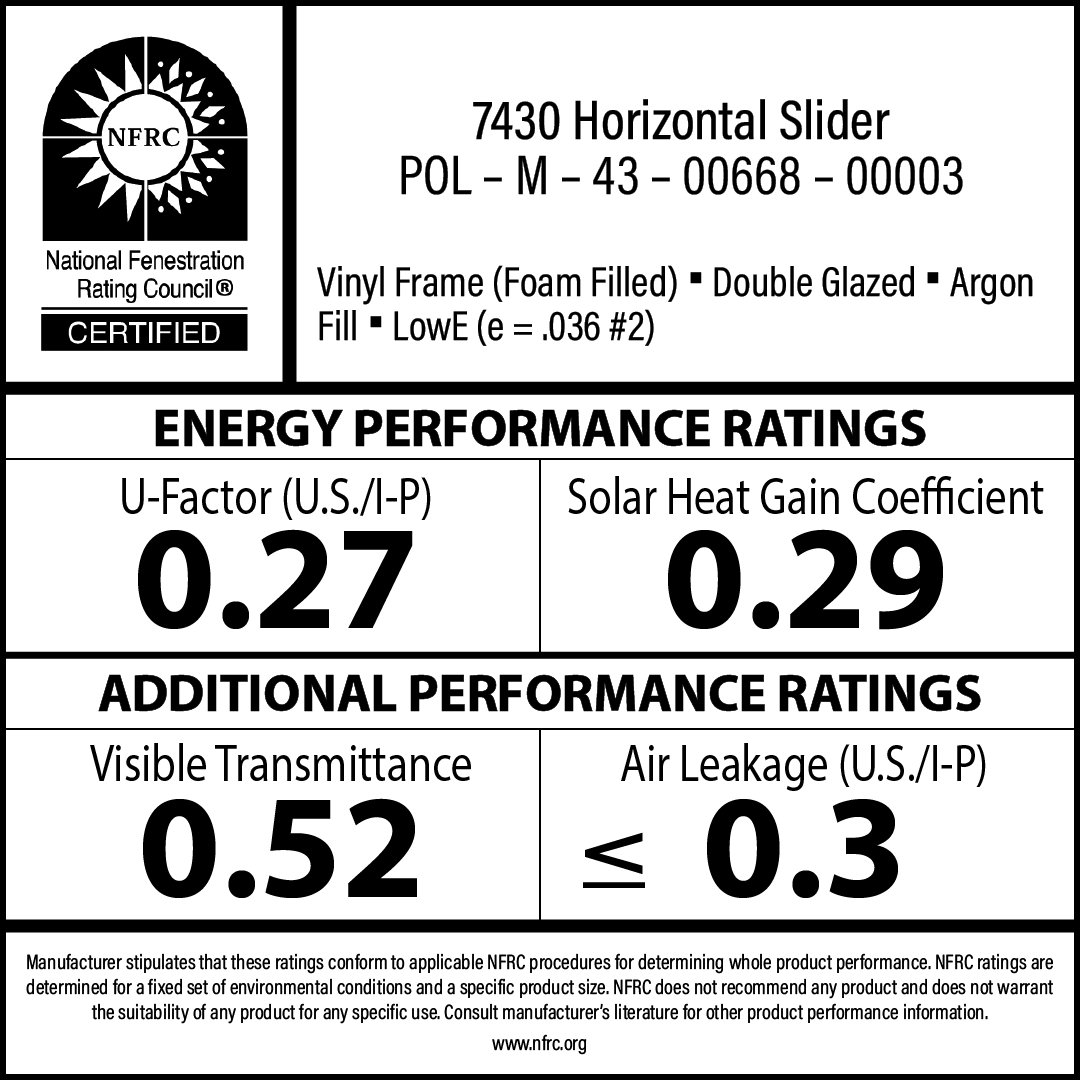 What the Numbers on the NFRC and Energy Star Label Mean for your Home
When you purchase replacement windows, you will usually notice a large sticker in the top corner. This shows the NFRC information and Energy Star information unique to your new windows.
Air infiltration ratings have an average industry rating of ≤ .30 cfm/sf (cubic feet per minute per square foot) against a 25-mph wind speed. This rating is calculated by how many cubic feet of air can pass through a window in a matter of a minute's time. That number is then divided by the total area of the window. When you're evaluating window performance, it is important to only compare windows that are the same dimensions. If you look at two different sized windows, you will not see an accurate representation of air exchange.
To understand what that means for a room in your home, you can use the tool below to find out how often a room completely exchanges air.
Air Infiltration Calculator
This tool will calculate how often the room completely exchanges air focusing on the run time of the HVAC
Rate of Air Infiltration through Window: Cubic Feet per Hour
Rate of Air Exchange in Room: Hours
How UniShield Windows Measure Up
If you check the sticker on your new UniShield windows, you will see they meet the industry standard ≤ .30 cfm. This means Energy Star and the NFRC recognize them as being energy efficient. You'll also notice we use cam style locks to pull the sashes together and use synthetic fibers to make our weather stripping, preventing it from breaking down over time, to create an airtight seal between the sashes and the frame.
Points to Remember When Evaluating Your New Windows
The biggest point to keep in mind is that an operable window will never be fully airtight, but there are different levels of airtightness a window can have. Having windows in your home that have an air infiltration performance of ≤ .30 cfm or less will help you create a more comfortable home in addition to keeping out moisture, reducing outside noise, improving your indoor air quality by keeping out pollutants, and reduce the escaping of conditioned air in your home. If you have any questions about your new windows and their air infiltration rating, please feel free to call us at (800) 984-5846 or send an email to customerservice@universalwindowsdirect.com