Renovations are popular among homeowners. The exciting buzz of a successful home improvement project is an unmatched feeling and can give you the sentiment of a new home, with the same address. Planning and funding these projects may seem intimidating, but it doesn't have to be–sometimes all it takes is not buying that cup of coffee in the morning and putting that money towards your home improvement project. We created a simple guide to help get you started. Check out Universal Window Direct's tips for creating a home improvement budget.
1. Determine The Goal of Your Home Improvement Project
First and foremost, the most important thing you can do is be realistic with your budget–it will minimize stress, surprises, and wasted time.
Then you can establish your home improvement goals. To help, ask yourself questions like, are you planning on renovating your whole house? Or only specific rooms? Does a kitchen remodel mean stripping everything bare and starting new? Or a simple refresh by repainting cabinets and replacing countertops?
Within your goals, determine wants vs. needs. The improvement needs should take priority over wants. Place needs at the top of the list then prioritize your wants from most important to least important. This is essential to creating an idea of the overall cost of your home improvement. For example, if you want a bathroom remodel, but need to replace your roof, consider ranking the roof first. It is possible you're examining the cost of each project and discover you cannot afford all on your list. If that is the case, keep reading to explore financing options or cut out wants that rank at the bottom of the list.
If you plan on selling your house in the future, another factor when deciding projects is cost vs value. Spend money on projects that will increase the value of the home. For example, if replacing your garage door won't add value when selling your home later on, don't spend half your budget on it. Consider a project that will add instant resale value, like replacement windows.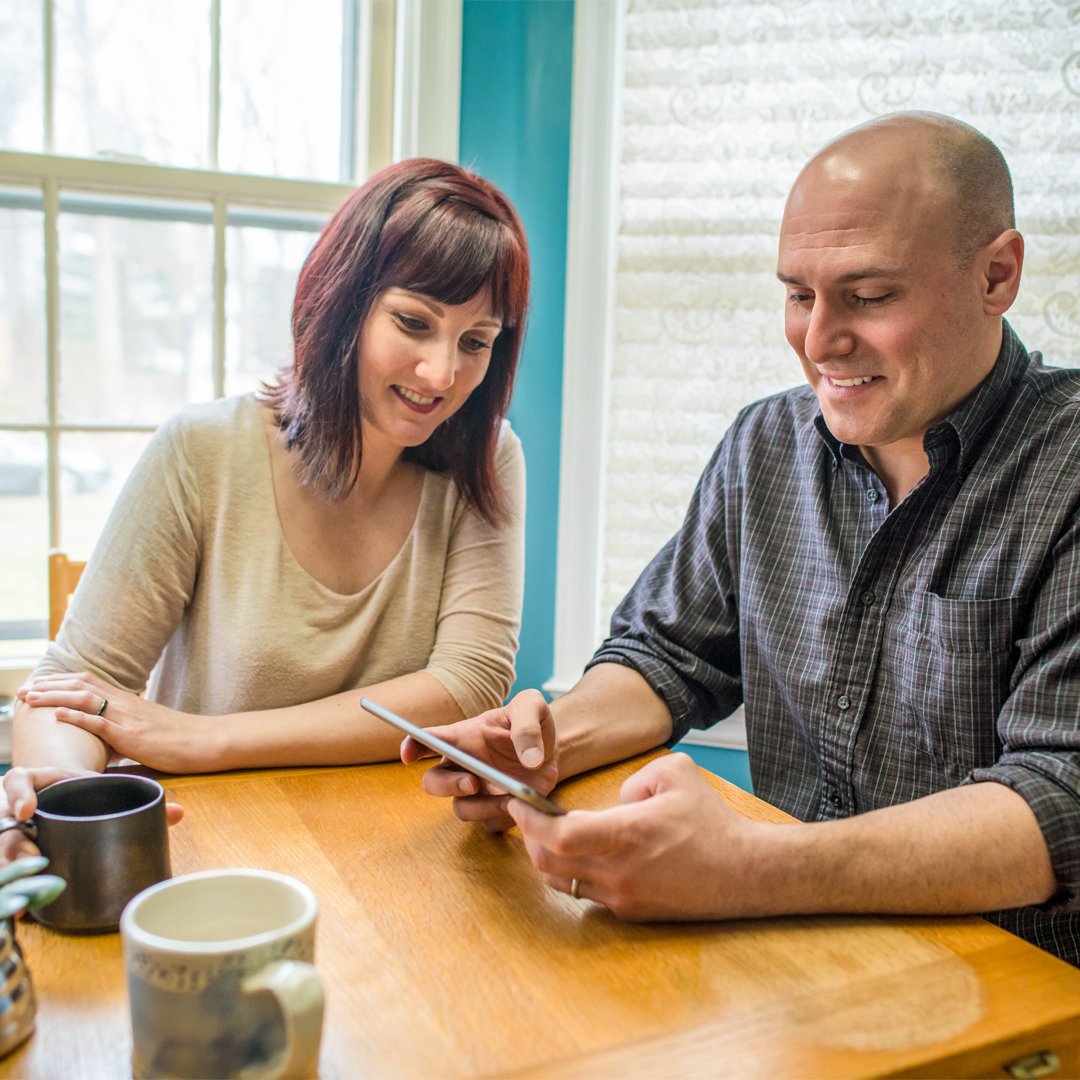 2. Research All Potential Home Improvement Projects Before Executing
A key step in creating your home improvement budget is researching. Google the projects you want to tackle and you will find hundreds of rates, providing you an idea of what your project will cost. Keep in mind, different finishes and materials affect cost as well. Are you interested in tile or hardwood flooring? Slate or marble countertops? Little decisions like this will quickly add up in your budget, so it is crucial to factor them in when making decisions.
For a more accurate and personalized cost idea, get quotes from multiple contractors. Most conduct a free or low-cost home estimate. This will provide a good structure for how much money to budget for each project. An optional further step is to get a hard quote from a contractor. This costs more money, but provides a detailed cost breakdown specific to your home. Decide the contractor you are most likely to use then ask them to provide a hard quote. Look for a contractor that is willing to work within and maximize your budget.
Ask other homeowners who have had similar renovations about their experience. They can provide first-hand advice on what to expect and what the cost was like. A benefit of asking another homeowner is they can give advice on what not to do. As a result, you learn from their mistakes. You can also read online reviews to get a feel for what it's like to work with each company.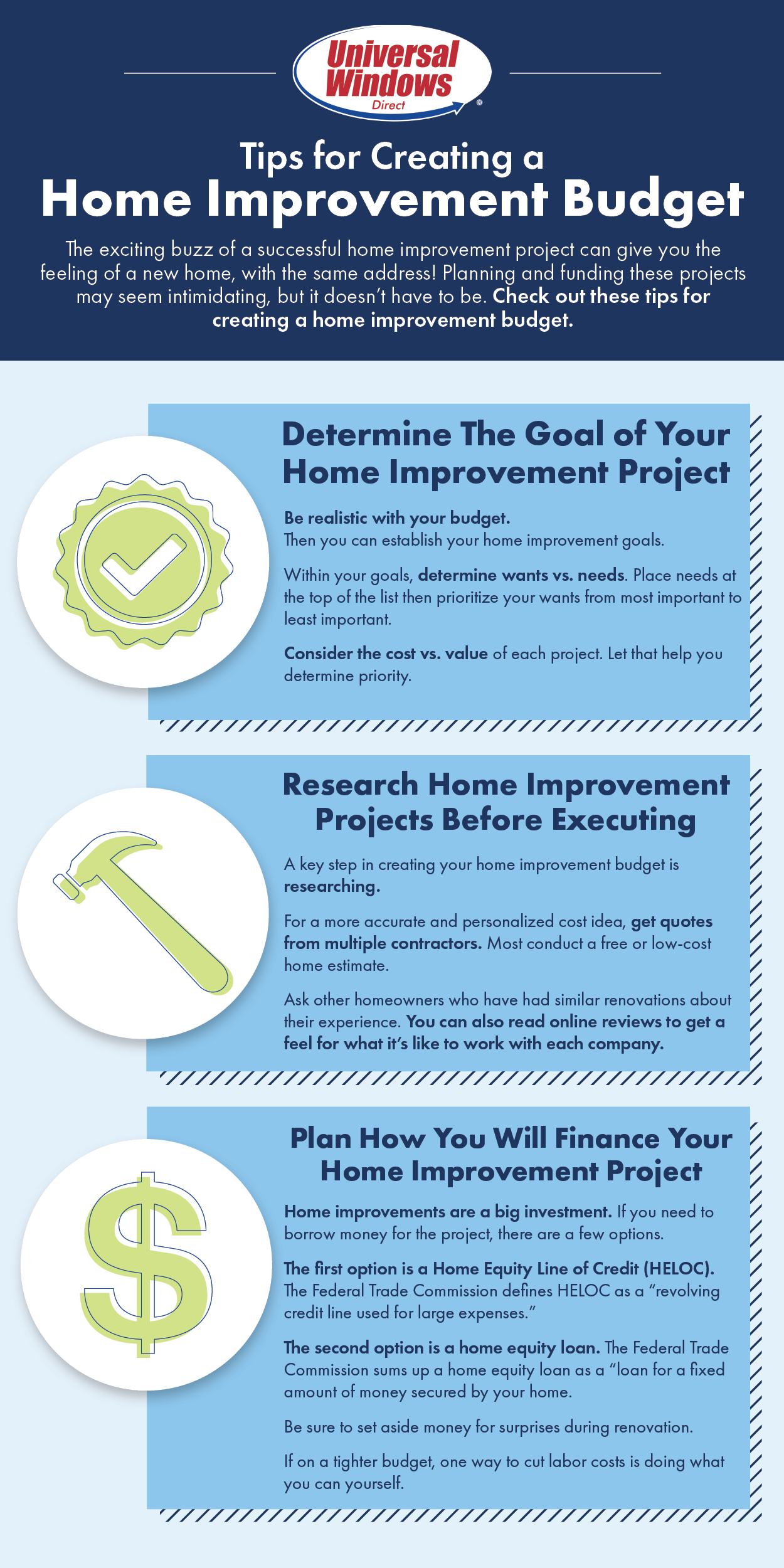 3. Plan How You Will Finance Your Home Improvement Project
Home improvements are a big investment so you'll need to examine your current finances. Are you able to pay in cash or will you need to borrow money? If you can pay in cash, that is great, decide how much you are able to put towards your project. If you need to borrow money for the project, there are a few options.
The first option is a Home Equity Line of Credit (HELOC). The Federal Trade Commission defines HELOC as a "revolving credit line used for large expenses." This is similar to a credit card–you can borrow as much as you need at any time, but can't exceed your credit limit. Another factor to keep in mind is you are required to use your house as collateral for the line of credit.
The second option is a home equity loan. The Federal Trade Commission sums up a home equity loan as a "loan for a fixed amount of money secured by your home. You repay the loan with equal monthly payments over a fixed term." If the loan is not repaid following the agreement, the lender can foreclose on your home.
Be sure to set aside money for surprises during renovation. You never know when you could run into issues, like mold or electrical problems during a project. Have a safety net of money for this purpose. It makes those surprises more manageable and less of a headache. If you end up not needing that supply, it's money you can put towards other finishing touches, which is a win win.
If on a tighter budget, one way to cut labor costs is doing what you can yourself. For example, painting a room or cabinets yourself instead of hiring a professional. Another way to cut costs is by refurbishing things that are already in good condition. You can save money by making use of what you have and not buying brand new.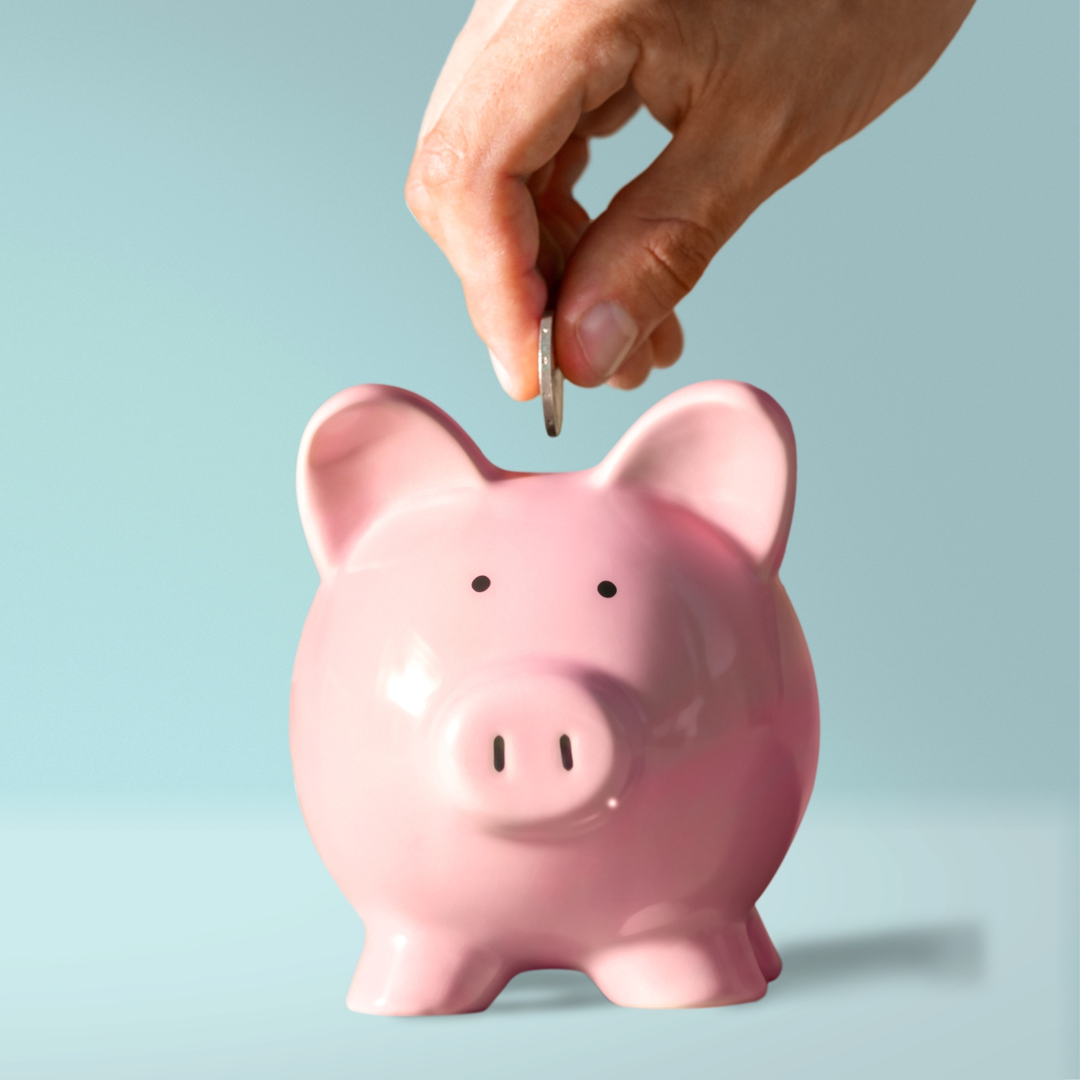 Voila! After following these tips you have created an extremely useful home improvement budget. Stick to your budget and enjoy the newfound beauty of your home improvements.
If replacement windows and doors are on your list, be sure to give us a call or sign up for a free estimate online!
Shopping for New Windows? Get the Most for You Money!
Get the inside scope on buying the best value in replacement windows with our free guide.