Upgrading to new vinyl siding is a big decision. There is a lot to juggle during the process, and most homeowners have a lot of questions when getting started. Finding trusted vinyl siding installers is only the tip of the iceberg for this process.
From the vinyl siding warranty to getting the best vinyl siding installers to work on your home, these detailed answers will help you select the right contractor for a worry-free experience.
Section I: Questions About the Contractor and Siding Company
These are discovery questions you can ask to learn more about the siding company, their previous work, and how they operate.
Q. 1: Where Can I Find Your Office?
While there are many siding contractors that are honest and reputable, it's important to protect yourself from potential scams. Scams can happen at any time, but they're most prominent after big storms blow through and cause a lot of damage to local homes. Storm chasers will see their opportunity to try to get your business, all while knowing they never had any intention of fulfilling their obligations.
One way to keep yourself safe is to ask where the company is located. You are looking for a physical address—not a P.O. box. It's also best if the company is operating out of a building with clearly marked signs displaying its name.
A quick search on Google maps (street view) can give you a glimpse of what you're getting into.
Q. 2: Where Can I Find Examples of Your Work?
Trusted vinyl siding contractors will proudly display their work on their websites and even social media, such as Facebook and Instagram.
If the company has permission from the homeowner, you might even be able to drive by and see the work of a previous project. You can also look around for yard signs in your local neighborhood.
This is also a good time to ask for references. Getting just one inquiry from a reference they provide can help you make a good decision on choosing the best vinyl siding installers.
If you need some ideas on what to ask their references when you call, here are some helpful hints:
What work did the contractor do for you?
Did they show up on time?
Were they good at communicating?
Was your job completed within budget?
On a scale of 1-10, how do you rate this contractor?
Would you hire this contractor again?
You can also look around online for reviews at places such as Guild Quality, Google, and Facebook.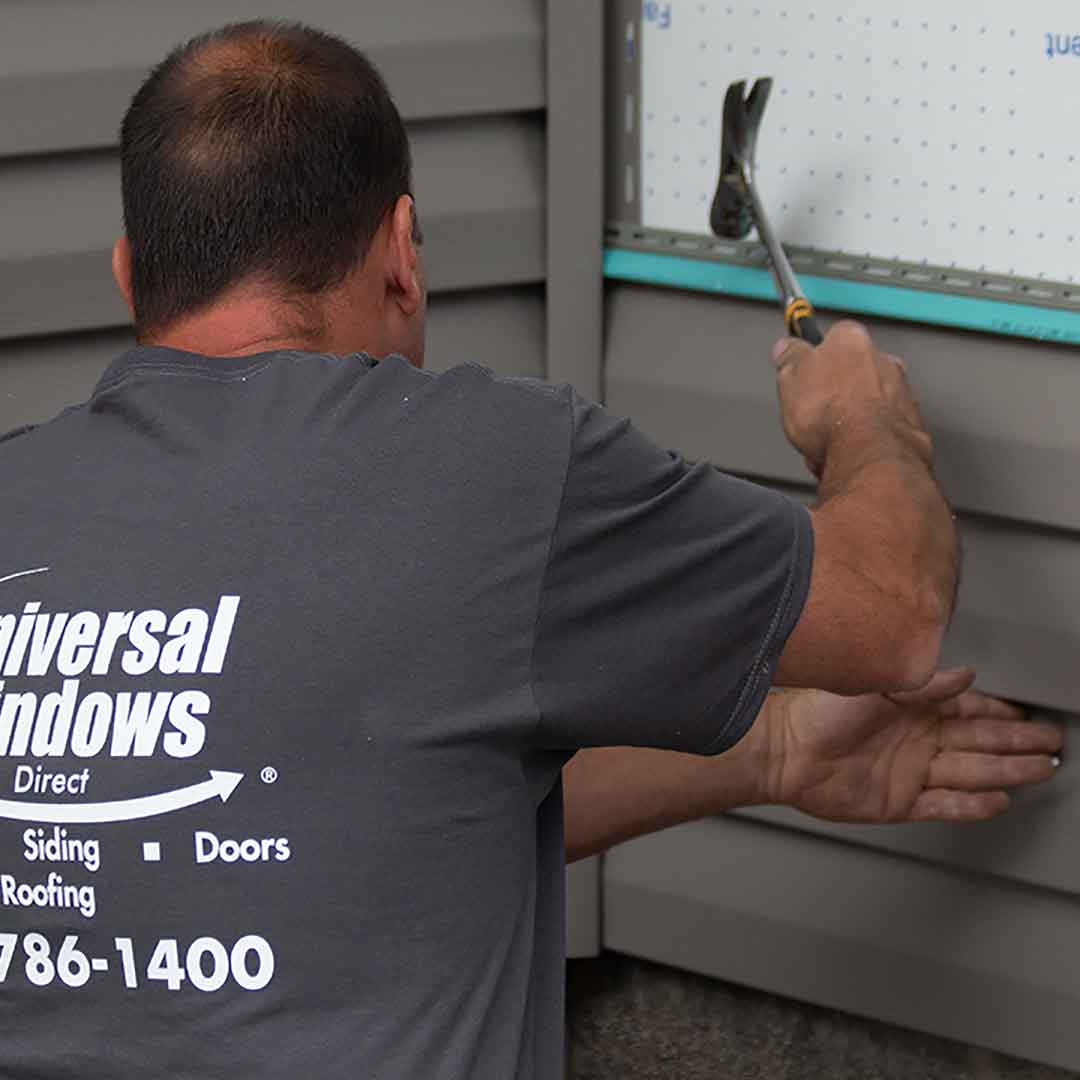 Q. 3: Are you Insured?
Insurance is one of the last thoughts that cross a homeowner's mind, but it should play a critical role in your decision to hire a siding contractor.
A siding contractor should carry two types of insurance: workman's compensation and liability. Liability insurance protects the homeowner in the event that the contractor damages your home. Many homeowners are under the impression that homeowner's insurance will cover damage during a siding job, but this isn't typically the case.
With workman's compensation, you won't be left footing the bill if a worker gets injured on the job.
Choosing a siding contractor without either insurance is a gamble. Don't give into temptation to hire a cheaper contractor who foregoes insurance coverage. If an incident does happen to get covered with homeowner's insurance, it can result in an increased premium.
The safe bet is to hire insured contractors. Don't be afraid to ask for proof of insurance. It's always better to have peace of mind.
Q. 4: Are You Licensed or Registered to Install Vinyl Siding in my State?
According to Home Advisor, some states require exterior remodeling contractors to register with the state while others require licensing. Each state has its own outline of requirements, ranging from paying required fees to taking exams.
What's the difference between licensing and registration?
Registration is a written record of a contractor or company who is performing the work. It does not guarantee competency.
Licensing requires taking exams to prove skilled trade for a certain profession.
One of the key reasons why licensing is important is the ability to recognize state building codes. This is important for projects such as siding installation, which can result in problems with zoning in your area if not followed accordingly.
If legal issues pop up before, after, or during installation, the headache is put on the homeowner.
Learn more about state-by-state licensing and registration requirements.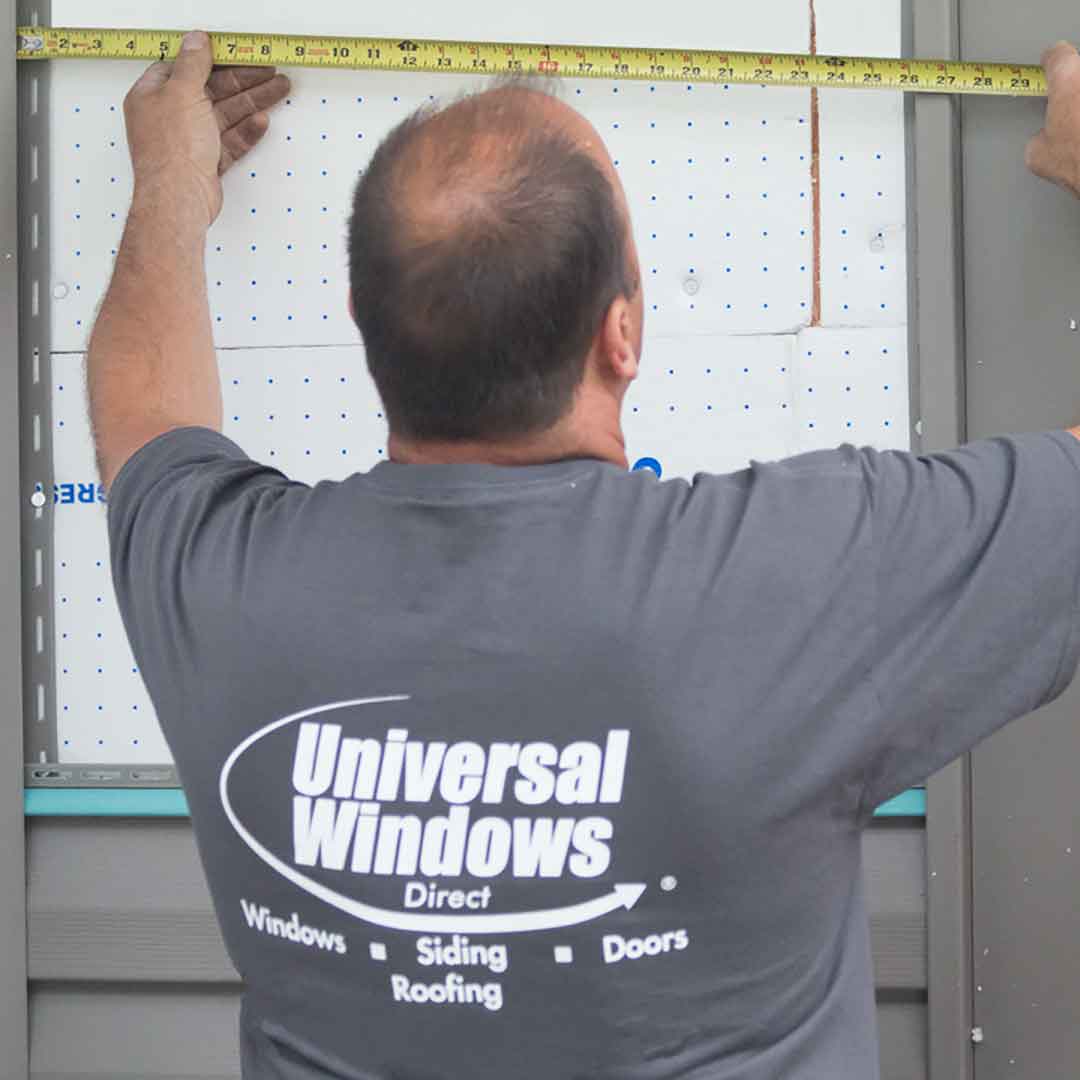 Q. 5: Do You Have Any Special Certifications?
With this question, we're not talking about required licensing from the state as we explained above.
There are other programs where installers take their skills to the next level and obtain additional certification.
One such example is InstallationMasters. This certification is prompted by the Building Environment and Thermal Envelope Council (BETEC) through the U.S. Department of Energy (DOE) and developed by the American Architectural Manufacturers Association. It's a two-day program that overviews critical installation practices and techniques, helping siding installers provide the best labor and installation possible.
While special certification isn't required for a siding contractor, it's a nice perk and it demonstrates expertise in their craft.
Q. 6: How Long Have You Been Installing Vinyl Siding?
Not all exterior siding replacements are created equal. If you plan to replace your home siding with vinyl, it's important to find a good contractor who has experience working with this material.
A good vinyl siding contractor will likely give you a backstory on their history with installation. They may also describe any types of problems they've run into and how they've solved it—such as discovering rotten wood under old siding panels.
Professional siding contractors must know how to think on their feet when problems arise. While some of this is learned through initial training, the most skilled and experienced contractors can solve nearly any problem that may pop up on installation day.
Section II: Questions About Siding Product and Quality
These questions cover important information on the performance, quality, and aesthetic aspects of vinyl siding.
Q. 7: Why is Vinyl the Best Material for Exterior Siding?
Siding contractors who are serious about their craft can easily tell you why you should choose vinyl. The truth is that the benefits aren't a sales pitch-—they're real reasons why countless homeowners choose to invest in vinyl siding every day.
Point blank, vinyl is the best exterior siding in America because it:
Requires virtually zero maintenance.
Comes in many colors and styles.
Gives the look of authentic wood with lifelike wood grain patterns.
Provides realistic shadow lines like real wood.
Never needs to be sanded, painted, or stained.
Has a high return on investment, roughly 75%.
Offers an affordable option for a quality, beautiful exterior that lasts a lifetime.
There are several exterior siding material options available on the market. Wood, stone, and stucco just to name a few. While there is a siding material and style out there for everyone, the truth is that the rest don't come close to the performance and beauty of vinyl.
Vinyl exterior siding requires dramatically less maintenance than wood while still increasing curb appeal. In fact, vinyl is just as aesthetically flexible as wood and even more so than brick. It doesn't require painting, which can cheapen the look of both siding and brick if not done correctly. Brick and wood are both porous materials, which absorb the paint.
Vinyl is easy to clean, affordable, and works on nearly any style of home in America. It's traditionally offered as panels (lengths ranging up to 25'), but you can find all kinds of interesting patterns and textures that add wow-factor and curb appeal.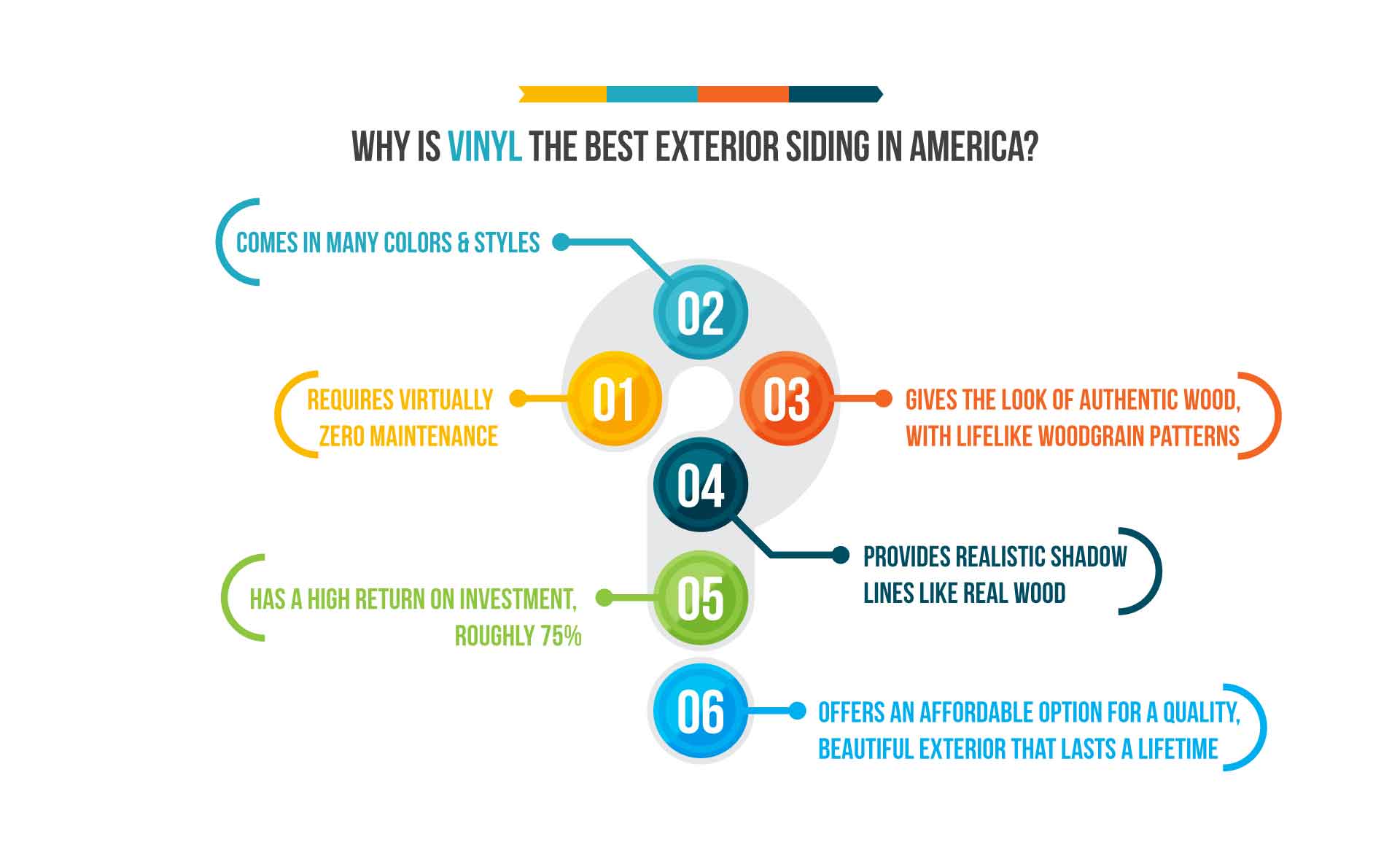 Q. 8: Will Your Vinyl Siding Fade from Sun Exposure?
No. One of the most attractive elements of vinyl siding replacement is its low maintenance. With quality vinyl siding, there is no need to worry about painting or staining to keep it looking beautiful.
However, this isn't the case with lower quality siding. Lesser-quality exterior paint can make the siding fade from the sun. It may also discolor over time and turn yellow or become chalky. There are specific ingredients used in vinyl siding that prevent it from fading.
While it's possible to paint your old, faded siding as a "quick fix", this isn't necessarily the best approach. Our video below overviews painting faded siding vs. investing in total siding replacement:
To prevent faded siding in the first place, the key is to invest in vinyl siding that has its color blended in during the manufacturing process. This not only ensures a more consistent, even color, but also reduces the chances of the siding color fading over time.
The next step is to ask about the color warranty. Trusted vinyl siding installers will offer a color-fade protection warranty to guarantee that the color remains vibrant. You'll find the terms and conditions of this warranty outlined in the agreement.
Q. 9: What Brand of Siding do you Install?
The brand of vinyl siding installation varies from company to company. Some siding companies use premium siding while others use mystery brands that don't offer a lot of value.
It's important to inquire about the brand of siding so you can research product performance. A quick search on Google will help you find:
Panel measurements, including length and width.
Any energy-saving technologies, such as housewrap or insulation.
Paint finish options, which will impact the quality look and feel of the siding.
If the siding provides realistic wood grain patterns or shadow lines.
Products that aid in siding installation and keep the panels lying flush with the exterior.
While you'll likely learn about all of this during an in-home estimate, it doesn't hurt to do some detective work before you get started.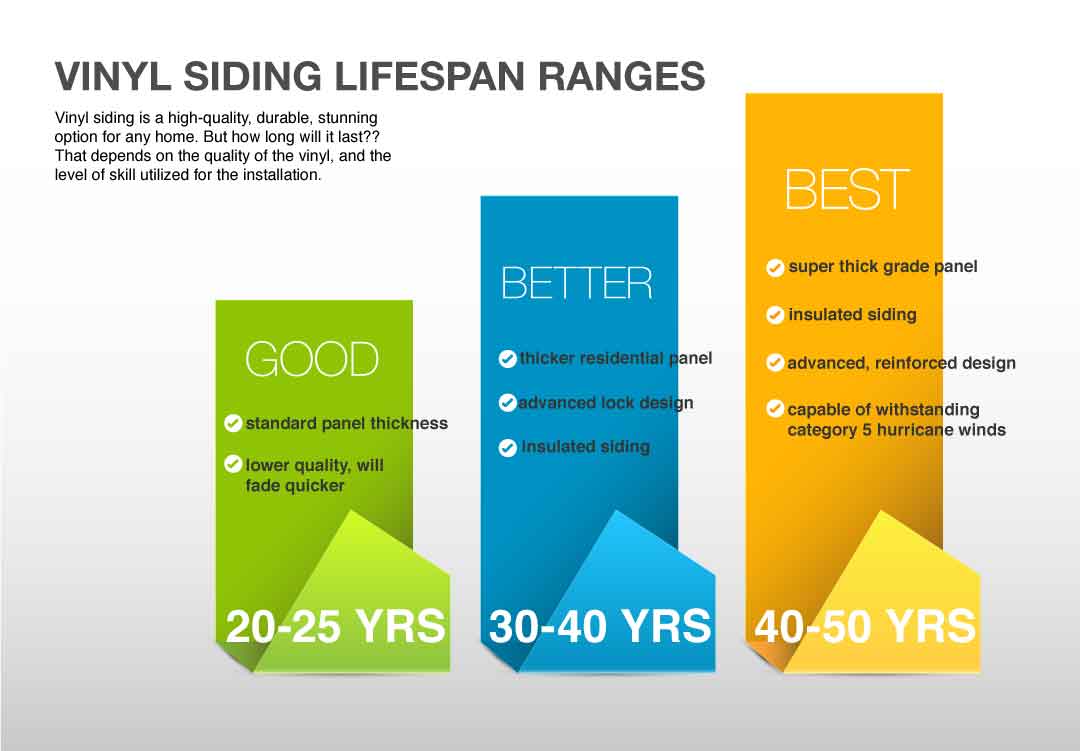 Q. 10: How Long Does Your Siding Last?
Another benefit of vinyl siding replacement is that it can essentially last a lifetime. However, like anything else, you'll find varying lifespans of vinyl siding between companies.
Lower quality siding will only last a few short years—around 10 to 15. This is dramatically shorter than how long quality siding can last, leaving you with a lower return on investment and a lot of disappointment.
With quality vinyl siding, your new exterior can last anywhere from 25 to 50 years.
For example, the video below explains how an experienced siding contractor will answer How long does your siding last?
Be forewarned that the quality of the siding installation plays a key role on lifespan. Expensive vinyl siding can fail if it's improperly installed. That's why it's important to hire skilled and certified vinyl siding installers to get the job done.
Q. 11: What Siding Colors and Stylistic Options are Available?
It's no secret that vinyl siding installation makes a huge impact on the exterior. Color preference is personal, and some homeowners are quite specific when it comes down to color selection and stylistic options.
Some of the most prominent stylistic options include vinyl soffit, vinyl scallops, and vinyl cedar shakes. Just like traditional siding panels, these stylistic upgrades have varying levels of quality depending on manufacturer and price. You'll want to pay close attention to the thickness of the stylistic upgrades to help determine quality. For example, vinyl soffit should be at least .05" thick to eliminate sagging.
With exterior paint colors, most siding companies provide plenty of options to add pop to your curb appeal. You may find that some colors cost more than others, and the more expensive choices may be offered as premium paint color selections.
If you do not see the color that you want, you might be able to contact the manufacturer for a custom color.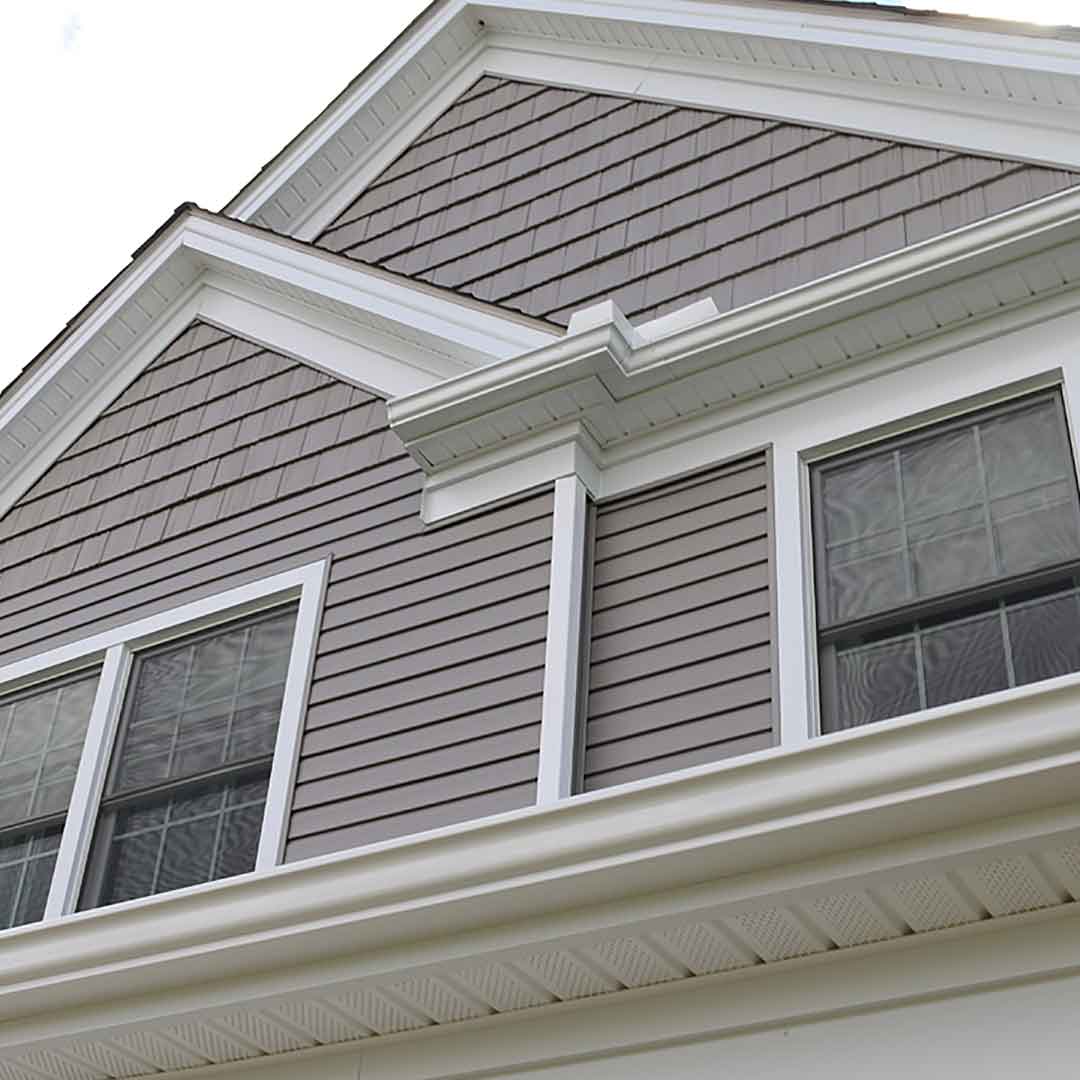 Q. 12: I Need Some Inspiration on Designing my New Vinyl Siding. How Can You Help?
The truth is that some homeowners don't know exactly what they want in terms of aesthetics. There are a lot of options to consider with stylistic upgrades, color, panel lengths, and more. They depend on the siding contractor to provide ideas on how they can design the most attractive curb appeal possible.
During an in-home estimate, siding contractors often bring samples with them for you to see in person. This gives you the ability to get a feel for texture and quality. You'll also be able to see the paint colors and decide if it's the right fit for your home.
Another key for inspiration is taking a look at some of the exteriors in your neighborhood. Unless you live in a regulated community, there's no need to pick the same shade of tan siding as your neighbor. However, it may provide some guidelines on what might work in terms of integrating with the rest of the homes.
Lastly, some online resources you can consider for siding inspiration is Pinterest, Houzz, and even before/after photos from your contractor.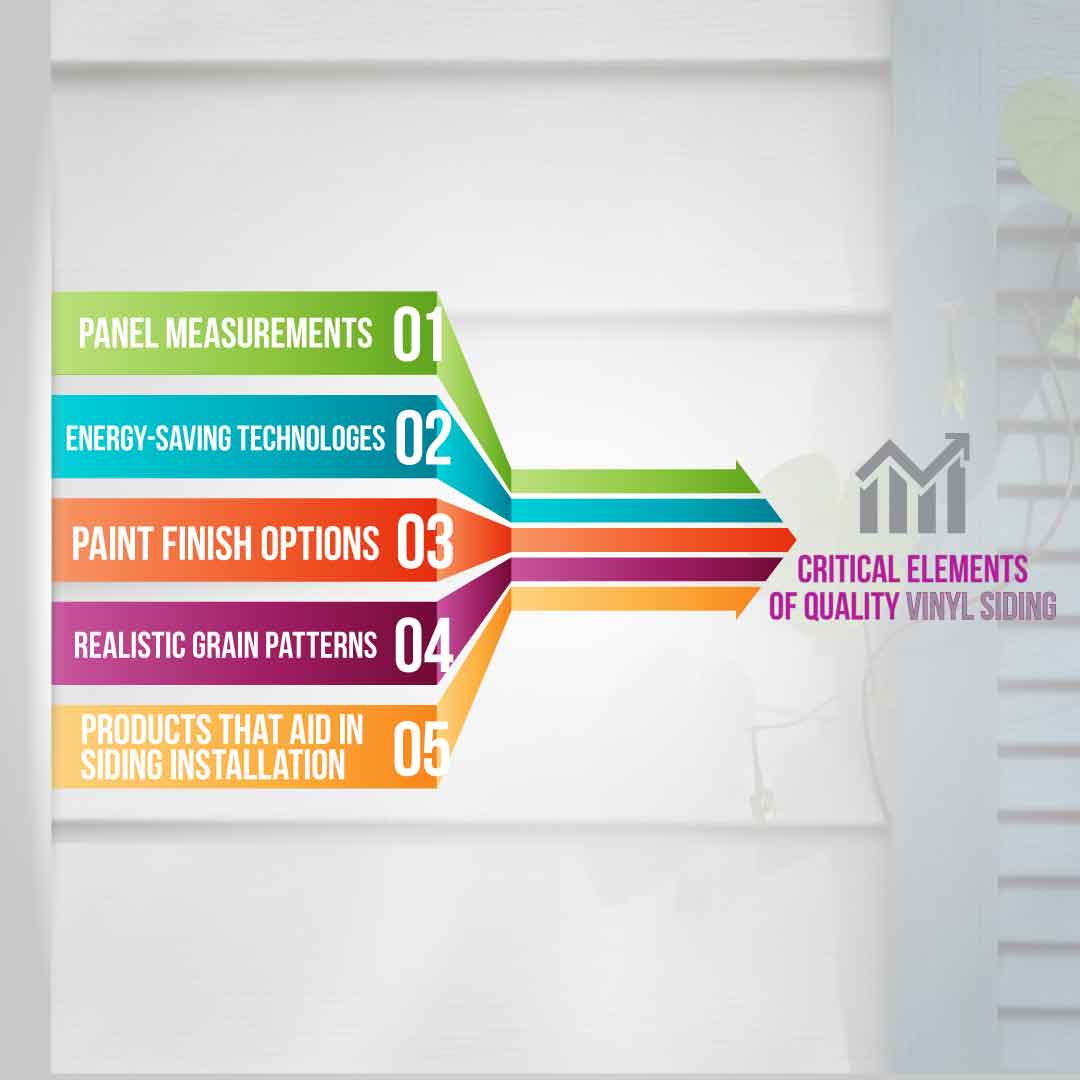 Section III: Questions About Installation, Warranty, and Payment
These questions will help you learn important details about the installation, warranty, and payment arrangements.
Q. 13: Does Your Siding Come with a Warranty?
House siding is a large investment. The good news is that new siding can last for years (and years), but you still need to ensure that you have protection in the event that problems pop up after installation.
The best vinyl installers will offer a sound product warranty that covers many aspects of the siding. Think of characteristics like color, installation, pieces, parts, materials, installation, and labor.
However, knowing that your siding is covered isn't necessarily enough. You'll want to read the fine details about the coverage—otherwise known as terms and conditions. We know it's boring, but it's better to keep yourself informed.
Look for terms that mention what the warranty doesn't include. While there are some great vinyl siding warranties available, there isn't a warranty out there that covers everything under the sun, such as abuse or neglect of the product.
There are also differences in what companies consider lifetime. It's a misconception that lifetime literally means for life—although some companies do promise decades of performance. On the other hand, some companies may consider lifetime as 5 or 10 years.
Read your warranty carefully, and make sure you understand it completely before signing on the dotted line.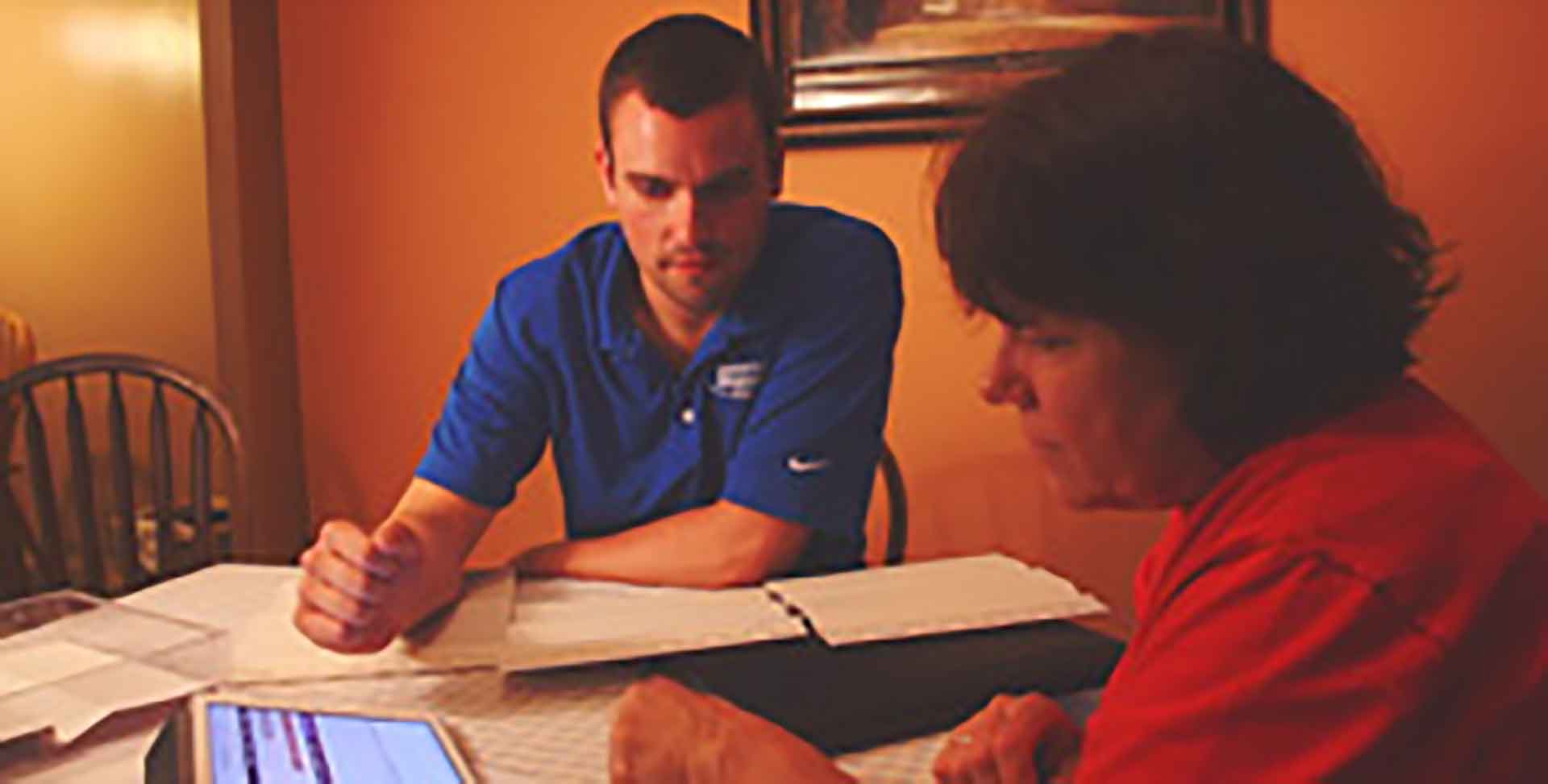 Q. 14: Do You Hire Subcontractors?
Some siding companies employ full-time vinyl siding installers while others hire subcontractors. Subcontractor vs. full-time isn't necessarily an indicator of skill level. If the company does hire subcontractors, make sure you find out that they are insured. You'll also want to ask what the company does to ensure that the subcontractors are qualified.
Q. 15: What is Your Payment Schedule?
The Better Business Bureau advises against paying for work in-full before the project begins. Many siding companies ask for a deposit upfront and will take payments-or accept payment-of the remaining balance at the end.
Other companies may offer financing to cover the cost of your vinyl siding. The amount of money down and interest rates can fluctuate depending on market and promotions.
Ask us Your Questions on Vinyl Siding
If you have questions about vinyl siding replacement that we didn't answer here, rest assured that we have the answer. Pick up the phone and give us a call or even reach out to us on social media. We promise we're a friendly bunch!
Increase Your Home's Value Today with Quality Vinyl Siding
When it comes to increasing the value of your home, you don't want to cut corners. Universal Windows Direct offers premium, quality siding at an incredible value.
Download our FREE guide to learn why vinyl siding is the top choice for remodeling your home's exterior.