For the average homeowner, replacing their roof is a significant investment. While this investment varies between markets, materials, and more, it's certainly an investment that you shouldn't take lightly. Special consideraion should be given to the roofing warranty as it can greatly impact your roof's long term performance and potential return-on-investment when the time comes to sell your home.
But what does a roofing warranty cover, particularlly with regards to workmanship, and how do you know that you're getting the best coverage possible?
Understanding the Standard Roofing Warranty
When your roof is warrantied, it typically involves two types of warranties. These two roofing warranties include the roofing material from the manufacturer, which issues a material defect warranty. The second warranty includes a workmanship warranty. Both warranties are tied together to protect varying aspects of the roof.
Let's take a closer look at roofing warranties in terms of roofing material vs. workmanship.
Roofing Material Warranty
This is one of the most common roofing warranties you'll find available to homeowners. With a shingle roofing material warranty, it offers protection in the event that the shingles are defective. This warranty is offered in the ballpark timespan of 25 years and sometimes more.
The roofing material warranty is important to include with a new roof, but it's not necessarily enough to fill the gaps on coverage of all roofing materials. Keep in mind that your roof is engineered as a system and includes many working parts other than the shingles.
Furthermore, even if you have coverage with a roofing material warranty, it may only cover the cost of the parts for the new materials. This leaves the homeowner footing the bill for roofing installation, which can also be costly.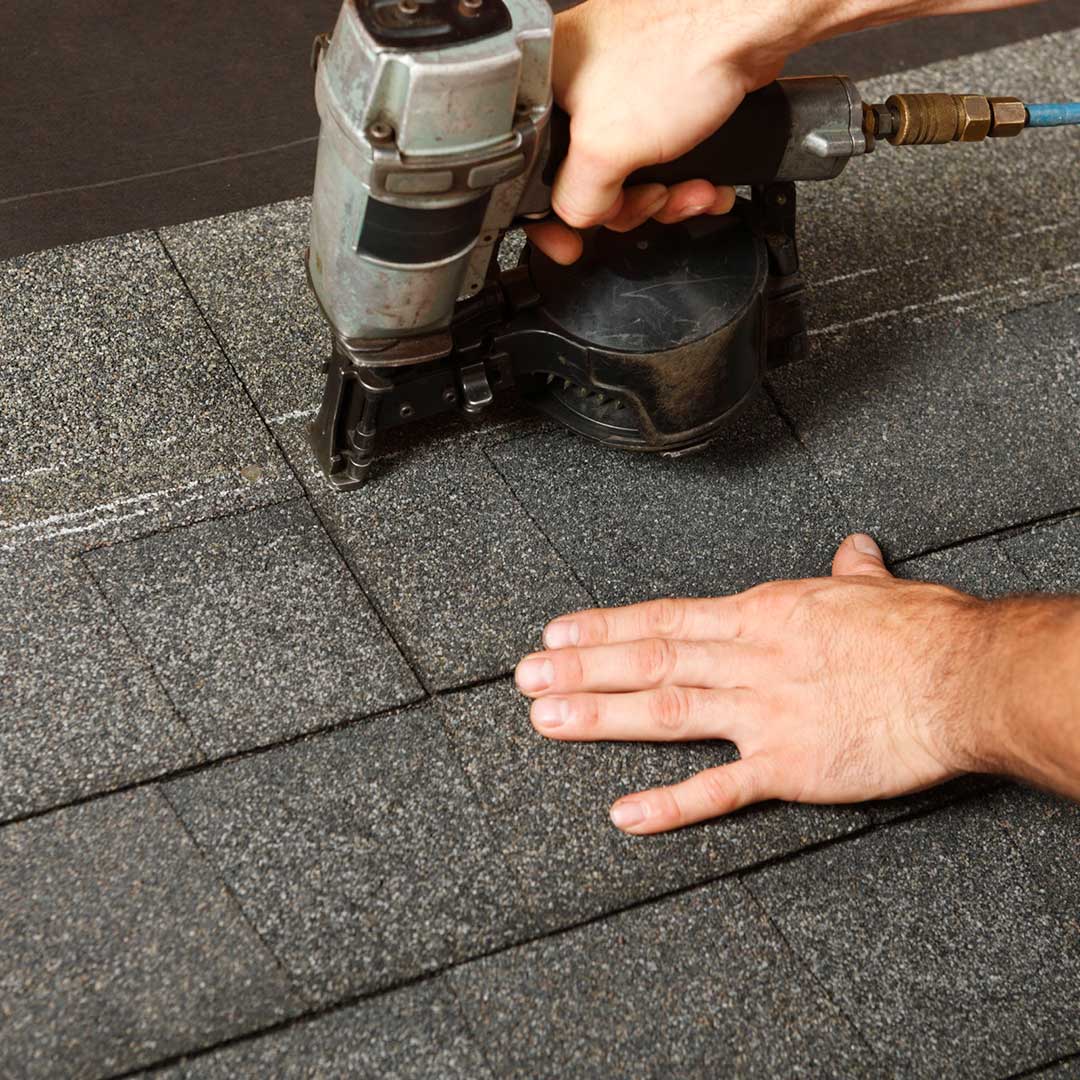 Roofing Workmanship Warranty
Workmanship and installation is a major component of new roofing. Without sufficient and guaranteed professional installation, even the best roofing can fail to perform.
This is why homeowners need to choose a roofing company that offers both a material and workmanship warranty.
What Does a Roofing Workmanship Warranty Cover?
This warranty offers protection for labor and installation. It's essentially a warranty that offers peace of mind knowing that the roofing contractor stands by their work, guaranteeing performance for years to come.
Lifetime Coverage on a Roofing Warranty
Lifetime is a sticky term for a roofing warranty. It's a common misconception that lifetime literally means for life. Many times this is not the case. Some roofing companies define lifetime as a mere 5 years. With the average lifespan of an asphalt roof coming in around 25 years, it's important to select a warranty that offers ample coverage through its lifetime.
Lifetime may vary between manufacturers due to climate and roofing material. Climates that experience extreme temperature variations throughout a single day may have lesser lifetime warranty coverage, such as areas with desert conditions. Generally, asphalt shingles are very durable to many types of climates and offer substantial coverage and protection for the home.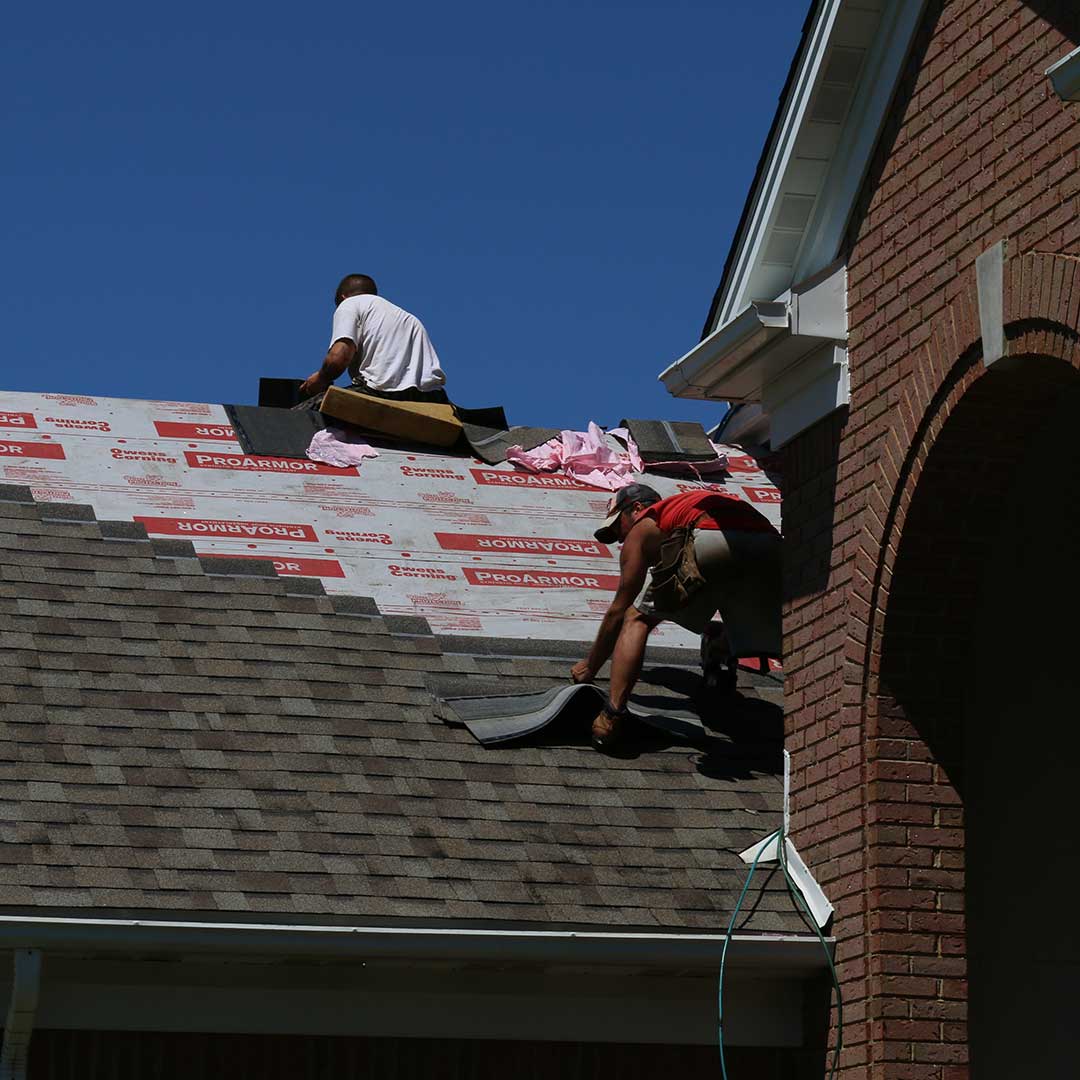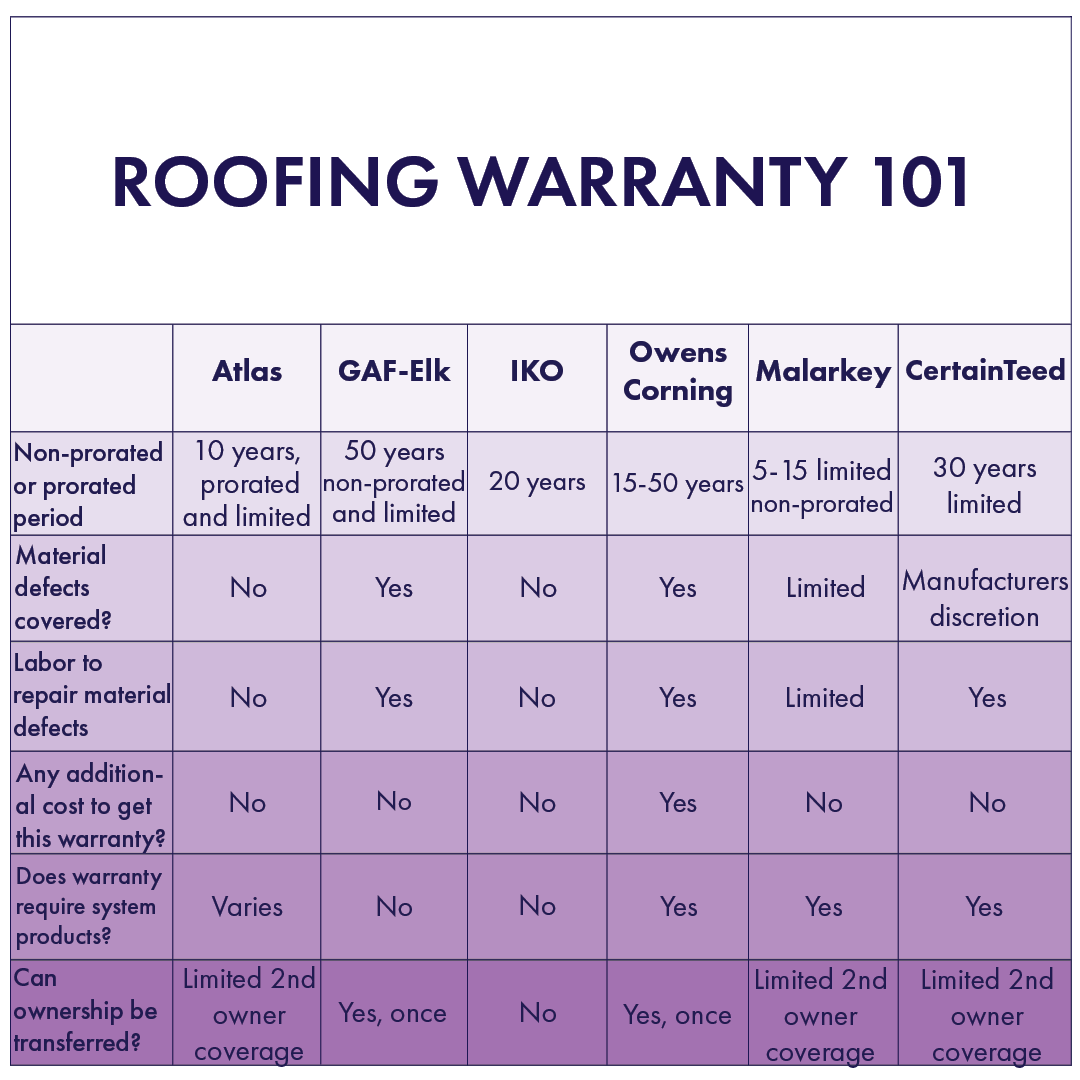 Warranty Comparisons of Common Roofing Manufacturers
Roofing Workmanship Warranty
The workmanship warranty is one of the most important aspects of a roofing warranty. This is protection against installation errors. The length of the workmanship warranty depends on the warranty you choose, and may not be covered at all.
It is highly recommended that when considering replacement roofing companies you choose one that offers a workmanship warranty.
What is the Best Roofing Warranty?
While the different coverage aspects of a roofing warranty are going to be more advantageous to different homeowners depending on their specific needs and circumstances, the best roofing warranties offer 10 or more years of coverage on workmanship, non-prorated periods of 25 years or more on materials, 20% or more prorated periods on materials, and are transferrable to subsequent homeowners.
Every roofing company's level of coverage is different depending on their roofing manufacturer and the level of service they're willing to provide to their customers throughout the life of their roof.
15 Critical Questions to Ask Your Roofing Contractor
When it comes to increasing the value of your home, you don't want to cut corners. Universal Windows Direct offers premium, quality roofing at an incredible value.
Download our FREE guide to learn the money-saving questions to ask a contractor before hiring them for your next roofing project.