When it comes to roof replacement, budget is often a big concern like many other forms of exterior remodeling. One of the most common questions we hear is how much does it cost to replace a roof? Since your home and personal style are all unique, this typically leads to a unique answer for each homeowner.
But no need to worry! We're providing you with a guide to determine a price range for your new roof replacement, while helping you develop a budget.
The Cost Factors of Roof Replacement
First, understand that there are several factors involved when it comes to the cost of roof replacement. There are many more variables associated with roofing aside from selecting the color of your shingles and having them installed on your roof!
When it comes to residential roof replacement, you'll need to think about elements such as:
Shingle materials, style, and color.
The quality of the shingles.
Roof design, slope, and pitch.
The square footage of your home.
The condition of the old roof.
Labor and insurance.
Roof warranty.
Your geographical location.
When you factor in all of these elements, the average cost of roof replacement nationally is $22,636.
Roofing Materials
The most popular materials for residential roofing include asphalt, slate, metal, and tile. All of these materials have their own pros and cons, but this is what you can generally expect in terms of cost per 100 square feet.
Cost of asphalt roofing: Asphalt roofing is a durable and cost-effective shingle material.
Cost of slate roofing: Slate is one of the oldest roofing materials that's been around for over 100 years.
Cost of metal roofing: Metal roofing is a broad category for materials including steel, tin, aluminum, copper, stainless steel, and zinc.
Cost of tile roofing: Amongst the most expensive options for roof replacement.
You'll notice there is a considerable range for these material types. Keep in mind that these ranges factor in options for custom-made and premium options. It also factors in custom pattern styles in materials such as slate and tile.
Quality of Shingle Materials
In addition to custom styles, there are also varying levels of quality for all shingle materials. While asphalt roofing is generally the most cost-effective, this doesn't make it a lesser-quality material. In fact, choosing quality asphalt shingles can provide you with new roofing can last for life!
On the flip side, choosing a pricey option such as slate roofing doesn't automatically equal incredible quality roofing. Premium slate roofing will cost you a pretty penny while quality asphalt can give you excellent results, all at a more affordable price range.
How do you know that you're getting a quality asphalt shingle for your money? Avoid bottom-of-the-barrel pricing since this is a reflection of product quality. You'll also want to invest in roofing from a reputable company that includes a reliable warranty.
Shingle quality and material are important, but another aspect involving the cost of roofing is the size of your home (square footage) along with the design of your roof. Let's discuss!
Types of Residential Roof Designs
There are several common types of residential roof designs. The graphic below depicts some of the most popular that you might see on your own home or throughout your neighborhood.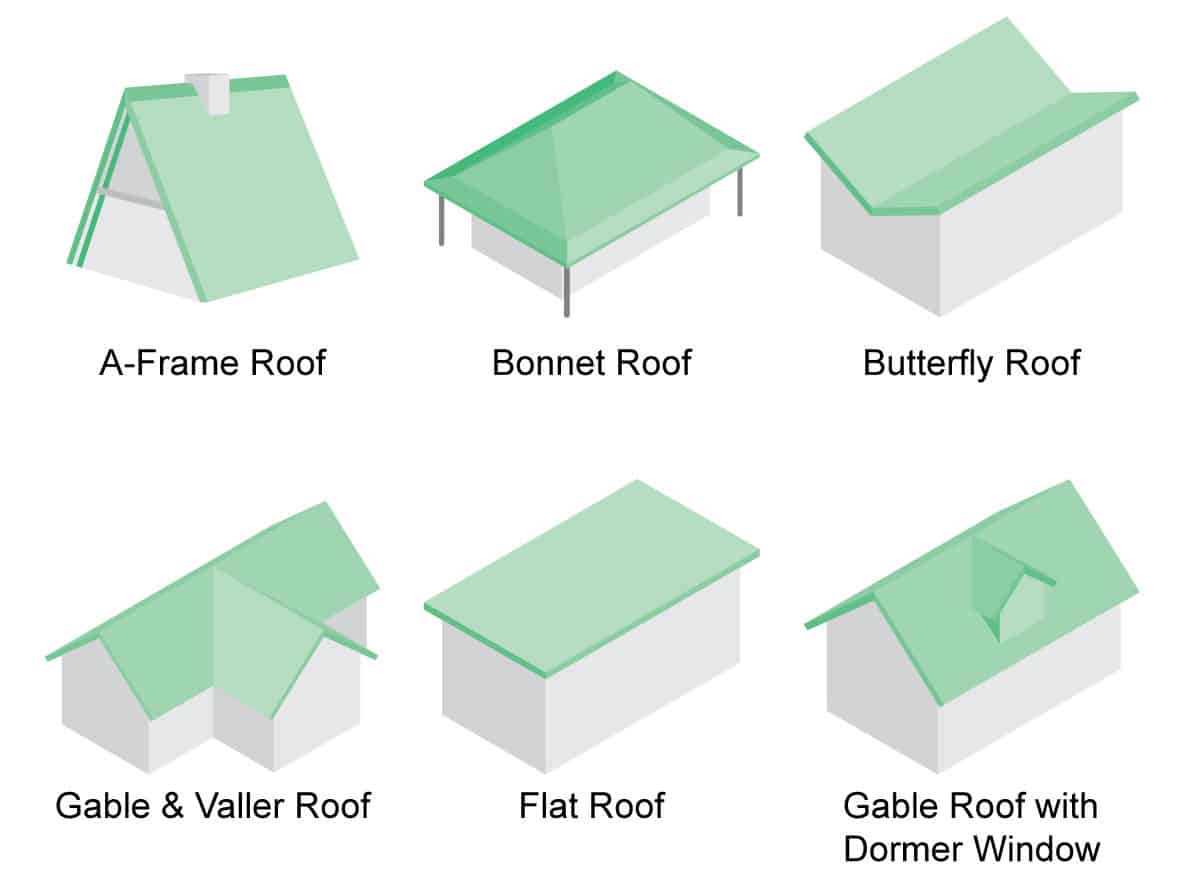 Source: Homestratosphere.com
There are 36 styles of roofs that all have their own architectural engineering. As you can see, there are considerable differences in design between some of these roofs. When it comes to calculating a roofing estimate, aspects such as roof design as well as the pitch and the slope is considered.
The pitch of the roof is otherwise known as its angle. The slope of a roof is the incline of a roof expressed as the vertical rise to the horizontal run. It's expressed in inches per foot.
Knowing these ratios is important for determining water runoff from your roof. The slope not only affects how your new roofing is installed, but also the proper materials one should use to cover the roof, such as asphalt shingles. Depending on your roof's ratios, this can affect the cost of roofing due to specific installation and labor requirements. For example: A roof on a Tudor home can cost more to replace than a colonial because of the complexity of the design.
However, the size of your home is also an indicator roof replacement pricing. Generally, a smaller home will cost less for new roofing vs. a large home. Obviously, this is because larger homes require more materials.
Once your roofing contractor determines the important aspects of your new roof such as slope and square footage, the next step is to inspect the condition of the existing roof.
Condition of Your Existing Roof
It's understood that your old roof will go through normal wear and tear. After all, it's exposed to the weather 365 days per year! However, there are instances when the condition of your old roofing will impact the cost of a new roof.
An example is when your current roof is heavily damaged, including any woodwork that must be repaired or replaced. Unfortunately, water damage isn't always detected until the installation process begins. If damage is discovered, the project manager from your installation team should notify you to discuss your options. Keep in mind that even doing a few roof repairs can turn into an entire roof replacement project if there is enough damage.
Minor roof damage can set you back as little as $150. Major structural damage can add another $1,000 to $3,000.
In other instances, you may need to have the flashing around your chimney replaced. This can add an additional $200-$500 to your total cost.
Now that you have an overview of how much a damaged roof can set you back, let's talk about another critical component for the cost of roofing: labor and insurance.
Labor and Insurance
A properly installed roof means everything in terms of performance and lifespan. When it comes to choosing a roofing contractor, you'll need a team of experienced professionals with a proven track record. This can come in the form of a portfolio, testimonials, and even certifications.
According to the Bureau of Labor Statistics, roofing contractors can make as little as $12/hour and as much as $30+/hour. Many times, these wages reflect skill level and experience in the industry. Depending on the skill level of the installation team, this is reflected in your total cost for roofing.
Experience is important for roofing contractors but so is insurance. In fact, this is a critical aspect that can result in hundreds (if not thousands) dollars saved in the event of an accident. However, the cost of insurance (or lack thereof) is reflected in your roofing estimate.
Be forewarned that working with uninsured roofing contractors poses serious risks for all parties involved. It can make your costs skyrocket if there is an accident. Make sure that you inquire about insurance, you can even ask to verify for peace of mind.
Insurance is like a safety net and so is the warranty. A good warranty will increase the cost of your roofing quote but know that it's for your protection.
Warranty Costs
A good roofing warranty is priceless. It's the roofing company's promise that their product will perform for a designated amount of time. If something goes wrong with the product, it can be repaired or even replaced at little-to-no cost to you.
While the cost of a good roofing warranty is totaled into the final roofing quote, know that in the long run this is much less expensive than not having a warranty at all. We already discussed that structural damage to your roof can cost thousands of dollars. Even minor repairs such as blown-off shingles can have you spending extra money out of your pocket. According to Roofing Calculator, the average cost of roof repairs is $650.
If your roofing quote seems very cheap, a reason might be because there is no warranty included. Make sure you discuss this with your roofing contractor before signing an agreement.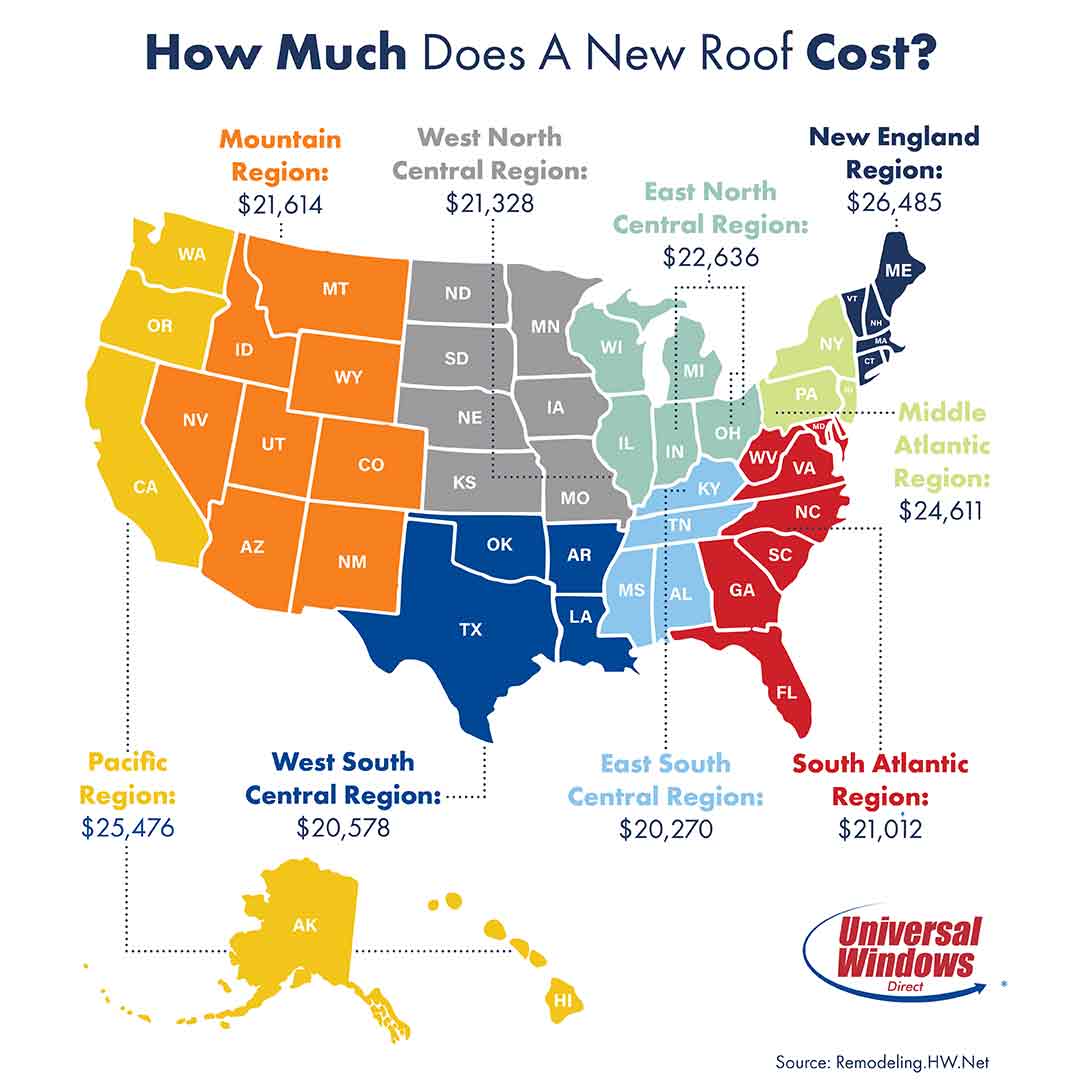 How Much Does New Roofing Cost?
If you still find yourself asking how much it costs to replace a roof, you're in luck! We've replaced countless roofs throughout the entire country, and we are proud to provide you with the best value in the industry. Contact us for a custom roofing quote and questions about warranty, installation, and more.
15 Critical Questions to Ask Your Roofing Contractor
When it comes to increasing the value of your home, you don't want to cut corners. Universal Windows Direct offers premium, quality roofing at an incredible value.
Download our FREE guide to learn the money-saving questions to ask a contractor before hiring them for your next roofing project.