A front porch can truly make or break your home's curb appeal; it is the first thing people see when they pass by or approach your home! Make sure you're making the best first impression with these 10 tips.
Perk up an Empty Porch Corner
Is your porch looking a bit dull? Take some time to add pizzazz to your porch with colors and decor that can work with all seasons.
One quick and easy idea is to accessorize an empty corner on your porch. A small decorative ladder with flowers or vines entwined adds new life to this area. You can also add bright-colored potted flowers or a small spiral tree.
Hang a Porch Swing
When it's warm enough to spend time outside, who doesn't love sitting on a porch swing? This is a quick and easy DIY project that is perfect for the warmer months of the year.
Porch swings are a great pick-me-up for your curb appeal that also adds function. They also come in a myriad of different styles to complement your overall exterior.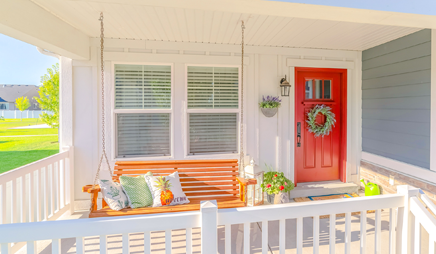 Power Wash Like a Pro
Power washing your driveway and sidewalk can make your exterior feel fresh and new by pulling out grime and stains.
A word of caution before you head off with your power washer: don't power wash your vinyl siding! This can void the warranty. Check with your manufacturer on how to clean vinyl siding correctly.
Add New Life with Landscaping 
Depending on the time of year and where you live, you'll want to wait until after the first frost for planting. It's difficult to plant anything when the ground is frozen, so you will need temperatures to thaw out the soil so you can get ready to plant. You also need to pay attention to nighttime temperatures, since this will have an impact on the growth and lifespan of the flowers. If you're looking for some low-maintenance plants, check out this list!
Spruce up Your Windows
Whether you're looking to wash your windows or make replacements, windows can have an incredible impact on your curb appeal.
With all the different window style options available, there is truly a window for everyone with vinyl window replacement! If you want an eye-catching option, choose a geometric style window or a bay window. Create maximum curb appeal impact by choosing an interesting color for vinyl windows. They come in many frame colors including beige and black.
If you're a homeowner who loves the charm of old windows, you might be a bit concerned about new window installation. Decorative glass options and grids are the perfect upgrades to add charm to the window and maintain curb appeal and character.
For those who want to change the look of your home entirely, consider changing the window style. You can do so by upgrading from a picture window to a bay window or swap your double hung windows for casement windows with grids.
Add Window Shutters
Window shutters have a certain charm about them. If your home doesn't have any shutters, this is a project that can instantly upgrade your curb appeal.

Freshen Up your Exterior With Vinyl Siding
If you need more than a subtle exterior upgrade, look no further than vinyl siding installation. Vinyl siding is one of the most popular exterior material options and comes in an array of colors and accessories. Quality vinyl siding panels can give the look and feel of real wood. Don't forget that architectural details such as scallops and cedar shakes are available in vinyl as well. This presents plenty of opportunities to add charm to the home in an easy-to-maintain exterior choice.
Choose vinyl siding panels that look like textured and authentic wood. Universal Windows Direct's UniShield® vinyl siding brings a life-like appearance of real wood to your exterior.Consider choosing a contemporary color for your home, such as blue, to create a dramatic transformation.Go for a completely unique look by having the panels vertically installed.
Enhance or Replace Your Entry Door
Entry door replacement provides one of the best investments in the industry—which is as high as 90% according to the newest Cost vs. Value.  Front doors also offer a world of possibilities for aesthetics. A quick coat of paint can quickly transform your door, not to mention your curb appeal. In fact, an entry door is one place in the home where you can go bold and have fun with many different colors.
Fiberglass and steel doors are both customizable products with superior performance advantages. When choosing a new steel or fiberglass entry door, Universal Windows Direct offers plenty of colors and decorative upgrades. Enhance entry doors with decorative glass designs. Privacy glass allows for natural light to come through the windows while keeping prying eyes away. Choose from an array of stylish yet functional hardware options including classic thumb latches and lever pulls. Order your entry door primed and paint it any color that you choose at home.

Top off Your Curb Appeal with a New Roof
We all know that roofing helps keep your family dry and comfortable. However, roofing has outstanding benefits to enhance the appearance of your exterior. It's one of the most impactful curb appeal ideas for your home.
You can choose a roofing color that either blends with your home or contrasts. To blend with the color of your existing exterior, you can take a shingle color that is in the same color family as your siding. If this doesn't create quite enough contrast, you can find shingle colors that are slightly darker or of another coordinating color family.
Little Touches Add Up
There's no rule that every outdoor upgrade should cost big bucks. Small efforts add up and can make your exterior look beautiful.  For example, you can add a small bird bath in your yard or even a hummingbird feeder. Add a rocking chair on your porch and a ruffle wreath on your entry door and you'll soon have a look that's truly unique to your home.
Looking to get the maximized benefits of improving your curb appeal through any season? Check out our extensive guide on Beautiful & Cost Effective Curb Appeal: Why Vinyl Siding is the Top Choice for a Stylish and Affordable Exterior.