Feel Confident with Quality Replacement Windows, Entry Doors, and Vinyl Siding in Frankfort, KY
Serviced Locally By: Universal Windows Direct of Northwest Kentucky
Universal Windows Direct provides Frankfort, KY with incredible quality replacement windows, entry doors, and vinyl siding! When you choose us as your exterior remodeling contractor, you get premium products without the eye-popping price tag. We pride ourselves in offering the best products at an outstanding value! Nationally recognized as one of the fastest-growing exterior remodeling companies in the country, we're here to serve our friendly community while improving your home and your life–and what a wonderful home and life it can be!
About Our Products
Home of the exclusive UniShield® window and siding products, Frankfort residents are never less than impressed with the value we bring to the table. We perfectly capture the quality of our products that you'd expect from the most prestigious and expensive brands. The only catch is that you don't have to pay an outrageous price tag! Who would have thought?
Window Installation
Are you thinking about new window replacement for your Frankfort home? You're one step closer to making one of the best decisions of your life. Nowhere else will you find the caliber of quality and affordable pricing than with UniShield® replacement windows. We are the exclusive source of these top-grade windows, engineered with exceptional quality vinyl frames that won't peel, flake, or rot. You'll enjoy the eye-popping aesthetics that will instantly improve curb appeal while providing extra character. No matter if you're looking for old world charm or a contemporary upgrade, there is a window style to fit nearly any type of architecture—and we have many of them here in Frankfort! We design your replacement windows to your exact personal taste and style, leaving your home looking more beautiful than ever.
Vinyl Siding
They say seeing is believing, and you have to see UniShield® vinyl siding for yourself to experience its incredible beauty! Every panel is carefully crafted to look like real wood siding, including a matte or high gloss finish with lifelike wood grain patterns. Never pick up a paintbrush again with UniShield® vinyl siding, as it's one of the easiest exteriors to maintain that you'll ever see! All you need to do is clean between seasons, which involves a mixture of water and vinegar and a long-handled bristle brush. It's really that easy! You never need to paint your new house siding as it comes coated in quality paint in the color of your choice. The color-through factory process ensures that the siding never fades from the sun, and we even guarantee its vibrancy in our 20-year color fade protection guarantee! What do you have to lose other than a stunning exterior and more energy efficient home?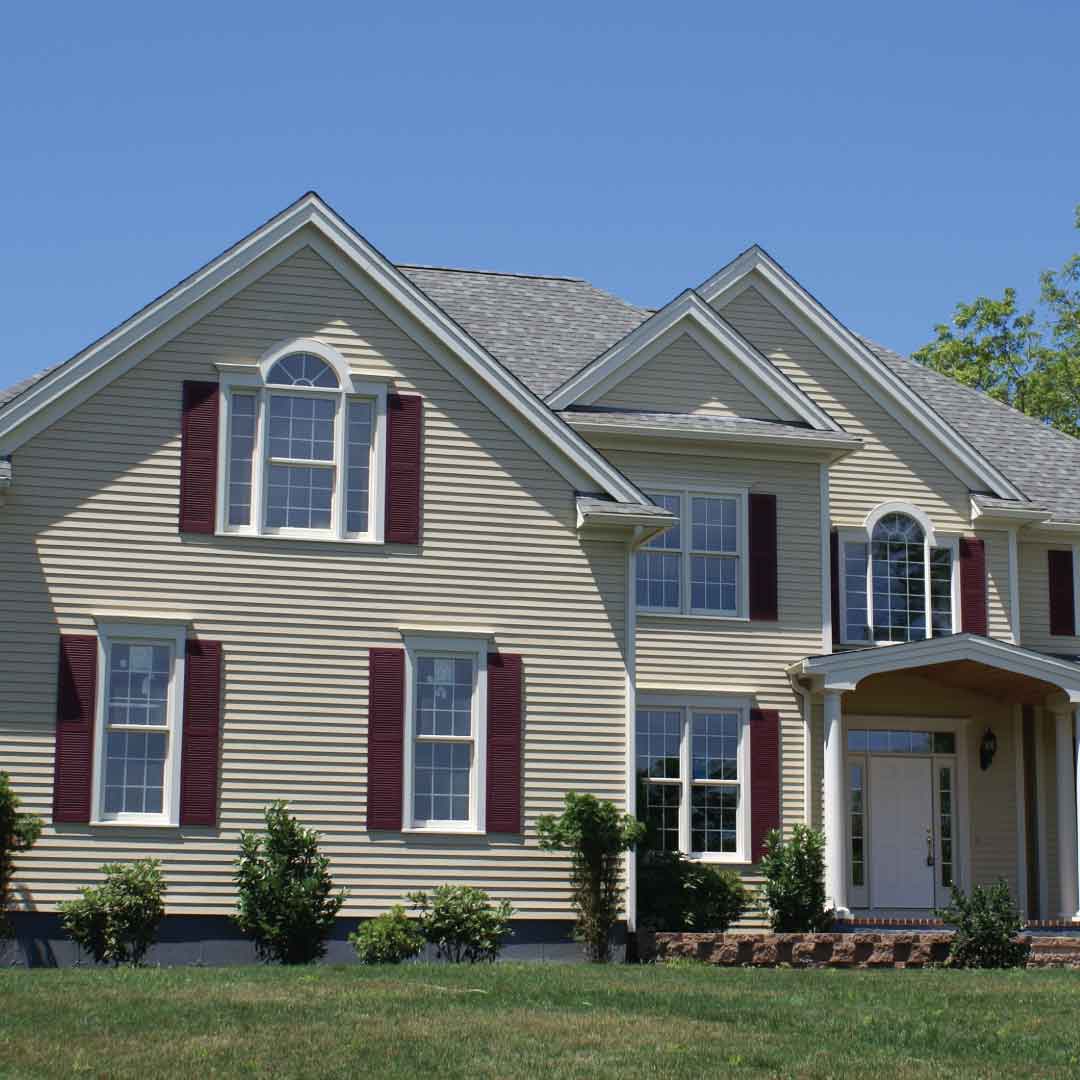 Fiberglass Entry Doors
Here in the Bluegrass state, Fiberglass is the top material for front doors to defend against the elements while always looking marvelous. When you want to add a warm and welcoming element to your home, choose fiberglass entry doors with a rich wood stain color. Add your pick of quality hardware in the perfect polish for your ideal door replacement project! Those who prefer an unexpected twist to the exterior, you can order your entry door primed and paint it the exact color that you have in mind. Otherwise, you're bound to have lots of fun mixing and matching wood stains, paint colors, and decorative glass from our inventory!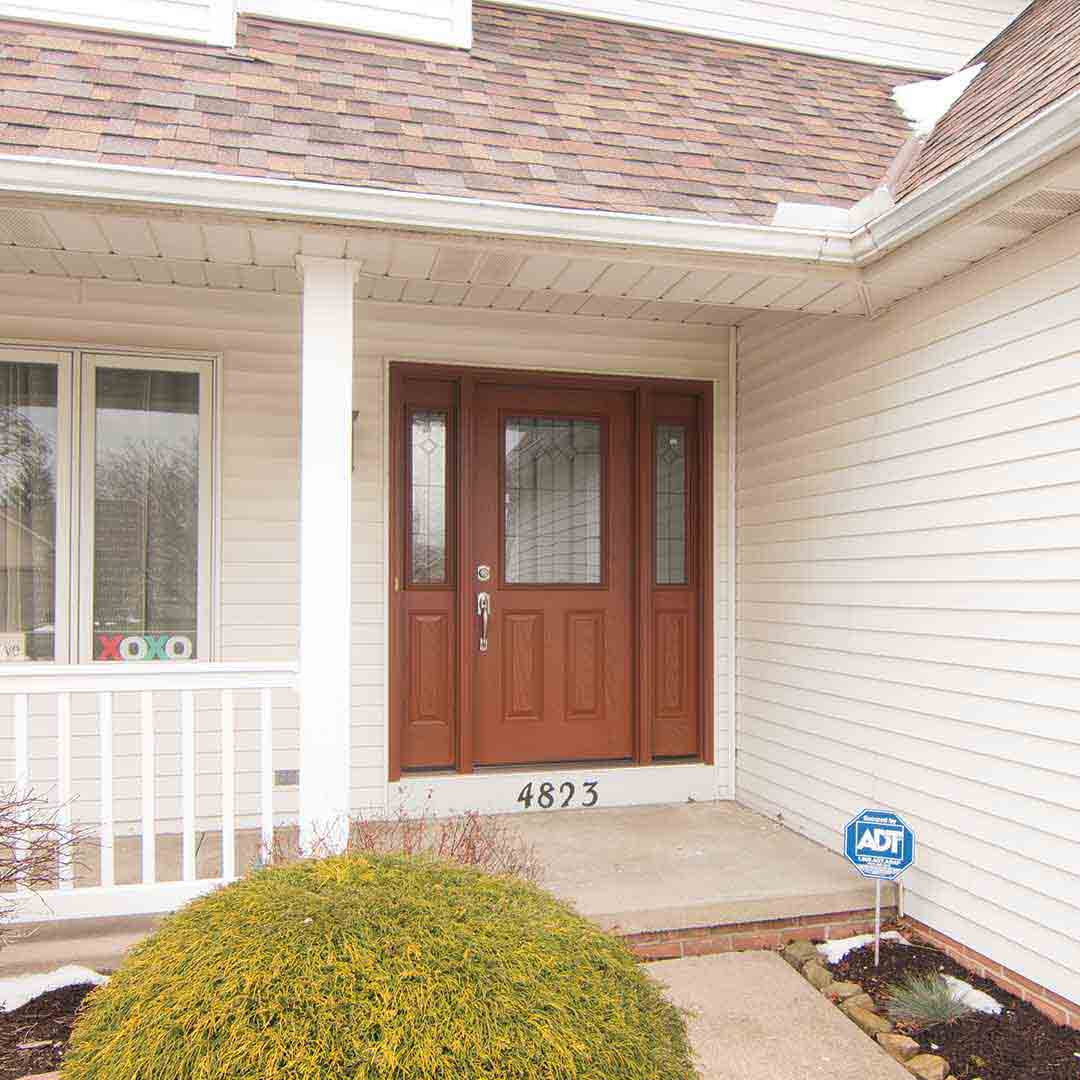 Lifetime Warranty and Installation
Don't bother going to the trouble of DIY installation when we provide it for you! Expert installation is incredibly important for the overall performance and lifespan of your products, and we're happy to handle this step on your behalf.
Furthermore, you'll have extra peace of mind thanks to our True Lifetime warranty—one of the best warranties in the exterior remodeling business.
About Universal Windows Direct
We're your local and friendly window company who has your best interests at heart. In fact, our entire team is dedicated to improving the quality of your home as well as the quality of your life! Living here in Frankfort, we want all of our neighbors to love their homes and be able to afford the very best products without breaking the bank.
With an A+ rating from the BBB, it's no wonder why so many homeowners trust us to improve their homes from the inside out. Let's build the best community we can together starting with YOUR home!