Creating a Lasting Impression with Replacement Windows, Vinyl Siding, and Entry Doors in Canal Winchester, OH
Serviced Locally By: Universal Windows Direct of Columbus
Homes all throughout Canal Winchester, Ohio can improve structural integrity, energy savings, and beauty with new exterior products. UWD is the best source to find high quality yet affordable replacement windows, vinyl siding, and entry doors. Unlike products found in a home improvement store, these exterior upgrades are custom made for every home. Installation from UWD ensures the perfect fit, and craftsmanship is guaranteed through the True Lifetime warranty.
Select from Stunning Styles of Quality Replacement Windows
Homeowners no longer need to choose between beauty and quality. UniShield replacement windows are high quality window products that are engineered with exceptional beauty. Every window is created with a high level of craftsmanship, with various styles available including double hung, garden, bay and bow, slider, picture windows, and specialty shaped windows. Create custom window shapes and arrangements that complement any home in Canal Winchester.
UniShield window products are designed using durable vinyl window frames. These frames are ideal for homeowners who want an affordable, low maintenance window. They are durable and resist the variable weather experienced in Canal Winchester. While traditional wood windows rot from moisture, vinyl remains in tip-top condition 365 days per year.
Exterior vinyl window frame colors are available in green, brick red, white, black, beige, architectural bronze, and many others.
Decorative glass can add a unique edge to the home's curb appeal. Choose from selections including prairie glass, double prairie, and obscure glass to block out prying eyes while increasing natural light.
Save more energy with UniShield's extraordinary glass packages. Experience the power of tremendous energy savings with technologies including low-e, argon and krypton gases, and dual or triple pane glass. UniShield Plus is an affordable replacement window that can help lower utility bills. It's a dual pane window with argon gas in the airspace, making the window thermally efficient and adding comfort in the home. Krypton is a step above argon and creates an extremely energy efficient window.
Low-e is an essential technology for reducing heat transfer. During the summer, the sun is reflected away from the home to prevent it from heating up like an oven. Natural sunlight can help heat the home during the winter.
UWD offers window installation with UniShield products. This creates an airtight seal to reduce air infiltration, which results in drafts in the home and skyrocketing utility bills. With protection under our True Lifetime warranty, homeowners can have a lifetime of confidence with our UniShield products.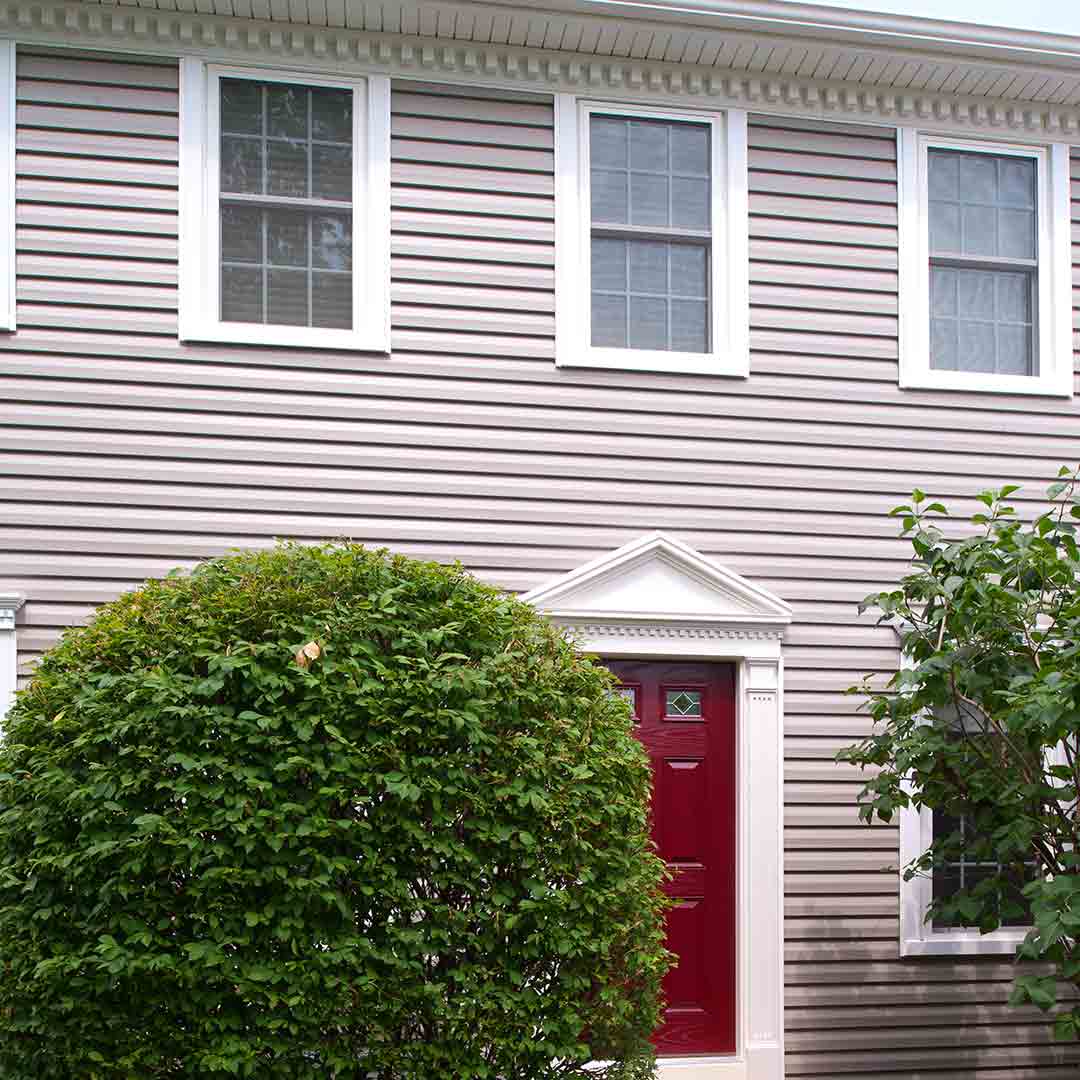 ---
Enjoy the Finest Fiberglass Entry Doors from UWD
Traditional wood entry doors offer a grand appearance, but fiberglass entry doors provide more than just beauty. Fiberglass doors from UWD are engineered with reinforced skin that is highly resistant to corrosion, termite damage, and rot from moisture damage. Homeowners who want an affordable alternative to wood doors that stand the test of time should opt for fiberglass doors from UWD.
Every entry door is custom made to fit the home. This creates the ideal fit as professional installation ensures an airtight seal. Homeowners can select their ideal entry door color from options including tan, cream, classic blue, musket brown, forest green, wicker, light grey, burgundy red, cottage red, wineberry, and more.
For the look of wood without the hassle, consider wood stain options such as fruitwood, natural oak, dark walnut, cherry, and colonial oak.
Add intricate craftsmanship to steel or fiberglass door products with decorative glass options. Showcase true quality craftsmanship with an entry door that has a glass face, or smaller windows to allow natural light into the home.
Home security is enhanced with steel and fiberglass doors from UWD. A steel frame makes home intrusions difficult, as the frame is less likely to crack than a wood frame under force. Steel strike plates also add more protection to the door and keep families safe.
Choose from our inventory of durable locks and deadbolts for better home protection. Traditional locks and knobs are available along with leversets and handlesets. Hardware finishes include polished brass, antique brass, satin nickel, and aged bronze.
These entry doors are not only aesthetically pleasing but energy efficient. A polyurethane foam core makes the door more thermally efficient and adds comfort to the home. Durable weatherstripping along with composite stiles add much-needed waterproofing against the elements.
All new entry door products from UWD are covered under the True Lifetime warranty.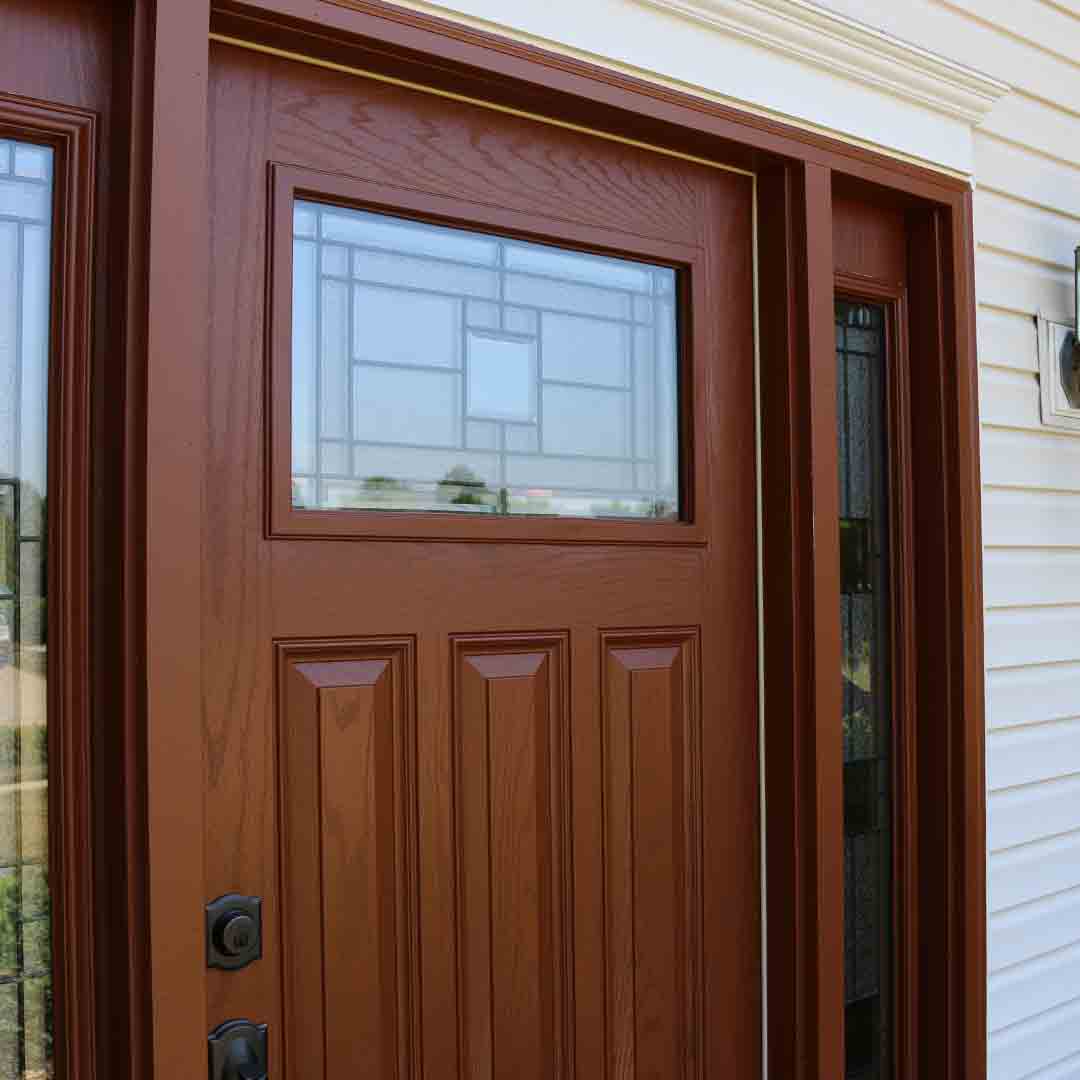 Add Exciting Variety to the Home with UniShield® Vinyl Siding
Homes that need more exterior variety and a strong facelift will benefit from UniShield® vinyl siding. This siding is one of the most durable exteriors on the market with plenty of options for color and extra aesthetic upgrades. Popular picks for siding color includes mystic blue, cape cod grey, natural linen, Tuscan clay, London brown, and more. Architectural colors are also available to complement the home in tones such as autumn red, somerset wheat, canyon drift, walnut, and storm.
Increase curb appeal with classic beauty. Vinyl soffit, scallops, and cedar shakes take home exterior to the next level. UniShield® siding panels are available in both wood grain and a matte finish for a polished appearance. With natural cedar grain texture and realistic shadow lines, UniShield® vinyl siding gives the appearance of real wood without the maintenance.
UniShield®'s durable and weather-resistant vinyl ensures that it will not warp, peel, or even fade from the sun. UWD offers a 20-year color fade warranty to ensure color vibrancy for years to come.
Siding installation from UWD creates the perfect fit for UniShield® exterior and maximizes performance. A Fullback underlayment results in increased energy savings and impact resistance that is 500% greater than products without Fullback underlayment.
High quality UniShield® siding is a significant investment that lasts for decades. Choose Universal Windows Direct for top-of-the-line vinyl siding and other outstanding exterior products.