Every industry has its myths and misconceptions, and it's no exception for the replacement window industry. Unfortunately, many homeowners in Charlotte are unaware and uneducated when it comes to making sound decisions as they shop for new windows. Some myths have plagued the industry for quite some time, and we're here to set the record straight once and for all.
If you're a Charlotte homeowner who can't tell fact from myth when it comes to new home windows, here is everything that you need to know:
1. Replacement Windows Cost $189
The price point of replacement Windows is a tricky topic. The reality is that window prices are all over the map, and they vary widely due to different manufacturing processes, quality of materials, energy saving features, and more.
However, most homeowners quickly learn that they can't get a new replacement window for the bottom dollar cost of $189. When you break down the numbers, it's easy to see why this window price point is one of the biggest myths in the industry.
When it comes to window pricing, you need to consider everything that's involved with the manufacturing and installation process. A skilled professional will come to your home to accurately measure your windows and submit your order. Once your order is submitted, your windows are custom made in a factory to fit your home to its exact specifications.
Not only are your windows engineered to specifically fit your home, they are also made to fit your style and energy saving preferences. This means that if you ordered any custom colors or energy saving features such as argon or krypton gas, it will also be applied to your window during manufacturing.
When your windows are complete (typically 4-6 weeks later), they are professionally installed to create an airtight seal and help you save more energy. After you break everything down, it's clear that offering a $189 window is virtually impossible if you plan to have quality windows in the home.
2. All Windows are the Same
While replacement windows may look the same to the naked eye, the truth is that they can dramatically vary in terms of quality. High quality windows are engineered with titanium dioxide, which reinforces the structural integrity of the window. Low quality windows contain a higher amount of filler ingredient called calcium carbonate, which makes the window prone to warping, cracking, and peeling.
3. You Can't Replace Windows in the Winter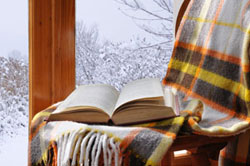 While temperatures might be freezing in the winter, the reality is that you can absolutely upgrade your home windows in the winter. Universal Windows Direct installation process prevents energy loss in the winter and keeps your home warm while your windows are installed.
If you have questions or you're confused over replacement window myths, contact UWD to get the real scoop.