Fall is a time of year where homeowners need to tend to important maintenance activities to prepare their homes for the following season—winter.
While we don't want to think about winter just yet, the reality is that fall is right around the corner. This fall maintenance checklist can help keep your home in tip top shape while preparing to transition into winter.
Stay on Top of Roof Problems
If you're noticing leaks on your ceiling or even down your interior walls, it's critical to take action in the fall before bad weather sets in. Once snow begins to accumulate on your roof, you might find yourself facing big problems with excessive water damage to your home.
A few ways that you can give your roof a quick inspection is by:
Looking for missing, loose, or warped shingles—and replace them
Inspect the flashing around the chimney, as this area prevents snow and rain from entering your home
Install gutter guards to prevent melting snow that flows from your roof into your gutter system
Check Your Windows for Leaks and Drafts
Remember the winter of 2013-2014? It was the coldest winter in Cleveland in over 30 years. It's no secret that winters in Cleveland can be brutally cold, and you'll want to take preventative measures to ensure that you aren't losing any heat during the coldest days.
It's relatively easy to check for drafty windows, and you can use one of the following methods:
Put your hand in front of the dash or sill during a windy day. If you have large air leaks, you'll easily feel air coming through the window
Light an incense stick and hold it in front of the sash or sill on a windy day. If you have small air leaks, you'll see movement in the smoke.
Use an electronic air leak detector
If you detect drafts, consider window installation before winter.
Other checklist items to keep in mind include:
Replace dirty furnace filters
Repair damaged sidewalks and driveways
Have a professional inspect your HVAC system
Make sure your pipes are insulated to prevent freezing
Inspect and clean your chimney
Get Gutters on Your Mind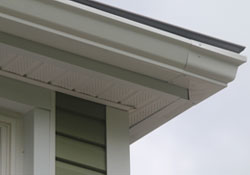 Fall is one of the most important times of year to inspect and clean your gutters and downspouts. It's very easy for leaves to collect in your gutter system during the fall, especially if you live near a lot of trees.
If your gutters clog up with leaves, they are subject to ice dams once freezing temperatures arrive. Ice dams can cause all kinds of issues for homeowners, including breaking your gutters off of your roof. Ice water weighs about 60 pounds per cubic foot, which puts a heavy load on your gutters.
Keep in mind that gutter guards are a no-maintenance option to keeping your gutters clog-free.
These checklist items will keep your home safe and cozy this fall. Contact Universal Windows Direct for products to keep your home warmer and more efficient.