Windows are said to be a way to view the "soul of the home." They can help give your home a whole new curb appeal while also offering a way to lower energy bills. With spring quickly approaching it could be time to consider investing in replacement windows. Not sure what you should be looking for when shopping for replacement windows? We have assembled a quick guide to help you navigate your window-shopping journey. 
Window Material Types
One of the most prevalent features of replacement windows is the material of the frames. This is one way that you can easily determine the difference between windows. 
These are the most common windows you'll find on the market: 
Wood Windows

 

Vinyl Windows

 

Aluminum Windows

 
Wood windows are popular due to the warmth and aesthetic that they add to the home. However, wood is difficult to maintain, and is susceptible to environmental and moisture damage. If the wood is not properly maintained, it can easily peel, chip, and even rot. It is also very susceptible to insects like termites. This style of window is usually confined to certain styles like double-hung and casement. 
Aluminum windows appeared as early as 1912, according to the National Park Service US Department of the Interior. They were a rival to the wood window during this era and considered as an efficient and strong window frame. Aluminum windows are best suited for climates that are not cold. Even though their engineering has improved over the years, this isn't the best option to keep heat in the home during the winter. In extreme circumstances, frost can even form on the inside of aluminum windows. 
Vinyl windows are perhaps the top material due to its affordability, energy efficiency, and low maintenance. Unlike wood windows, vinyl will not peel or rot from moisture damage. This material is also highly effective at saving energy in most climates. Keep in mind that not all vinyl window frames are the same. For best results, choose frames that are constructed with 100% virgin vinyl. This material is more durable than recycled vinyl frames. 
Energy Efficient Gases
For best results in energy savings, it's ideal that windows contain energy efficient gases. These gases are invisible and odorless but make a big impact on the performance of the window.
There are two primary gases available for residential window replacement: argon gas and krypton gas.
Argon gas is a gas fill that you'll find in many replacement windows throughout America. Argon gas's thermal conductivity is 67% of air, making it denser than air and better at insulating the home.
Krypton gas is even denser than argon, making it exceptionally efficient at saving energy.
Argon is most popular with double pane windows, while krypton is commonly found in the tight chambers of triple pane replacement windows.
While you can't see argon or krypton gas in the window, it's important to inquire about this option before you make your purchase.
If you choose a window without argon or krypton gas, you likely won't experience the same amount of energy savings and interior comfort.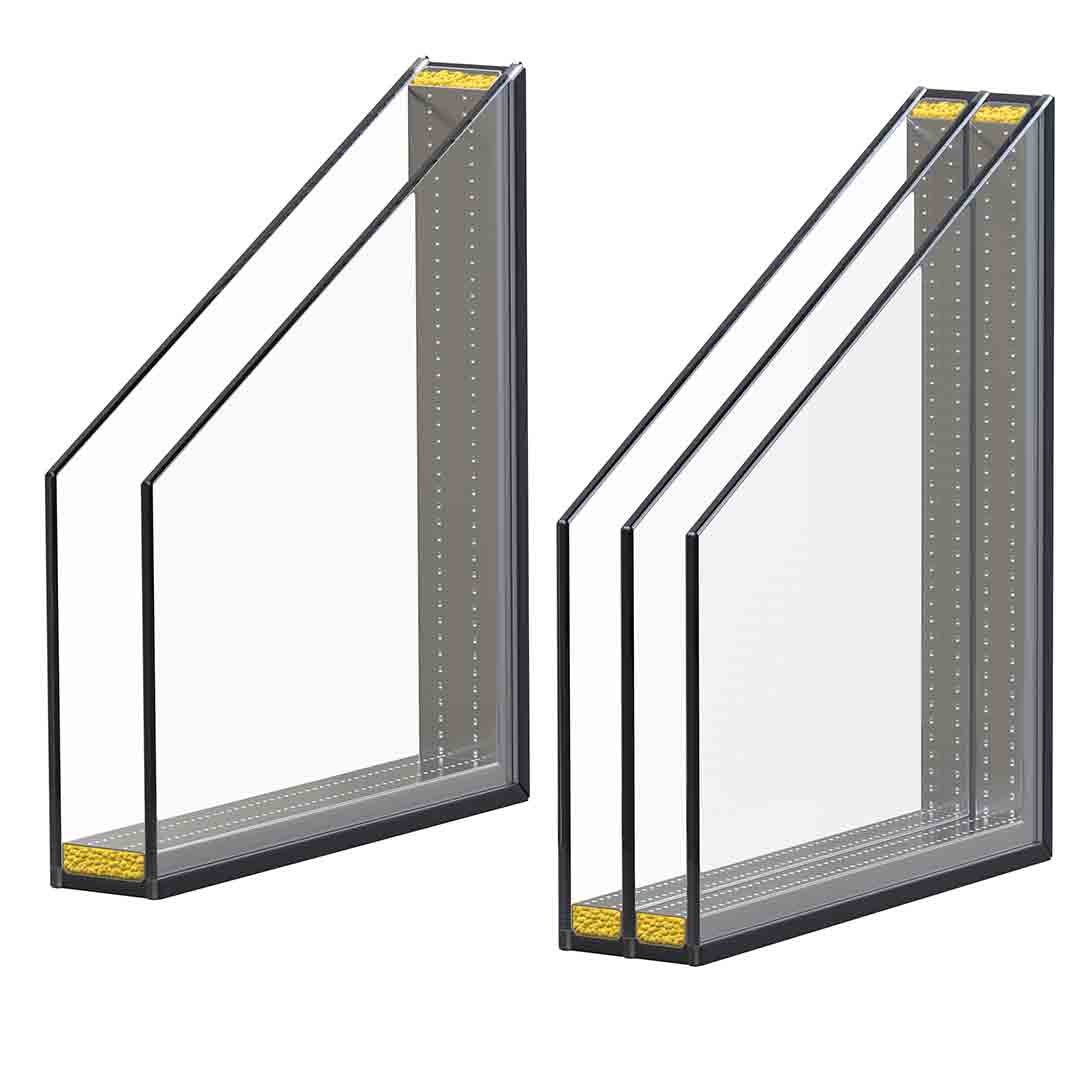 Dual and Triple Pane Glass
The earliest residential windows were engineered with a single pane of glass between frames. While this was a simple way to engineer a window, the truth is that single pane windows are highly inefficient. Energy can easily escape through the glass, making the home too warm in the summer and too cold in the winter.
Luckily, single pane windows are essentially a product of the past. Homeowners will find dual pane and triple pane options available for today's replacement windows.
The concept of dual and triple pane windows is relatively simple. With dual pane windows, there is an extra pane of glass with airspace in between the panes. This is the space where argon gas is inserted during the engineering process. It's a window that's suitable for many climates and can help increase energy savings.
Triple pane windows are relatively new to the window industry, but they are still gaining popularity with homeowners throughout the country. Triple pane windows include a third pane of glass, hence the name of triple pane. In addition to the extra glass pane, there is also an extra chamber inside of the window unit. This unit is key to saving over $400 per year on utility bills.
Homeowners who want to save the most amount of energy possible should consider triple pane. It's an investment that can yield top energy savings throughout the year.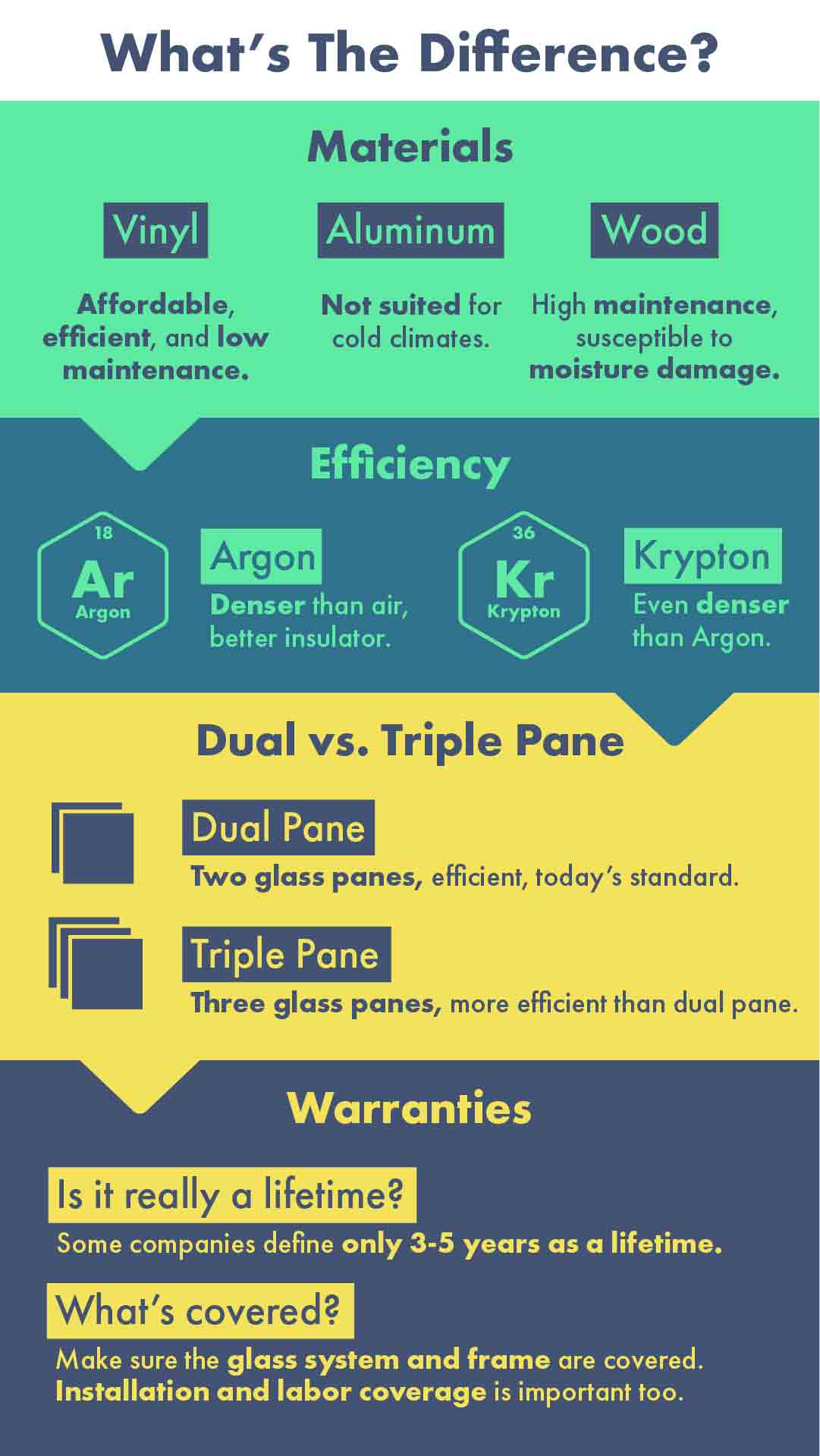 Window Warranties
Although there's a lot to consider with the bells and whistles of windows, you don't want to forget about window warranties. No matter what type of window you install in your home, a window without a warranty can lead to a lot of trouble.
First, you should compare aspects such as warranty coverage period. Many window companies will offer lifetime coverage that does not necessarily mean for life. Some companies may only define life as 3 to 5 years, while others offer coverage for much longer.
You'll also want to ensure that the warranty covers the glass system and the frames to ensure a sound and energy efficient window. Installation and labor coverage is also critical since installation is key to window performance.
Get Expert Help with Selecting New Replacement Windows
There is a lot to consider when shopping for replacement windows, and this guide can help you outline what matters most with your new investment. Universal Windows Direct installs countless windows every year, and our team helps homeowners wade through the trenches of choosing the best window at the right price.
Shopping for New Windows? Get the Most for You Money!
Get the inside scope on buying the best value in replacement windows with our free guide.