Getting the Best Value from Replacement Windows, Entry Doors, and Vinyl Siding in Worthington, Ohio
Serviced Locally By: Universal Windows Direct of Columbus
Quality exterior products can offer Worthington, Ohio homeowners incredible value. From durable entry doors to energy efficient replacement windows and stunning vinyl siding, every home is well-equipped with UWD exterior products. These products are amongst the most affordable in the area, especially compared to the unparalleled craftsmanship and quality. Discover how UWD's UniShield® exterior products enhance the home from the inside out.
UniShield® Replacement Windows: Exceptional Quality and Style
The value of UniShield® replacement windows is showcased through unforgettable curb appeal and lower utility bills. These windows are engineered with incredible energy-saving capabilities that keep the home more comfortable. UniShield® is offered in four tiers of glass packages that regulate indoor temperature and prevent energy loss. By using some of the best technologies on the market, Worthington homeowners are hard-pressed to find a more efficient and affordable window.
The four tiers of energy saving glass packages including UniShield® Classic, UniShield® Plus, UniShield® Premium, and UniShield® Supreme. These windows encompass top-quality vinyl frames that battle against the elements, which are available in numerous paint colors including brick red, green, gray, bronze, clay, white, and more.
The glass packages offer something exceptional to the home. They are equipped with technologies including argon and krypton gas for increased thermal efficiency. Low-e reduces heat transfer in the home and prevents UV rays from fading furniture and flooring. Dual and triple pane glass add a dependable barrier against the elements, while triple pane includes the added benefit of sound-blocking technology.
Every UniShield® glass package is customizable with the homeowner's choice of window style and extra decorative features. Window style options include double hung, garden, bay and bow, slider, crank out, picture windows, and custom-shaped styles to fit nearly any opening in the home.
Consider adding extra appeal to the window with decorative glass options. Etched glass turns heads and makes windows appear more stately and custom. Varieties include prairie, double prairie, and privacy glass. Grid systems are also available for extra flair.
All UniShield® replacement windows are installed by the insured team at UWD. The installers ensure the new windows perfectly fit the openings to keep out drafts and moisture. This results in maximized performance and can dramatically impact energy costs.
UniShield® window products are protected by UWD's True Lifetime warranty. This includes protection for the glass package system along with craftsmanship and installation.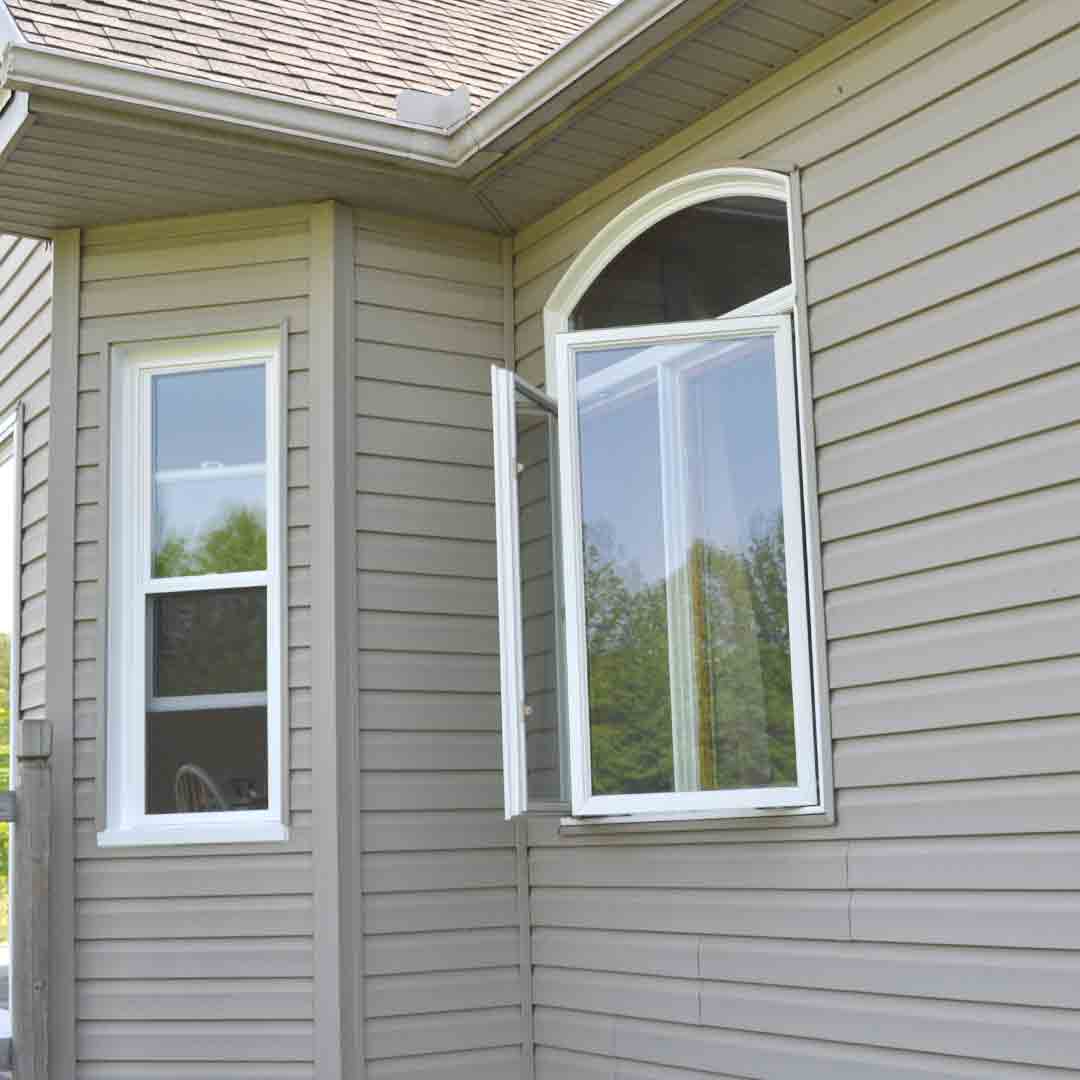 ---
UniShield® Vinyl Siding: High Impact Exterior for the Home
Worthington homeowners seeking the ultimate facelift will fall in love with UniShield® vinyl siding. Our inventory opens a world of endless possibilities for maximizing exterior style. UniShield® vinyl panels are engineered using the best quality vinyl available on the market. This results in improved structural integrity of the home, along with incredible curb appeal that won't go unnoticed.
UniShield® panels are available in widths of nearly ½" thick. Universal Fan-fold housewrap is a high-quality upgrade that packs a punch with insulating performance. Its R-value is up to 1600% higher than fabric roll housewraps. It insulates over studs in the wall and blocks energy from escaping the home.
Fullback underlayment is another upgrade to increase energy efficiency. This insulating foam fits behind the vinyl panels to fill the space between the siding and exterior wall sheathing. Testing proves that Fullback underlayment can allow moisture to escape 500% more efficiently than conventional siding. This prevents costly moisture damage issues such as mold and mildew.
UWD offers both trendy and classic siding colors, which are guaranteed to give the home an overhaul. Choose from our line of colors including glacier white, cape cod gray, mystic blue, coastal sage, adobe cream, Tuscan clay, and London brown. Homeowners can also opt to highlight the home in premium siding colors such as autumn red, somerset wheat, storm, deep moss, and midnight blue.
The intricate details of UniShield® panels are highlighted with a low-gloss finish and natural wood grain pattern. Traditional clapboard or beveled-siding is available in 4" and 5" widths. This exterior is highly resistant to the elements and does not require painting, staining, or sanding.
Trimworks® accessories will have onlookers taking a second glance. This highlights the fine details of areas such as window trims, entryways, corners, and vertical columns. Vinyl scallops highlight window gables and eave edges, while soffit protects rafter beams from wind-driven rain. Vinyl cedar shakes are also available for a truly picturesque appearance.
UniShield® exterior is installed by UWD. The panels are protected under the True Lifetime warranty, along with installation and craftsmanship. An additional 20-year color warranty is included to guarantee the longevity of the paint colors.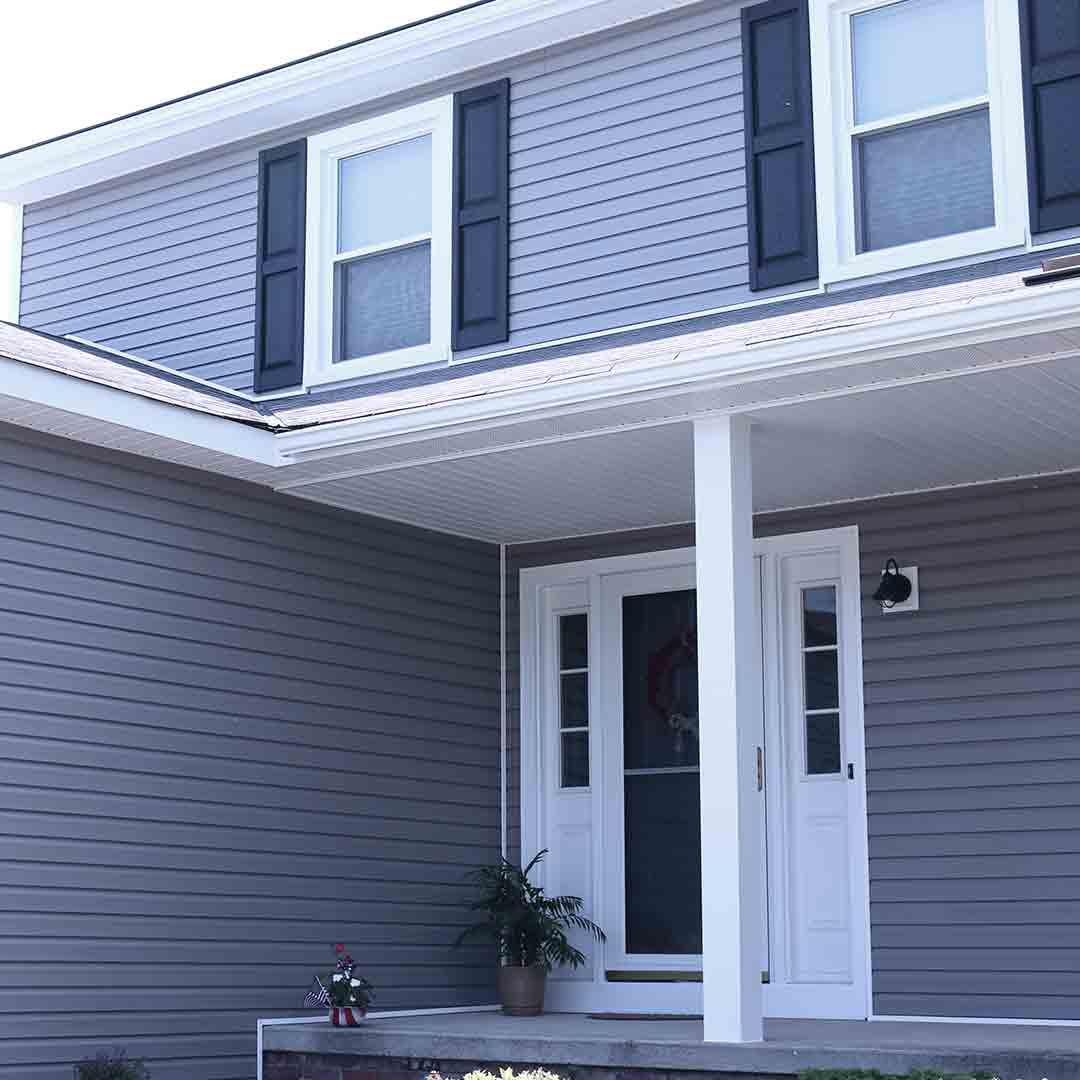 Create the Ultimate Focal Point With Entry Doors
Fiberglass front doors are the star of the show with any home in Worthington. Their elegant appearance provides an impression that lasts for years. A fiberglass door is a perfect complement to the home, as it features lifelike wood grain features without the high cost of a traditional wood door.
Both fiberglass and steel doors are low maintenance. No painting or staining is required. A plethora of color options is available, including classic blue, forest green, musket brown, tuxedo gray, natural oak stain, cherry stain, and rosewood stain. Homeowners can order entry doors primed to apply a custom paint or stain color. Numerous hardware options and finishes are available to further customize and secure the door.
UWD installs entry doors to maximize performance and ensure the correct fit within the frame. A polyurethane foam core keeps the home comfortable, while durable weatherstripping and composite stiles block drafts. These doors are weatherproof and resistant to the elements. Fiberglass doors feature a reinforced skin that is resistant to rot, peeling, and corrosion.
Fiberglass and steel doors are protected under the True Lifetime warranty. With flexible design features and added security elements, consider choosing entry doors from UWD.