Finding Premium and Affordable Replacement Windows, Entry Doors, and Vinyl Siding in Fairview Heights, Illinois
Serviced Locally By: Universal Windows Direct of St. Louis
Homeowners will find incredible value with replacement windows, entry doors, and vinyl siding in Fairview Heights, Illinois. Universal Windows Direct is the area's best source for premium exterior remodeling products at affordable prices. The tier product structuring allows for homeowners to select their desired performance and aesthetic options at a price they can afford. For top-quality exterior, choose UWD for home improvement in Fairview Heights, Illinois.
UniShield® Replacement Windows: Quality Windows at the Right Price
UniShield® is a premium window product engineered with durable vinyl and high-performance glass packages. The vinyl frames are easy to maintain and don't require sanding, staining, or painting. The vinyl won't rot, warp, or peel. Plenty of exterior vinyl colors are available to complement curb appeal, including green, brick red, tan, beige, bronze, clay, black, brown, and more.
Decorative glass styles are an aesthetic upgrade that adds character to the window. Decorative etched glass comes in styles including colonial prairie, obscure glass, and double prairie. This glass is ideal for adding architectural charm to the window without sacrificing privacy or natural light.
Homeowners can choose from over a dozen window styles, including custom window shapes that are specially made for unique openings. Geometric window shapes include octagon, trapezoid, or arch. Other window styles include double hung, bay and bow, slider, garden, and picture windows. UniShield® window products are customizable and combinable into an array of styles, including twin double hung window units with a half-round transom or mulled casements with trapezoid windows.
Every window style with UniShield® is designed to save energy. UniShield® is available in four tiers of glass packages that feature top-performance technologies. UniShield® Plus is the middle tier option that features a dual pane window with argon gas in the airspace. This window is thermally efficient and highly effective at lowering utility bills. Expert window installation from UWD blocks out drafts and creates an airtight seal, ensuring maximized performance through every season. Low-e coating is also included to keep homes warmer in the winter and cooler in the summer.
UniShield® window installation includes protection under our True Lifetime warranty. This guarantees the performance of glass packages, craftsmanship, and more. Our window installers are insured and highly experienced at window installation through all seasons. Homeowners who choose UniShield® Premium and UniShield® Supreme can experience energy savings as high as $465 per year.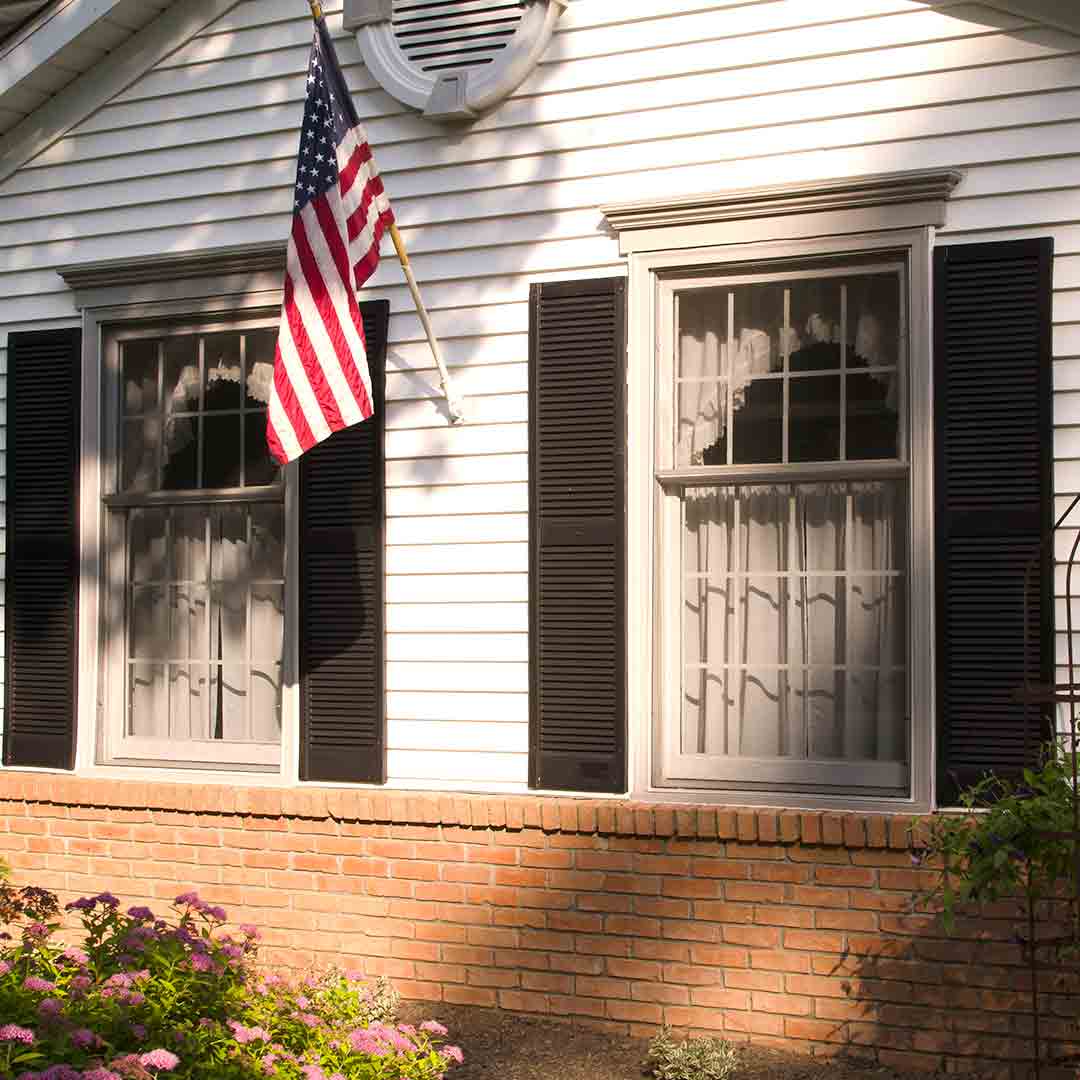 ---
UniShield® Vinyl Siding: Amplifying Home Value and Style
UniShield® vinyl siding is a sturdy and stunning exterior. Each panel is the epitome of craftsmanship with lifelike wood grain features. This gives Fairview Heights homes the look of real wood siding without the hassle of maintenance. UniShield® does not rot, peel, or fade from the sun. It's backed by a 20-year color protection warranty, ensuring that the paint color remains bright and vibrant for two decades.
The paint color palette allows homeowners to create the ultimate masterpiece with their exterior. Color options include glacier white, platinum gray, juniper ridge, adobe cream, maple, vintage wicker, Tuscan clay, and London brown. Select from premium architectural colors for the biggest transformation, with options such as autumn red, Somerset wheat, canyon drift, English saddle, and storm.
UniShield® exterior is available in standard siding panels with lengths up to 25'. XL and XXL panels are essential for minimizing joint lines and create a seamless exterior. It forms a uniform appearance for the home that's hard to forget. Elegant clapboard and Dutch lap profiles are available in varying lengths, giving the look of luxurious wood with realistic shadow lines.
Further enhance the exterior with upgrades such as soffit, vinyl cedar shakes, and vinyl scallops. These products accent the fine details of the home, especially when combined with Trimworks® accessories.
UniShield® exterior panels can help lower utility bills by reducing heat transfer. Universal Insulated Houswrap offers an R-value that's up to 1600% higher than fabric roll housewraps. This product reduces air infiltration and insulates the wood studs. Fullback insulated underlayment adds another layer of thermal protection. This insulating foam is placed between the exterior sheathing and the siding panel to keep the home cozy throughout the year.
Siding installation by UWD keeps the panels securely in place, reducing the amount of moisture making its way behind the exterior. This prevents costly moisture damage and mold or mildew formation.
Choose UniShield® vinyl siding for excellence in craftsmanship. It's protected by UWD's True Lifetime warranty for pieces, parts, installation, performance, and more.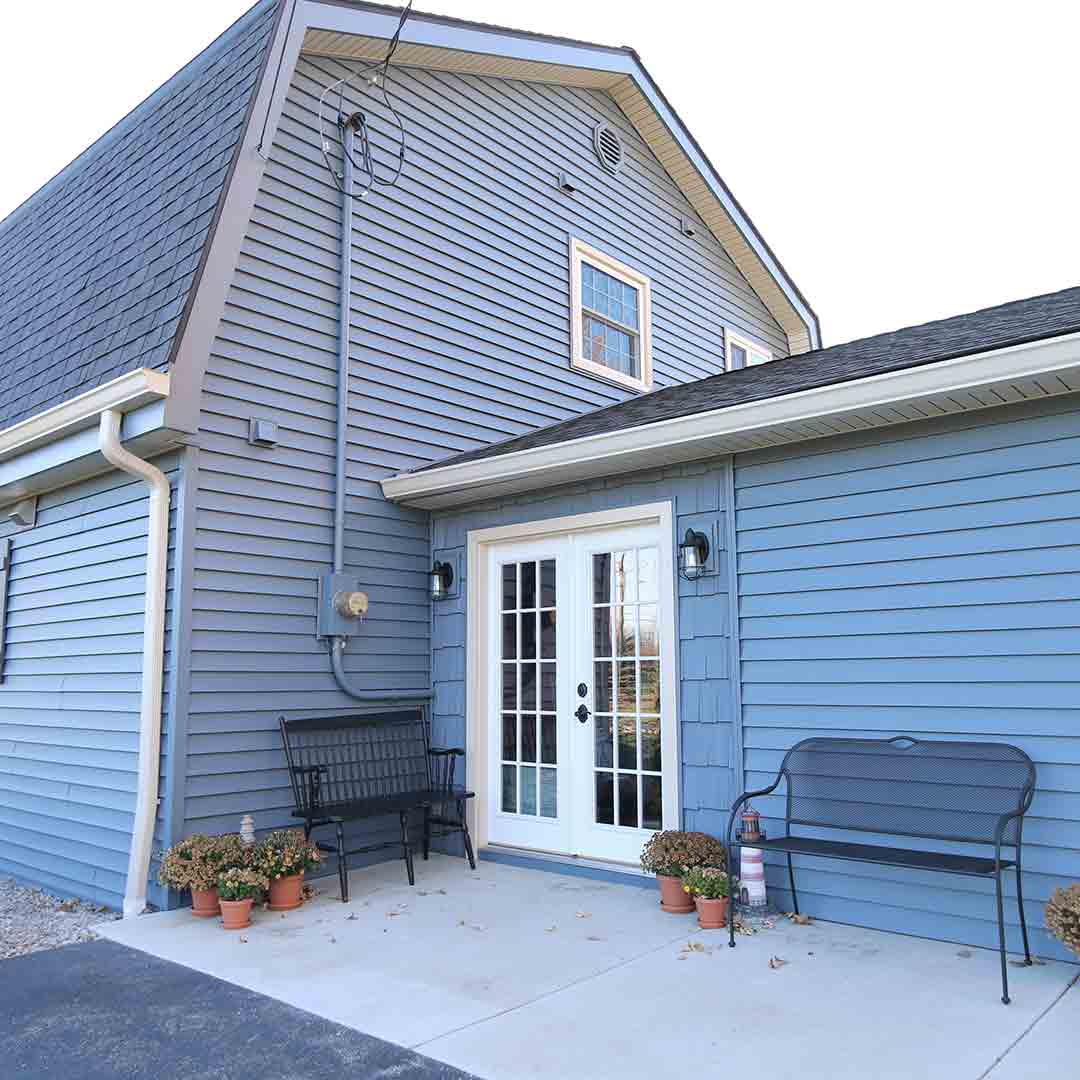 Boost Security and Curb Appeal with Fiberglass Entry Doors
A safe and secure home is priceless. Fairview Heights homeowners can relax behind a safe, secure, and durable front door. Fiberglass doors from UWD are engineered with a reinforced skin that is resistant to dings, dents, and blemishes. It boasts the beautiful look of stained or painted wood, which includes an array of striking colors to choose from.
Classic and trendy door colors are available, including paint colors in light grey, wicker, forest green, wineberry, brown, classic blue, and black. Wood stain options include natural oak, fruitwood, clay, cherry, dark walnut, rosewood, and colonial oak. Steel and fiberglass doors may be ordered primed to apply your favorite paint or wood stain color at home.
Limitless decorative glass options, sidelites, and transoms are available to add life to exterior doors. Make a statement with intricate glass designs in geometric, floral, and other interesting patterns. Further embellish and secure the door with hardware options ranging from leversets, deadbolts, handlesets, magazine slots, and peepsites.
Our doors include a polyurethane foam core to increase energy savings. High-quality weatherstripping keeps the home free of drafts, while composite stiles add another level of weatherproofing barrier. UWD's door installation creates a proper fit to the frame, which increases door performance as well as security.
UWD door products are covered under the True Lifetime warranty, including craftsmanship and installation.