If you're like most homeowners, you probably don't give much thought to the parts of a window, but understanding how they work can make all the difference in improving your home's energy efficiency, security, and overall aesthetic. Read on to learn more about the working parts and features of our exclusive UniShield windows.
Window Panes: Ultimate Protection from the Elements
The primary function of windows is blocking out the various elements, from sleet to blazing summer heat. The panes are a large part of a window's anatomy. They protect your home 365 days per year and come in two different glass styles: double pane and triple pane.
Double pane is the classic option, consisting of two panes of glass with a single space between the panes. Triple pane adds a second chamber for increased energy efficiency and sound-blocking technology. Both versions help keep the heat outside in the summer and your home warmer in the winter.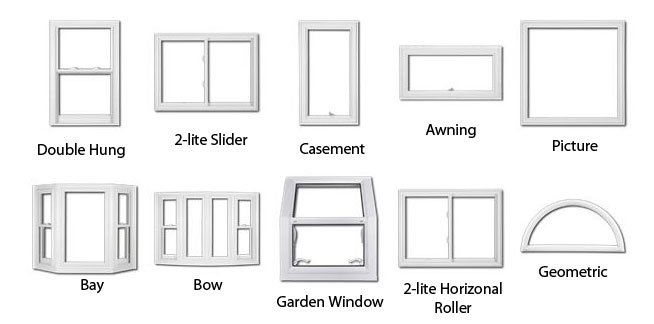 Argon Gas for Insulation
The go-to insulator for replacement windows is argon gas. Argon is odorless and colorless, plus it makes your windows more energy efficient. It is denser than air and typically inserted between the panes of double-pane windows. Argon's thermal conductivity is 67% more than air—and one of its most attractive features is that it's cost-effective, putting money back in your pocket!
Low-e Glass: UV Protection for Your Windows
The sun's rays can take their toll on your home. Ultraviolet rays come through your window and fade out flooring and furnishings, but low-e can prevent this and even help make your home cooler. During the summer, low-e is great for solar protection since it reflects the sun's rays away from your home—think of it as sunblock for your window.
SuperSpacer: The Ideal Technology for Replacement Windows
A top-tier performing window needs a spacer that provides condensation resistance, UV protection, and saves energy. SuperSpacer isn't just an ordinary spacer, it excels at keeping your house cool in the summer and warm in the winter. SuperSpacer is so powerful that it can be effective in temperatures as high as 140 degrees, and humidity as high as 95-100%.
Tilt Latches: Smooth Operation
Who wants to hassle with opening a window for cleaning? Tilt latches are engineered for smooth operation so you can open them without fuss plus they tilt in for easy cleaning.
Sash Limit Locks: Secure Partial Opening
Want to let in a fresh breeze without worrying about intruders? Sash limit locks block the window's sash from opening all the way, allowing for partial opening.
True Position Balance System: Quiet and Slip-Resistant
The True Position Balance System functions so easily that you'll wonder why you've never experienced it before! Balance systems such as True Position Balance System allow for the smoothest, quietest operation possible without slippage.
Groove in Bottom Sash: Designed for Secure Fit
Once the sash is shut, a custom-made groove is provided to secure the sash in place. This secure fit is the perfect solution for both security and energy savings. What more can you ask for from a simple groove?
Extruded Lift Rail: Part of the Sash
While other companies include the extruded lift rail as an afterthought, the best engineering makes this component of the window part of the sash. This helps the spring catch to fit properly, giving you a better overall operation.
Cam-Style Lock: Creating an Airtight Seal
No homeowner wants to deal with rain or air infiltration making its way through your window's sash. The cam-style lock reinforces the seal, keeping your home energy efficient and dry.
Thermal Reinforcements: Providing Better Support and Insulation
Finally, thermal reinforcements help window chambers fit together flawlessly. These custom-made resin inserts make your windows, even more, energy efficient, leading to maximized energy savings throughout the seasons.
The Benefits of Quality Vinyl Windows: Facts & Stats
The anatomy of an energy-efficient window is intricate. There is a fine balance to achieve when it comes to engineering a product that maximizes the efficiency of your home while making it look more beautiful at the same time. Not only do high-quality vinyl windows yield a return on investment of roughly 75%, homeowners can also enjoy the benefits of:
●      Double Pane: These windows are 24% more energy efficient than single-pane windows
●      Triple Pane: Experience a U-Value that is 20-30% better than double pane
●      Argon Gas: Best choice for dual pane windows, and has 67% better thermal conductivity than air
●      Low-Emissivity Glass: Otherwise known as low-e, this glass blocks out UV rays from entering your home. It's 21% more energy efficient than untreated glass.
●      SuperSpacer: Highly efficient insulator engineered to make your home up to 18.4°F warmer. Also features excellent condensation-resistant properties, which decreases the probability of mold and mildew growth. This ultimately keeps your family healthier, since children living in moldy homes are twice as likely to suffer from asthma and respiratory disease.
Find Premium Windows at Affordable Prices
You don't have to sacrifice value for quality any longer. Universal Windows Direct is the premier source of energy-efficient windows . Contact us today to learn more.