Save Big by Replacing Your Windows
Keep your Hilliard home more comfortable year-round and lower those energy bills with replacement windows from Universal Windows Direct. Our replacement windows are custom made to provide maximum energy savings to your house at a price you can afford. Our windows perform better overall – they stay cooler in the summer and warmer in the winter. Replacement windows from UWD will more than pay for themselves in energy-savings throughout the life of your home.
High Performance Glass – Replacement windows with specially engineered, high performance glass use a combination of gas fillings and low-e coatings to control UV rays, thermal transfer, and even decrease sound transmission.
Foam Filled Main Frame – High quality foam inside the window frame provides insulation and added structural support.
Innergy Thermal Reinforcement – For homeowners looking for increased insulating value and structural support, Innergy fiberglass reinforcements replace the foam filled frames that come standard in our windows.
SuperSpacer Technology – This non-metal spacer reduces thermal transfer between replacement window panes, keeping the inner pane consistent with the temperature of your home and reducing your energy bills.
All our replacement window energy-saving features are designed to help reduce condensation and cold edge on the glass panes. By eliminating these common problems in single pane windows and windows with metal spacers, our replacement windows have improved thermal performance whether you're heating or cooling.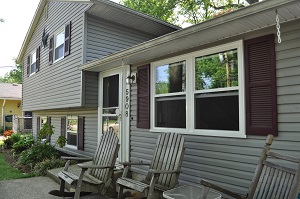 ---
Consider a Pop of Color on Your Hilliard Front Door
What color is your home's front door?
If the exterior of your home is beginning to look a little dull or could use a change, a pop of color on the front door might be just the way to take from ordinary to extraordinary.
Universal Windows Direct's fiberglass front entry doors come in 25 different paint and stain options, making the process of having a new one installed by our talented crew an easy to update your home's exterior.
It takes just about a day to have your premium new door installed, but the impact will last for years to come. In fact, our replacement doors carry a limited lifetime warranty, so you won't have to worry about the finish, glass or hardware failing.
No matter what the color of your home's exterior decor, go bold on the front entry door to really make a statement. Traditional homes take on fantastically fresh appeal with Universal Window Direct's exciting variety of colors. For even more eye candy out front, consider replacing your door with one of our beautiful wood stains.
Vinyl Siding from Universal Windows Direct Can Help Hilliard Residents Preserve the Environment
There's a benefit to installing premium vinyl siding on your home that extends beyond the cosmetic. Believe it or not, UniShield vinyl siding from Universal Windows Direct can also help to preserve the environment.
Unlike other siding products, UniShield home siding is durable and long lasting, which means that it won't have to be replaced and hauled off to a landfill. New siding reduces the depletion of natural resources, so when installed on your home it shines brightly as a beacon of preservation.
UniShield siding from Universal Windows Direct never needs to be painted, so there isn't any residual trash from paint cans, caulk tubes, or other maintenance-related products.
Your time is also a precious resource, and new siding installation on your home returns that valuable commodity back to you in the form of zero time spent on upkeep.
Because replacement siding is derived largely from an abundant and sustainable material – common salt – our product is genuinely ecofriendly. Our contoured underlayment provides an added measure of energy efficiency that outperforms traditional vinyl siding.
When you save energy, you not only save money but you also help to preserve the environment. Installing UniShield vinyl siding means that precious natural resources are preserved for generations to come.