Details

Published: 12 September 2016
Hits: 2992
Are you looking to upgrade your home windows? One of the best parts of window replacement is choosing its style and aesthetic features. There are over a dozen styles of windows to choose from, and even more when you take all of the specialty shaped windows into account.
However, picture windows are an aesthetic asset to any home that enhances its character and charm.
What is a Picture Window?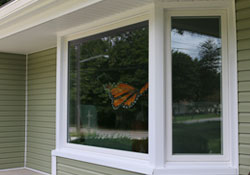 Picture windows are different than many other replacement windows. These windows are fixed, which means they cannot be opened or closed. They are engineered with one large piece of dual or triple pane glass, and they can be installed to complement another existing window or stand on their own.
Picture windows also come in various shapes and sizes. While many people may envision this window as a large, rectangular window, a lot of specialty-shaped windows are fixed as well.
Why Should You Install a Picture Window in Your Home?
Homeowners in Indianapolis enjoy picture windows for a variety of windows. Here are the advantages of installing a picture window in your home:
1. Maximized Sunlight
There is something about the glow of natural sunlight that makes your home feel peaceful, comfortable, and cozy. Picture windows are engineered with unobstructed glass that allows the maximum amount of light possible to filter into your home.
This is especially the case when you choose to upgrade with a very large picture window, which is the perfect touch for living rooms.
2. Beautiful Views of the Outdoors
Picture windows are excellent for enhancing the amount of sunlight in the room, and they also expand your views of the outdoors. Picture windows are the perfect choice if you have a particularly beautiful views, such as the beautiful trees and scenery during Indianapolis autumns.
3. Create the Focal Point of a Room
Although it can be fun to shop for artwork, wouldn't it be great if your window served as its own work of art? Picture windows can frame your view of the outdoors and essentially serve as its own masterpiece in any room of your home.
4. Save More Energy
There's no denying that picture windows bring all kinds of aesthetic advantages to your home. However, don't forget that picture windows can also help you save money on your utility bills—especially when you upgrade with energy efficient options.
In order to maximize energy savings with your new replacement window, consider adding argon or krypton gas between the panes. This will help maximize the thermal efficiency of the window, which can add up to a savings of around $465 per year on your utility bills.
Indianapolis homeowners can't go wrong with choosing a picture window. Contact Universal Windows Direct today to learn more.