Details

Published: 26 September 2016
Hits: 1651
When homeowners are looking to upgrade with new replacement windows, there are often a lot of questions on their minds. As a professional replacement window company in Charlotte, we hear all kinds of questions about replacement windows each and every day. Here are the most commonly asked questions along with our answers:
1. How much do replacement windows cost?
This might possibly be the most popular question in the entire replacement window industry. However, the reality is that there is no straightforward answer to this question. The price of your new replacement windows will depend on a variety of factors, ranging from material, glass packages, and decorative options.
The one hint that we can give is that you shouldn't rush to accept the cheapest window quote that you receive. This is because bottom dollar windows are often poor quality, and they very rarely offer any energy saving benefits such as argon and krypton gas or low-e glazing. Furthermore, there's a high probability that your windows will need to be replaced again within 5-7 years.
2. What window style should I choose?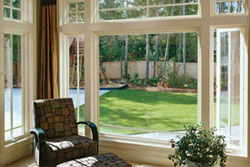 There are all kinds of window styles to choose from, and the right style for your home greatly depends on architecture. For example, a Victorian home often contains an eclectic mix of window styles that include geometric, bay and bow, dormer windows, and more.
On the other side of the coin, double hung windows look perfect on Cape Cods and Colonials. In fact, the double hung window is the most popular window style in America.
3. How do I Know if my Windows are Energy Efficient?
When you invest in energy efficient replacement windows, it may feel as if you're at the mercy of your window company to ensure that you're buying the real deal. However, the good news is that you can verify your window's energy efficiency by searching for the Energy Star seal.
Energy Star is a government backed program that verifies the efficiency of home products, from washing machines to replacement windows. This seal helps homeowners recognize that they're buying energy efficient windows to help save money on their utility bills.
4. Can't I Just Buy Windows from a Big Box Store?
While you can walk into a home improvement store and purchase replacement windows, there are several downsides to this approach. First, your sales representative is likely not an expert in the replacement window industry. They may not be able to answer all of your questions, or even give you inaccurate information about the product you're buying.
The second downside is that you may be purchasing windows that are mass produced. This cuts down on the overall quality of the window.
If you have questions about window replacement, contact Universal Windows Direct today or read our educational blog.