Details

Published: 12 September 2016
Hits: 977
There are various styles of homes around Cleveland, from Cape Cods to Colonials. However, modern homes are also a favorite home style choice with homeowners, and their architecture has a unique vibe with clean lines, corner windows, and more.
What is Modern Architecture?
Modern architecture is defined as a simplified style of home that is largely unornamented. It focuses more on functionality than aesthetics, although these homes can be quite beautiful if your ideal stylistic elements include a lot of glass, steel, and concrete.
If you have a modern home and need to replace your windows, you might be wondering about the best style choices for your home. When you choose your new home windows, you'll want to pick a window style that complements your home's existing architecture—and there are numerous options available to you.
Here is a list of the best windows for modern homes:
1. Slider Windows
Slider windows are perhaps the most contemporary windows available on the market. These windows slide open horizontally on a rolling track. Sliders are the perfect complement to modern homes due to their clean lines and maximized views.
Another benefit of slider windows is that they open wider than almost any other window. This is perfect for allowing fresh air into the home, and even creating your own air ventilation system to help further reduce the cost of air conditioning during the summer.
2. Picture Windows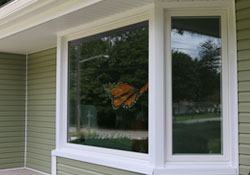 Modern homes typically contain a substantial amount of glass. Picture windows are fixed and do not contain any obstructions on the view of the outdoors. The downside is that you won't be able to open a picture window, but this option is beneficial for those who want completely clear views of the outdoors.
3. Floor to Ceiling Windows
While these are essentially picture windows, floor to ceiling windows give homes a real feel of modern architecture. This will allow you to take full advantage of maximizing the amount of glass in your home and giving your home a true flair for modern architecture.
4. Sliding Glass Doors
While there are plenty of windows to choose from with modern architecture, don't forget about doors. Sliding glass doors can be the ultimate addition to your home's modern architecture. They will also help maximize light in the home while expanding views of the outdoors.
Sliding glass doors can also help perk up your patio or your outdoor entertaining area, making it easy to carry food and other necessities outside to your guests.
Modern architecture certainly makes a statement, and the right windows can take your curb appeal to the next level. For more ways to enhance your home from the inside out, continue to follow our weekly blog.