Details

Published: 11 July 2016
Hits: 968
The roof is one of the most critical components of your home's exterior. It's no secret that Cleveland gets some unpredictable weather, and an efficient roofing system will help keep your home dry while reducing your energy bills. Your roofing system is engineered with multiple layers that keep your home in tip-top shape.
This is the anatomy of an energy efficient roofing system, and how it protects your home from the elements, water damage, and more:
Creating a Water-Proof Barrier System
The first step in engineering an efficient roof is to create a waterproof barring system. This system is essential for blocking water that results from ice damming, rain, and water flow from your roof.
Your roof should be sealed with several waterproof barriers. These barriers include self-sealing water barriers such as WeatherLock®. WeatherLock® protects your roof where water collects, which includes valleys, skylights, and chimneys.
The next barrier is your underlayment. It's important to keep in mind that poor quality underlayment can promote mold growth as water gets behind the shingles. Deck Defense® Roof Underlayment features a durable, synthetic construction that shields from moisture infiltration. Furthermore, this underlayment can also protect your home from UV exposure.
Protect Your Home Against the Elements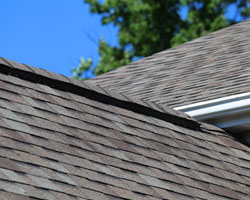 The next step in your roofing system is selecting shingles for ultimate weatherproofing protection. Shingles overlap one another and are designd to protect your home from inclement weather. They also help promote good drainage from roof peaks, so water doesn't enter your home.
Starter shingles are installed around the eaves of your home and create a secure seal on the first row of shingles. The full line of shingles offer an aesthetic aspect for your home as well as protection, while hip and ridge shingles protect roof peaks against weather and high winds.
Optimize Air Flow with Breathable Materials
Proper ventilation is important to keep heat and moisture out of your attic, which can cause shingles to buckle. VentSure® Inflow® Vent reduces this build up and protects your roof from deterioration. This is one of the major aspects of your roof that can help reduce energy costs. Furthermore, VentSure® RidgeCat® Rolled Ridge Vent uses a breathable filter that protects against dust and insect filtration.
Keep in mind that insufficient attic ventilation can lead to moisture problems in the winter, and cause your energy bills to skyrocket in the summer.
Need a New Roof? Universal Windows Direct Can Help
Now that you understand the anatomy of an efficient roofing system, Universal Windows Direct can upgrade your home with the best roofing products on the market from Owens Corning. Learn more by calling 440-786-1400.