Details

Published: 06 June 2016
Hits: 1150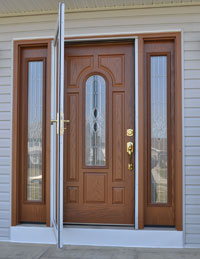 Upgrading the exterior of your home is beneficial to your lifestyle in many ways. However, a new entry door adds new energy to your home while enhancing its architectural features. When you're looking to give your home a new look and feel while upgrading our own lifestyle, here are 5 ways that an entry door can make homeowners happier:
1. A New Entry Door Shows Pride in Homeownership
Many homeowners in Cleveland take pride in upgrading and maintaining their home throughout the years. When you add a new front door, it shows that you take pride in your home. It also shows that you're willing to make an investment to enhance both the looks and performance of your home—especially if you invest in a high quality steel or fiberglass front door.
When you live in a home that you can be proud about, happiness will surely follow.
2. A Pop of Color Boosts Your Mood
Did you know that specific colors can influence your mood? It's true. There is psychology behind the color wheel, and choosing an interesting front door color can make you happier. Some colors that psychologists consider calming, rejuvenating, and energizing are green and red—which happen to be two of the most popular colors for front doors.
3. A New Front Door Can Keep Money in the Bank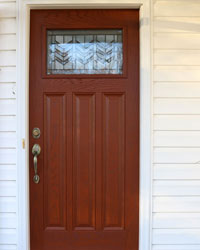 While they say that money can't buy happiness, it certainly doesn't hurt to have some extra cash in your wallet. Installing a new front door can help cut down on your energy bills, especially if you're replacing an outdated and drafty front door. You'll get the best bang for your buck if you choose an energy efficient front door, such as steel and fiberglass doors with a polyurethane foam core.
4. Your Entry Door Gives Peace of Mind
Who doesn't want to go to sleep at night knowing that their family is safe and sound? Entry doors can add an extra level of security to your home, and innovative technology can help the cause. Homeowners now don't have to rely on a lock and key to enter their homes—they can choose touchscreen deadbolts in a variety of finishes to complement your door.
5. Let There be Light
When you design your custom entry door, you have the option of installing transoms or sidelites for extra light. Some entry doors even have their own windows in various shapes and decorative glass patterns.
Extra windows provide more sunlight, and natural light is known to help improve your mood.
Be Happy: Contact us for a Quote on Your New Entry Door
Universal Windows Direct is the go-to source for entry doors in Cleveland. Contact us for a free quote at 440-786-1400.