Details

Published: 12 May 2016
Hits: 1365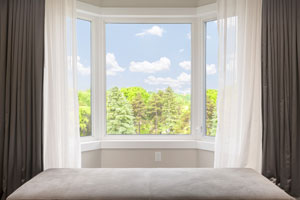 The living room is the heart of your home, and upgrading its appearance can make a big impact on your lifestyle. Bay windows are beautiful and modern additions to nearly any living room or family room, and they offer many benefits in terms of aesthetics and energy savings. While bay windows can be a bit costly when compared to picture windows or double hung windows, they add a unique appeal to your family area while looking beautiful for years to come.
A bay window is engineered with one picture window in its center and two operable windows on either side–typically consisting of double hung windows or casement windows. You can design a new bay window with varying aesthetic features including custom vinyl colors, decorative glass, and grids.
If you're considering a new bay window for your family home, here are a few benefits for choosing this particular style of window:
Bay Windows Fill Your Living Room With Natural Light
When you choose a bay window for your living room, you won't have to worry about a shortage of natural light. Bay windows offer panoramic views of the outdoors while inviting in an ample amount of natural sunlight. Your living room will feel bright, cheery, and comfortable all throughout the year.
Bay Windows Create a Cozy Reading Nook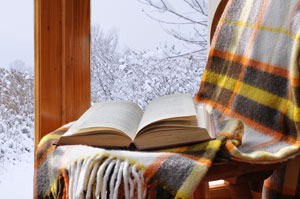 The bookworm in your family will have their own special retreat when you install a new bay window. Bay windows provide an extra space for family members and friends to take a seat, or to simply watch the world go by. If your bay window has a deep shelf, you can transform it into a cozy cove by adding pillows and blankets.
Bay Windows Showcase Photos, Plants, and More
With the extra depth provided by a bay window in your family room, you can turn it into a showcase that spotlights photos, flowers, books, and more. However, bay windows make a strong presence on their own and you'll want to be careful about over decorating. Often times, adding a lamp and a plant is all that you need to decorate your bay window.
Bay Windows Make Your Living Room Feel Larger
Your new bay window will add a small amount of extra square footage to your living room, and the extensive view of the outdoors makes the whole room feel larger. This is especially the case when you add a bay window to a smaller living room or family room—you'll get extra seating while maximizing your square footage all at the same time.
Considering a New Bay Window for Your Living Room? Contact Universal Windows Direct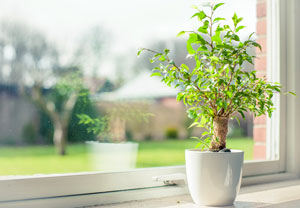 Universal Windows Direct offers premium bay windows that are the perfect fit for living rooms, family rooms, dining rooms, and more. Our extensive aesthetic selection and energy-saving glass packages will help enhance the beauty of your bay window and lower your energy bills.
Learn more about our bay windows here or click to get a price today.