Details

Published: 24 September 2015
Hits: 3676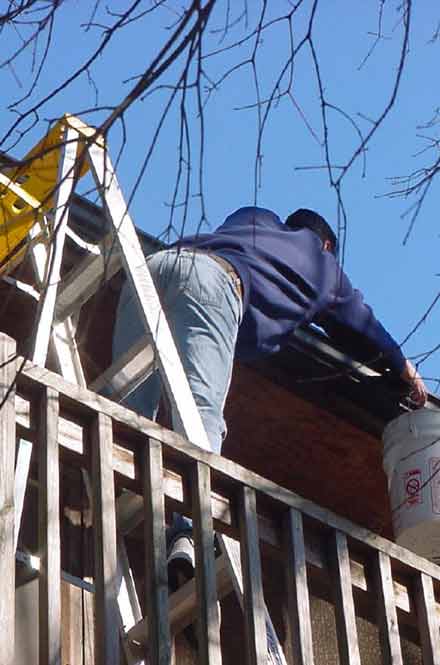 One of the things I love most about living in Northeast Ohio is the changing seasons. While some might argue that spring blends too quickly into summer, fall and winter are distinctive in their majestic beauty.
With the annual leaf drop slated to happen sooner rather than later this year, staying on top of routine maintenance tasks will leave you with more time to enjoy the glorious soon-to-be fall season—and will also have you relaxed and ready for winter's frosty debut.
One of the biggest challenges homeowners face this time of year is keeping their gutters freely flowing. Here are some tips to help keep the water moving so that you're free to enjoy the seasons:
Keep your gutters clean. It might seem obvious, but clean gutters are more than just aesthetically pleasing. Keeping leaves, debris, sticks and roof grit out of your gutters means that water flows freely into downspouts and away from your home's foundation. When your gutters are overloaded, the water has nowhere to go but up and over your gutters, then right on down to the foundation or under your roofline.
Clean your downspouts. If you suspect that you might already have a clogging issue, even though you've cleaned your gutters, take a garden hose and run in down the length of your downspouts as far as it will go, then turn it on full blast. This should dislodge any clumps of leaves or other debris and allow the water to flow through. You can also snake out your downspouts to remove any clogs.
Clean the cages. Make sure the metal cages seated in the gutters at the top of your downspouts are free from debris and gunk. Shake them off and rinse if necessary to prevent clogs. Replace them if necessary.
Install gutter guards. Once your gutters have been properly cleaned, and this includes thoroughly hosing them out, consider having a quality gutter protection system like Smart Cover installed. Smart cover allows water to "shed" off the roof while leaves and other debris fall to the ground. Your gutters will remain clog-free, which will free you up to enjoy the beauty of the seasons.
Schedule a no-pressure, in-home consultation with one of Universal Windows Direct's water management specialists and find out how Smart Cover gutter covers can keep the water flowing freely through your gutters and downspouts.